Badals open 26 projects in 13 days
Mansa, February 13
Mansa, February 13
Chief Minister Parkash Singh Badal and his son Sukhbir Singh Badal are on a foundation-stone-laying spree for several projects and are inaugurating many others.

PPCC uses RTI route to nail govt lies on investment

Badal Govt dragging feet on e-pensions
Chandigarh, February 13
The SAD-BJP Government is once again taking the sops route to garner votes for the coming parliamentary elections and is not prepared to change procedures that could delay disbursement of doles under various welfare schemes.

80 booked for Moga clash
Moga, February 13
The local police have booked 80 persons for causing ruckus at the local truck union office on Wednesday. Most of the accused are supporters of local SAD MLA Joginder Pal Jain and former Director General of Police (DGP) Paramdip Singh Gill. At least, four persons were injured in the clash between the two SAD factions.




Badal spent 40 months in jail: Cong
Chandigarh, February 13
Sukhpal Khaira, spokesperson, Punjab Pradesh Congress Committee (PPCC), has challenged Chief Minister Parkash Singh Badal's claim of having spent 17 years in prison. "Badal hasn't spent more than 40 months in all," he said.

Akali leaders take on Capt
Chandigarh, February 13
The Shiromani Akali Dal (SAD) today asked former Chief Minister Capt Amarinder Singh to stop trying to defend the "indefensible Operation Bluestar." It asked him to explain as to who was responsible for the "brutal" Army assault on the Golden Temple, the Congress Government then headed by Indira Gandhi or the Sikhs and their leaders, including the five-time Chief Minister Parkash Singh Badal.

Revolt against Nabha halqa in charge
Patiala, February 13
Fresh fissures have appeared in the Nabha unit of the Shiromani Akali Dal (SAD) with a faction led by former Cabinet Minister Raja Narinder Singh's wife Shivdev Kaur raising a banner of revolt against the local halqa (constituency) in charge, Makhan Singh Lalka.




Ashutosh's family to seek Nitish's help


Jalandhar, February 13
The family of Divya Jyoti Jagrati Sansthan dera head Ashutosh Maharaj will meet Bihar Chief Minister Nitish Kumar tomorrow, seeking his help to get his body home at Lakhnaur village in Madhubani for the last rites. Mahesh Jha, brother-in-law of the dera chief's son, said accompanied by members of the Akhil Bharatiya Brahmin Sabha, the family would meet Nitish Kumar tomorrow.
punjab progressive agriculture summit — analysis
The hidden agenda is purely politics
Chandigarh, February 13
With the state government pulling out all stops to gather 50,000 farmers at the Punjab Progressive Agriculture Summit to be held in Mohali later this week, the summit seems more about politics than agriculture.
Maize dryer to help farmers get remunerative prices
Nawanshahr, February 13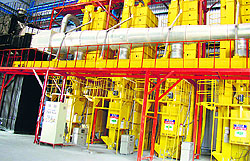 A maize dryer plant set up at the Nawanshahr Grain market at a cost of Rs.10.16 crore would be inaugurated by Deputy Chief Minister Sukhbir Badal on Saturday. Deputy Commissioner Anindita Mitra said the plant would help maize and paddy growers reduce moisture in their crops and get remunerative prices.


Deputy CM Sukhbir Badal to inaugurate the plant in Nawanshahr tomorrow. A Tribune photograph

NIT teachers threaten to step up stir
Jalandhar, February 13
Members of the National Institute of Technology Faculty Forum (NITFF), Jalandhar, today threatened to intensify their agitation if their pending demands were not met. They alleged the management of Dr BR Ambedkar National Institute of Technology (NIT), Jalandhar, had turned a deaf year to their demands.
Meter installed at VIP helipad
Bathinda, February 13
After The Tribune carried a report on February 11 on a kundi connection being used for providing power to two rooms at Chief Minister's helipad at Kaljharani village, a power meter has been installed there. Powercom officials reportedly snapped the kundi connection the same day.
Blueprint of PGI's satellite centre at Sangrur okayed
Chandigarh, February 13
The Union Cabinet today approved the blueprint of a satellite centre of the Post-Graduate Institute of Medical Education and Research (PGIMER) at Ghabdan village in Sangrur. The foundation stone for the project was laid October last year by Union Minister for Health and Family Welfare Ghulam Nabi Azad.
Pak friend helps Amritsar man connect to his royal lineage
Amritsar, February 13
Amit Rajat Gauri, a 41-year-old local businessman, had only heard about his family legacy until fate gave him a chance to claim it, at least a slice of it.
Adarsh school recovers salaries 'inadvertently' paid to teachers
Faridkot, February 13
The Punjab Education Development Board (PEDB) has recovered three months' salary from five women teachers of an Adarsh school that was paid to them "inadvertently" during their paid maternity leave.
Vedanti hits out at critics of original Nanakshahi calendar
Amritsar, February 13
Breaking his silence, former Akal Takht Jathedar Giani Joginder Singh Vedanti today flayed Sikh organisations and individuals who are protesting against the original Nanakshahi calendar which he said "is a symbol of a separate Sikh identity".
One PCS officer on four posts
Phagwara, February 12
The Punjab Government has appointed PCS officer Iqbal Singh Sandhu on four posts in Phagwara. He will take charge as the Additional Deputy Commissioner (ADC), Sub-Divisional Magistrate (SDM), Improvement Trust Chairperson and Municipal Corporation (MC) Commissioner.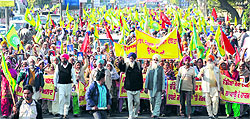 raising voice: Activists of the BKU (Ugrahan) and Khet Mazdoor Union protest for their demands in Bathinda on Thursday. Tribune photo: Pawan Sharma


Lecturers warn to boycott exam duty
Hoshiarpur, February 13
Guest lecturers of three government colleges in the district have threatened the government to boycott exam duty if their demand for basic pay is not met.

Abohar's kinnow to compete with Pak's
Abohar, February 13
To explore viable markets abroad, a progressive farmer is all set to export kinnow to Dubai. Sushil Setia of Sappanwali village has arranged an air-conditioned container from Kerala to transport A-grade waxed kinnow to Pune. From there, it will be shipped to Dubai.




UK Sikh hits Rs 2.5 cr jackpot


London, February 13
A British Sikh man has become a "crorepati" overnight after he won the Ł2,50,000 jackpot on a television game show here.




Vacate property or face contempt proceedings, HC tells state
Chandigarh, February 13
The state government's move to challenge an order, directing it to vacate a property held illegally in Bassi Pathana for more than 51 years, has backfired. The Punjab and Haryana High Court today asked the state to comply with the Single Judge orders, failing which its Director-General of Police would have to appear in court.




Five held for illegal mining
Hoshiarpur, February 13
In a crackdown on illegal mining, the district police have arrested five persons and seized several tractor-trailers and trucks loaded with sand from different places.

2 killed, 15 hurt as mini bus hits SUV
Tarn Taran, February 13
A 55-year-old woman and a four-year-old boy were killed while 15 persons were injured in a collision between a mini bus and an SUV on the Sarhali-Chohla Sahib road near Billianwala village this afternoon.

Two nabbed for burglary
Abohar, February 13
The Rajasthan Police have arrested two persons on the charge of stealing 54 bags of guar from warehouses of a private company in Sadulshehar, 31 km from here.

Constable on the run in theft case
Abohar, February 13
A constable gave a Haryana Police team a miss when it reached here to arrest to him, wanted in a theft case in the Haryana Roadways bus.