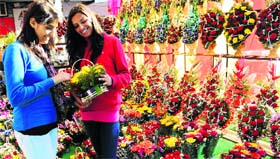 LOVE IS IN THE AIR: Girls choose a bouquet at a shop on the eve of Valentine's Day in Sector 34, Chandigarh, on Thursday. Tribune photo: Manoj Mahajan
Priest killed in road accident
Panchkula, February 13
A 42-year-old priest at the Mansa Devi temple, Indrajit, lost his life in an accident on the Pinjore-Kalka highway near here today. The victim was going to a temple in Kalka at around 4 am when a Tata Safari hit his motorcycle from the rear side near the toll plaza on the highway.
Woman constable commits suicide
Chandigarh, February 13
A 22-year-old woman constable with the UT police committed suicide by hanging herself with a dupatta from a ceiling fan at her rented accommodation in Mani Majra today. The constable, Sonam, was recruited in 2011. She hailed from Mahendragarh in Haryana. Her family has been informed about her death.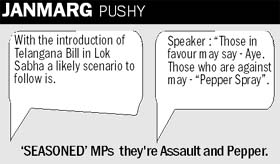 Rapist father awarded 10 years in jail
Panchkula, February 13
A local court today sentenced Uma Shankar to 10 years in jail for raping his 19-year-old daughter. The court of RK Sondhi, District and Sessions Judge, sent Shankar, a resident of Fatehpur village in Sector 20 here, also imposed a fine of Rs 5,000 on the convict.
Relief to power consumers
Chandigarh, February 13
In a major relief to consumers, the Joint Electricity Regulatory Commission (JERC) has directed the Chandigarh Electricity Department to pay interest to them on advance consumption demand (ACD) charges.

When it comes to love, age no bar
Chandigarh, February 13
Love is immortal and so is the Valentine's Day, at least for some couples who have been celebrating the day of love since they got married. There are couples of different age groups who strongly believe that age is no bar when it comes to expressing love. Sona and Pukhraj is one such middle-aged couple who makes it a point to celebrate this special day. Sona Gupta (46), a resident of Phase XI, Mohali, has been celebrating Valentine's Day with her better half since they got married. Pukhraj Gupta (51) also makes it a point to take her out and gift her something special.


Mohinder Kaur (90) and her husband Kartar Singh Bawa (93) will celebrate their 70th marriage anniversary on Valentine's Day. Tribune photo: Manoj Mahajan




Expressing love, the filmy way
Chandigarh, February 13
Every year, youths try out new ways to impress their beloved on this special day. This year, 'Ishq Wala Love' card is high on the popularity meter. The huge card has famous romantic dialogues from Bollywood movies imprinted on it.

Girls pick up a card on the eve of Valentine's Day at a gift shop in Sector 11, Chandigarh, on Thursday. Tribune photo: Manoj Mahajan


Security beefed up for V-Day
Chandigarh, February 13
Over 1,000 cops have been pressed in for security arrangements by the UT police to play a spoilsport to the lovers on the day of love. A total of seven DSP's and 29 inspectors have been deployed to keep a check on youngsters indulging in dangerous driving or eve-teasing.
A 'special' day for civic body
Chandigarh, February 13
Municipal Corporation's decision of giving permission for organising a function at the Sector 17 Plaza tomorrow has raised many eye-brows. The MC have granted permission to an event management company for holding the function even though the Finance and Contract Committee in its meeting held in September, 2013, had decided that permission to organise any cultural function at the Plaza would be given only on Saturday and Sunday.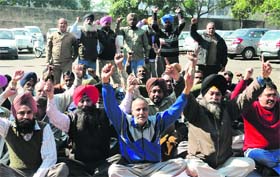 Up in arms: Employees protest at the General Post Office in Sector 17, Chandigarh, during their two-day strike on Thursday. Tribune photo: Manoj Mahajan
Rain may play spoilsport
Chandigarh, February 13
The city received light rain in the evening today which dropped the maximum temperature by two notches from normal. As per the forecast by the Met Department, rain will play a spoilsport on Valentine's Day also as their will be generally cloudy sky with light rain.
SPEAKING OUT
Students denounce hooliganism
True love is hard to find, and so are true lovers. With romance in the air, The Tribune correspondent Deepankar Sharda talks to some students on the Panjab University campus for their take on Valentine's Day.
Govt should prioritise budget for health sector, says expert
Chandigarh, February 13
Uneven distribution in the union health budget results into the mediocre research and entering of low grade medicines in the market. Referring to the union health budget which is around Rs 6,500 crore, life care innovation founding managing director Jitendra N Verma said the government is allocating budget without setting up any priorities.


Duty invasion: 2 trucks impounded
Mohali, February 13
The sleuths of Punjab Excise and Taxation Department impounded two trucks, loaded with skimmed milk powder, worth Rs 44 lakh, on the charges of evading tax, here today. According to Baldeep Kaur, assistant excise and taxation commissioner, the trucks were impounded near Mullanpur-Chandigarh border.
One of the trucks impounded by the police in Mohali on Thursday. Tribune photo: Parvesh Chauhan

MBBS students hold strike
Chandigarh, February 13
Around 250 MBBS students of the Government Medical College and Hospital (GMCH), Sector 32, and Gian Sagar Medical College went on strike as part of a nationwide protest against the decision of the Medical Council of India (MCI) to extend the tenure of the MBBS course by two and a half years.


MBBS students of the GMCH, Sector 32, hold a protest during their nationwide strike, in Chandigarh on Thursday. Tribune photo: Manoj Mahajan
Traders get coins, new currency
Chandigarh, February 13
The Chandigarh Beopar Mandal (CBM), in association with the Reserve Bank of India (RBI), today organised a coin-cum-currency exchange mela at Satsang Bhawan, Sector 26. In today's programme, new currency notes and coins worth Rs 58,75,000 were distributed among more than 200 traders.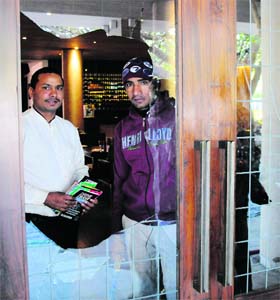 Miscreants broke the glass door at the Blue Blazer restaurant in Sector 26, Chandigarh, on Thursday. Tribune photo: Manoj Mahajan
Nano-therapy brings hope for cancer patients
Chandigarh, February 13
There is a new ray of hope for cancer patients whose body does not respond to the drugs due to blockage in cells. Epigenetic nano-therapy, which is yet to become popular worldwide, will help overcome cancer drug resistance.
High drama at dispensary
Mohali, February 13
High drama was witnessed at the Government Dispensary in Phase 11 when certain allopathic doctors prevented homoeopathic doctors from discharging their duty. While the doctors from both medical branches confronted each other, several patients, who had come there for a check-up, started supporting the homoeopathic doctors.
Interactive session held
Chandigarh, February 13
The interactive session "Seed Industry-Key Growth Driver for Agriculture Sector in India" was organised today by Maharashtra Hybrid Seeds Company Limited (Mahyco) at Hotel Park Plaza in Chandigarh.


BUSINESS NEWS
SBI women's branch inaugurated
To empower women, the State Bank of India, Sector 68, Mohali, was converted into a women's branch today. Chairperson of the Punjab Women Commission, Paramjit Kaur Landran, inaugurated the branch.

Chairperson of the Punjab Women Commission, Paramjit Kaur Landran (third from right), inaugurates an SBI branch in Mohali on Thursday. Tribune photo: Parvesh Chauhan





Mime, folk dances mark cultural evening at PGGCG-11
Chandigarh, February 13
A cultural evening was organised by Post-Graduate Government College for Girls, Sector-11, today. IAS Ninette Vase Sharma, wife of UT Adviser to the Administrator KK Sharma, was the chief-guest on the occasion.
FROM SCHOOLS
Cultural extravaganza
Chandigarh: Hallmark Public School, Sector 15, organised 'Resonanz 2014'- a creative cultural extravaganza to mark the Annual Day Celebrations of the school at the Tagore Theatre in Chandigarh.
| | |
| --- | --- |
| Students present a cultural programme during the annual day celebrations at Hallmark Public School in Panchkula on Thursday. Tribune photo: Pradeep tewari | Students of the GNKSSS, Sector 30-B, Chandigarh, stage a street play, "Badlo Apni Soch", on Thursday. It highlighted the need to curb social evils such as drinking, gender bias and illiteracy. A Tribune photograph |
FROM COLLEGES
Jyotirgamaya turns three
Panjab University celebrated the third anniversary of its community radio station 91.2 Jyotirgamaya on Thursday. School of Communication Studies, PU, organised a function to celebrate the occasion.