Farmers in both Punjabs suffering, says Pak Governor
Jalandhar, February 18

Mohammad Sarwar, the Governor of Punjab province of Pakistan, has said that post-Partition, both India and Pakistan had ignored their farmers, a majority of whom were living in eastern and western Punjab. Sarwar's statement contradicts the Punjab Government's claims (at the agriculture summit in Mohali) that it had transformed the lives of farmers.

Pakistan Punjab Governor Mohammad Sarwar being welcomed in Jalandhar Cantonment on Tuesday. Tribune photo: Sarabjit Singh

Summit a waste of public money: Capt
Mohali, February 18
Former Chief Minister Capt Amarinder Singh has described the Agriculture Summit as nothing more than a drama and a wastage of public money. He was in town for a court hearing in the Amritsar Improvement Trust land scam.
Govt submits to farmers' demands
Bathinda, February 18
The state government today accepted the protesting farmers' demands for a Rs 2 lakh compensation to the families of farmers who committed suicide owing to debt. Compensation cheques will be handed over to the families before February 23, saiod official sources.
suicide by farmers under debt
Frame relief policy in 2 months, HC tells state
Chandigarh, February 18
The Punjab and Haryana High Court has directed the state to frame an "appropriate scheme" for granting financial assistance to the families of farmers who committed suicide.
Prove charge, Phoolka dares Sukhbir


Ludhiana, Februrary 18
Aam Aadmi Party candidate from the Ludhiana Lok Sabha constituency and Supreme Court lawyer HS Phoolka today asked Deputy Chief Minister Sukhbir Badal to prove his allegation that he (Phookla) took fee for fighting the cases of anti-Sikh riot victims. "I challenge Sukhbir to prove his allegation within a week or resign from the Cabinet and the SAD," said Phoolka.
BJP forms panel to end infighting
Batala, February 18
To unify BJP's dissension-ridden Batala unit, party's Punjab unit president Kamal Sharma has constituted an eight-member core committee to run the affairs in the run-up to the Lok Sabha elections.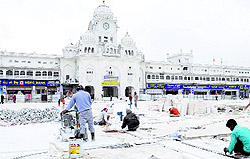 Golden Temple plaza to open soon
Amritsar, February 18
The ongoing work on the state government's ambitious Golden Temple Entrance Plaza project has gathered steam. The agencies involved say the work on the sprawling open area may be completed within the next couple of months.


Workers at the Golden Temple plaza in Amritsar. Photo: Vishal Kumar

Release Bhullar, says SGPC
Sangrur, February 18
Avtar Singh Makkar, SGPC president, today demanded that Devinder Pal Singh Bhullar, convicted in a bomb blast case, be released.
State's reply on DGP Saini 'sent' to EC
Chandigarh, February 18
Even as the office of the Chief Electoral Officer today said it had sent the state government's reply on a complaint seeking transfer of Director-General of Police Sumedh Singh Saini to the Election Commission of India, the CEO, VK Singh, denied the same.
Job promise not kept, ASI's widow protests
Amritsar, February 18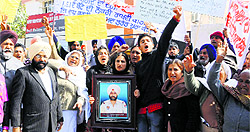 Assistant Sub-Inspector (ASI) Kulbir Singh's widow Simarjeet Kaur today protested against the government outside the Inspector General's (border) office. She alleged the state government and the Punjab Police had failed to keep their promise of employing her.




Simarjeet and family members protest in Amritsar on Tuesday. Photo: Vishal Kumar


Army chief to attend YPS annual day


Patiala, February 18
The authorities at Yadavindra Public School are busy gearing up for Chief of Army Staff General Bikram Singh's visit on February 22. He will preside over the school annual academics day.

Empty coffers, yet state govt enhances DA
Chandigarh, February 18
Ahead of the Lok Sabha poll, the Punjab Government has announced 10 per cent hike in dearness allowance (DA) for its three lakh employees.

Food Dept inquires into oil hoarding
Abohar, February 18
A team of the Punjab Food and Civil Supplies Department today visited Ramsara village in Fazilka district to verify whether or not kerosene oil had been supplied to BPL persons.

10 Indians detained in Nigeria may be released on Feb 25
Hoshiarpur, February 18
Ten Indians detained in a Nigerian jail may be released on February 25.


Sayeedwala village residents today alleged that the distribution of compensation cheques to farmers, whose fields and houses were damaged because of a breach in a drain last year, had political overtures.

Minister's son tried to stall raid: I-T officer
Jalandhar, February 18
Damanpreet Singh Phillaur, son of the Punjab minister Sarwan Singh Phillaur, allegedly tried to stall an Income Tax (I-T) raid on the premises of Shiva Cold Store at Goraya. The store owner, Chuni Lal Gaba, is said to be close to the minister.




Redress grievances of the aged: HC
Chandigarh, February 18
Taking cognisance of the disturbing trend of children making attempts to throw their parents out of their houses in the twilight of their lives, the Punjab and Haryana High Court has called for immediate redressal of the problem.

SIT probe on illegal mining fails to impress court
Chandigarh, February 18
The Punjab and Haryana High Court today took a serious view of the apparent indifferent attitude adopted by the special investigation team (SIT) constituted by the state government to look into illegal mining in the state.

5 of family get life sentence
Ropar: The district court today awarded life sentence to five members of a family for the murder of a woman and her daughter. The convicts are Lalit, the husband of deceased Manisha, his brother Vikas, their parents Bimal Kumar and Brij Bala and Vikas's wife Kavita.

School bus driver, helper killed in Phagwara mishap
Phagwara, February 18

The driver of a school bus and his helper were killed while 12 passengers of a private bus were injured in a collision between the two vehicles near DAV College here this morning. The school bus belonged to Delhi Public School, Jalandhar. While 16 schoolchildren escaped unhurt, four sustained minor bruises, the police said.


The damaged school bus which collided with a private bus in Phagwara on Monday. A Tribune photograph