Cold wave continues
Shimla, February 18
The intense cold wave continued unabated in the state even though the region had a clear day and minimum temperature rose marginally. The Chopal and Nerwa areas of Shimla and several areas of Kinnaur district remained cut off for the fifth day today. The Hindustan-Tibet national highway was opened for light vehicles, while Rampur and Reckong Peo-bound vehicles were being diverted via Dhami-Basantpur and Kingal.
Grant for hill states a joke, says Dhumal
Hamirpur, February 18
Former Chief Minister PK Dhumal has termed the grant of Rs 1,200 crore in the Interim Union Budget for hill states a joke with Himachal Pradesh. Dhumal said, "The hill states include 10 states and Rs 1,200 crore will be distributed among all these states; moreover, nobody knows when the states will get this money."
CII welcomes Interim Budget
Solan, February 18
The Confederation of Indian Industries (CII) has welcomed the Interim Budget presented by the Finance Minister yesterday. CII Northern Region Chairman Jayant Davar said, "The focus of the Finance Minister on checking the fiscal deficit at 4.6 per cent shows the commitment of the government towards adherence to fiscal discipline."
Move to impose tax on rural panchayats opposed
Solan, February 18
With the state government proposing to do away with tax incentives to investors in tribal areas and rural panchayats in its new industrial policy, investors have opposed this move, terming it inimical to their interest.
PCMA Research Award conferred on HPU prof
Bilaspur, February 18
Dr Kulbhushan Chandel, Associate Professor, Department of Commerce, HPU, was awarded the PCMA Research Award-2013 at Chandigarh recently. The award was conferred on him by the Punjab Commerce and Management Association (PCMA) at an international seminar jointly organised by Panjab University and the PCMA.
ATM with Rs 7 lakh lifted in Baddi
Solan, February 18
Some unidentified persons took away an ATM of the State Bank of Patiala on the Barotiwala road in Baddi in the wee hours today. The ATM contained about Rs 7 lakh. The incident came to light when a mechanic from Chandigarh reached there around 9 am to repair the machine. On finding that it was missing, he informed bank officials, who reported the matter to the police.
Budget a bundle of false promises: BJP
Shimla, February 18
Terming the Interim Budget presented by Union Finance Minister P Chidambaram yesterday as a bundle of false promises, BJP state spokesperson Ganesh Dutt today said the UPA had broken all records of corruption of which 2G, Commonwealth and coalgate scams were the living proofs.
Villagers end stir at hydro project site
Kullu, February 18
The 12-day protest by villagers at the Siund power house of the 800-MW Parbati Hydro Electric Project, Stage-II, came to an end today after Kullu Deputy Commissioner Rakesh Kanwar assured them that their demands would be taken up with the government.
Power Board employee gets electric shock
Bilaspur, February 18
HP Power Board employee T-Mate Sailender Pal received burn injuries when he received an electric shock from an electric pole which he had climbed to correct a defect in power lines of a transformer at Berry, 10 km from here, today.
Ex-MLA Karam Singh's death mourned
Shimla, February 18
Chief Minister Virbhadra Singh has mourned the death of Karam Singh Thakur, former MLA from the Bamsan Assembly constituency in Hamirpur district. In his condolence message, he prayed for the peace to the departed soul and strength to the bereaved family members in this hour of distress.
Interviews from Feb 22
Shimla, February 18
The interviews for the recruitment of 65 posts of Ayurvedic Medical Officer will commence from February 22 at the Directorate of Ayurveda, SDA Complex, Kasumpati.
Army truck crushes vegetable vendor to death
Dharamsala, February 18
A vegetable vendor, Dharampal of Sahora village, was crushed to death under an Army truck today at about 7.30 am. Sources available here said the truck that was passing near the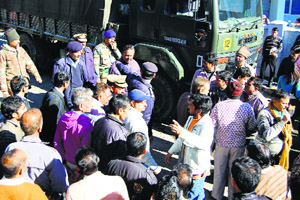 Kachehri crossing trampled Dharampal near the Dharamsala Press Club. The truck driver did not even notice that Dharampal had got stuck under the tyres of his vehicle and kept on driving for a about 100 metres till the head office of Kangra Cooperative Bank. By the time the truck stopped very little was left of the body. The police has registered a case under Sections 279 and 304-A of the IPC against PS Babu, driver of the truck. He has also been arrested. TNS

Villagers protest after a man's death in an accident in Dharamsala on Tuesday. Photo: Kamaljeet

One injured in bear attack
Chamba, February 18
A wild bear today attacked two pedestrians in the Kahri area of Bhattiyat subdivision in the district. One was them was seriously injured in the incident, while the other was successful in running away. The injured, identified as Chuni Lal of Kahri area, has been admitted to Chowari hospital for treatment. Local residents have reported the incident to the officials concerned. Since the area is situated on the fringe of the Kalatop-Khajjiar wildlife sanctuary, wild bears are on the prowl, following the recent heavy snowfall on high-altitude areas of the sanctuary. — OC
Mandi schools closed on Feb 19, 20
Mandi, February 18
District Magistrate-cum-Deputy Commissioner, Mandi, Devesh Kumar has declared a two-day holiday i.e. on February 19 and 20 in all winter-closing schools up to X plus II schools of the district in view of the prediction of heavy rain and snow in the district. He said this decision had been taken to protect the students from possible landslides occurring due to heavy rain or snow in different parts of the district. — TNS
Man gets 2-year jail
Nurpur, February 18
Narinder Singh, Judicial Magistrate, 1st Class, Indora, today sentenced Dharam Singh of Dothi village to two years' imprisonment and fined him Rs 1,000. Assistant District Attorney Vijay Rihalia said Amir Chand, panchayat sahayak of Bahadpur gram panchayat, had registered an FIR under Section 3 of the Prevention of Damage of Public Property Act against the convict in July 2008 for allegedly damaging a village path built at a cost of Rs 50,000 under the MNREGA scheme. — OC
Man held for molestation
Nurpur, February 18
A resident of Samlet village was arrested on the charge of molestation last evening. Rajneesh Kumar was produced in a court, which sent him to a four-day judicial remand. The Fatehpur police said Rajneesh had allegedly entered his neighbour's house two days ago and outraged the modesty of a woman, whose husband was away. When the woman raised an alarm, he fled from the spot. A case was registered against him. — OC