Association of physicians conference
Need for stem cell banks: Expert
Ludhiana, February 20
Maj Gen (Dr) Velu Nair from the Armed Forces Medical College (AFMC) in Pune today stressed upon the need for setting up stem cell banks on a large scale across the country.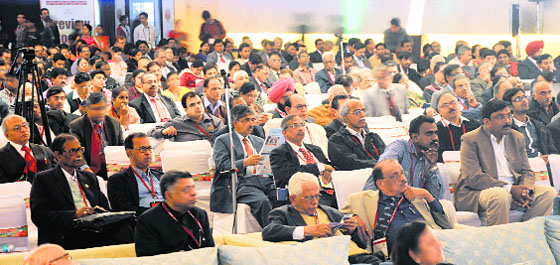 Participants at the conference of the association of physicians in Ludhiana on Thursday. Tribune photo: Himanshu Mahajan

apicon in numbers
6,400 doctors have been participating in the four-day conference
19 of the participating doctors are experts from various foreign countries
50 years is the duration after which the event is being organised in Punjab
US doctor favours ethnic panels
Ludhiana, February 20
Dr Rohit Gulati, assistant vice-president (administration) at MedStar Union Memorial Hospital, US, has emphasised upon the need for setting up ethic committees in Indian facilities.

Not invited to Modi rally, says Sidhu
Amritsar, February 20
Even as the ruling SAD-BJP alliance is pulling out all stops to mobilise people for the "Fateh Rally" of NDA prime ministerial candidate Narendra Modi in Jagraon on February 23, the BJP's lone MP in Punjab, Navjot Singh Sidhu, today claimed that he had not been invited to the rally.

SAD fields Ayali from Ludhiana
Chandigarh, February 20
Sukhbir Singh Badal, SAD president, today announced Manpreet Singh Ayali, Dakha MLA, as the party candidate for the Ludhiana Lok Sabha seat. Campaign committee spokesperson Harcharan Bains said Ayali began his public life as president of the Co-operative Society, Ayali Khurd.
Manpreet may contest from Bathinda


Chandigarh, February 20
Former Finance Minister and People's Party of Punjab president (PPP) Manpreet Singh is likely to contest the Bathinda Lok Sabha seat against SAD candidate Harsimrat Kaur Badal.


Manpreet Badal, Surjit Singh Barnala and other Sanjha Morcha leaders at a meeting in Chandigarh on Thursday. Tribune photo: manoj mahajan

Chandumajra promises rail link, jobs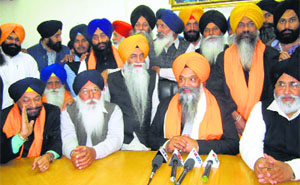 Anandpur Sahib, February 20
Shiromani Akali Dal (B) candidate Professor Prem Singh Chandumajra kick-started his campaign for the upcoming parliamentary elections while paying obeisance at Takht Sri Kesgarh Sahib here today.




Prem Chandumajra (second from right) along with other SAD leaders in Anandpur Sahib on Thursday. Tribune photo

Rahul has no sympathy for riot-hit: Dy CM
Amritsar, February 20
Deputy Chief Minister Sukhbir Badal today alleged that Congress vice-president Rahul Gandhi had no regrets about the 1984 Sikh genocide or sympathy towards the victims, "and that he did not even have the courage to initiate any action against his party leaders involved in the riots".
BJP hoardings carry photo of PM's wife
Abohar, February 20
Bharatiya Janta Party's IT cell has committed a blunder in organising its campaign for the forthcoming Lok Sabha poll. They printed the photograph of Prime Minister Manmohan Singh's wife Gursharan Kaur on a hoarding that also displayed senior national, state and district level BJP leaders.




Depleting groundwater
Green Tribunal summons Chief Secy
Hoshiarpur, February 20
The full bench of the National Green Tribunal has ordered Punjab Chief Secretary Rakesh Singh to appear before the bench on March 5 or face coercive action. The tribunal issued the order yesterday with regard to his not being present for hearing even after receiving the notice in this regard.
Lok Sabha poll: PU prepares tentative exam schedule
Chandigarh, February 20
In view of the Lok Sabha elections, Panjab University (PU) has prepared a tentative examination schedule for the current session.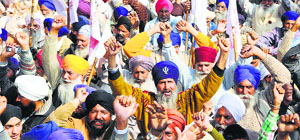 For a cause: Farmers protest outside the PSPCL office in Amritsar on Thursday. Photo: Vishal Kumar
Have not embraced Islam: Hans
Jalandhar, February 20
Renowned Sufi singer Hans Raj Hans has debunked reports in Pakistan media claiming that he has embraced Islam.
Police want Bhola shifted to high-security jail
Patiala, February 20
Fearing an attempt on drug lord Jagdish Bhola's life, the Punjab Police have sought to shift him to a high security jail.
Shifting of transfomer : PSPCL official transferred
Muktsar, February 20
A Senior Executive Engineer in the PSPCL, posted in the Chief Minister's home district, has been transferred. He had recommended action against an SGPC member for shifting an electricity transformer in violation of norms.
Soon, stamp on Kuka Movement
New Delhi, February 20
To recognise the sacrifices of Kukas in the freedom struggle, the Centre has approved a commemorative stamp in honour of the martyrs.
2 farmers commit suicide
Moga/Sangrur, February 20
A 55-year-old farmer allegedly committed suicide by hanging himself from the roof of a cattle shed at Ransinh Kalan village in Nihalsinghwala sub-division of Moga.
Kotkapura sweepers on strike
Faridkot, February 20
As the financially impoverished Municipal Committee (MC) failed to pay the salaries to its employees for three months, all 198 safai karamcharis (sweepers) in the district's Kotkapura town went on an indefinite strike today.
Pensioners gherao Dhindsa's house
Sangrur, February 20
Members of the Punjab Pensioners Union today blocked traffic at Nankiana Sahib Chowk near Finance Minister Parminder Singh Dhindsa's house in support of their demands.
Jakhar slams govt over agri summit
Abohar, February 20
Congress Legislature Party (CLP) leader Sunil Jakhar has contested the Punjab Government's claim of the Agriculture Summit's success. "The Punjab Government has neither been able to convert 40 agreements announced in 2008 to promote agro-based industries nor took initiative to ensure remunerative marketing avenues to kinnow growers," he said today.




Punjabi convicted of poll fraud in NZ
Melbourne, February 20
A Sikh leader has been sentenced by a New Zealand court to community detention and community work for forging poll documents in a bid to win a local body election three years ago.
Couple seeks help to avoid deportation
Wellington, February 20
An Indian couple in New Zealand facing deportation has approached a local Member of Parliament (MP) for help.



No concession for job seekers from rural schools, says HC
Chandigarh, February 20
In a significant judgment, the Punjab and Haryana High Court has made it clear that five additional marks cannot be granted to candidates passing middle and matric examination from schools in rural areas even in case of selections initiated before the Full Bench judgment in Abhishek Rishi's case.
Court turns down plea of Maharaja's 'descendant'
Chandigarh, February 20
More than a decade after a "descendant" of Maharaja Ranjit Singh claimed to be the real descendant, a local court today dismissed the petition.
Moga hotelier let off in drugs case
Moga, February 20
The court of District and Sessions Judge here today acquitted a local hotelier, Sukhcharan Singh, in a controversial case of drug trafficking registered against him in August 2009.
Man gets life term for rape
Abohar, February 20
A special court in Sriganganagar, 40 km from here in Rajasthan, has sentenced a man to life imprisonment for rape. An 18-year-old victim of Janakidass Wala village had said that on September 22, 2012, Ram Kumar Meghwal (35) of Suratgarh took her to a house on some pretext and raped her at knife-point. He was charged under Sections 376 and 366 of the IPC. — OC
10 cops booked for framing driver
Amritsar, February 20
At least 10 police personnel, including a Superintendent of Police, have been booked on the charges of criminal breach of trust and for entering wrong information in a case that dates back to 2000.
J&K student's death: Friend booked
Hoshiarpur, February 20
The police have booked a friend of an engineering student from Doda in Jammu and Kashmir on the charge of culpable homicide.