M A I N N E W S
Ukrainian protesters take over capital


Parliament ousts President, sets May 25 elections


Yanukovych calls it coup
Kiev, February 22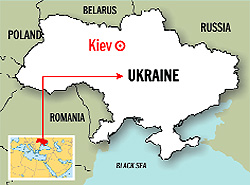 Ukrainian parliament today voted to remove embattled President Viktor Yanukovych from office after protesters took control of country's capital on Saturday.
Yanukovich, who abandoned his Kiev office, denounced what he described as a coup. "I am not leaving the country for anywhere. I do not intend to resign. I am the legitimately elected president," Yanukovych told a local television station in the eastern Ukrainian city of Kharkiv.
"Everything happening today can primarily be described as vandalism, banditry and a coup d'etat."
"This is not an opposition," Yanukovych added. "These are bandits."
Members of the Ukrainian parliament stood, applauded and sang the national anthem after declaring the President constitutionally unfit to carry out his duties and set an early election for May 25.
The apparent toppling of the pro-Russian leader after bloodshed in Kiev that saw 77 people killed seems to be an attempt to pull Ukraine away from Moscow's orbit and closer to Europe.
It is also a stark reversal for Russian President Vladimir Putin's dream of recreating as much as possible of the Soviet Union in a new Eurasian Union, in which Moscow had counted on Yanukovich to deliver Ukraine as a central member.
Opposition leaders yesterday signed a European-brokered agreement aimed at resolving the months-old political crisis. The agreement called for early elections and constitutional reforms that reduced the President's powers. Earlier, the protesters claimed full control of Kiev and took up positions around the President's office and a grandiose residential compound believed to be his. — Agencies

Ex-PM Tymoshenko released
Former Ukrainian PM and opposition icon Yulia Tymoshenko has been released from prison, said Tymoshenko's spokesperson. Tymoshenko is President Viktor Yanukovych's arch-rival and her arrest in 2011 and conviction on charges of abuse of office were seen as a case of political revenge.

Prez tries to flee
Ukraine's parliamentary speaker said President Viktor Yanukovych had tried to board a plane to Russia but had been prevented from doing so and was now in the Donetsk region
Russia slams Oppn
Russia's Foreign Minister Sergei Lavrov said the Ukrainian Opposition has failed to deliver on the deal signed on Friday. He called on Germany, Poland and France to ensure immediate fulfilment of the agreement.