10,000 cops to man Modi rally today
Ludhiana/Jagraon, February 22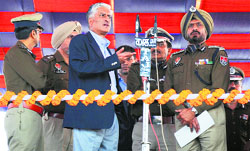 Elaborate security arrangements have been made for BJP's PM-designate Narendra Modi's 'Fateh Rally' at Jagraon Sugar Mill grounds tomorrow.






DGP Sumedh Saini taking stock of security arrangements in Jagraon on Saturday. Tribune photo: Himanshu Mahajan

SAD bets on sitting MP Ghubaya from Ferozepur
Muktsar, February 22
The SAD today re-nominated sitting MP Sher Singh Ghubaya as its candidate from the Ferozepur parliamentary seat. Ghubaya (52) belongs to the Rai Sikh community, which has a huge presence in the constituency. Elected an MLA from Jalalabad in 1997 and 2007, he successfully contested the Lok Sabha poll from Ferozepur in 2009.
27 projects in a day, Harsimrat goes on stone-laying spree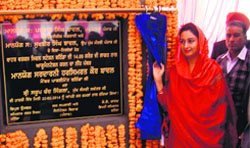 Bathinda, February 22
Bhatinda MP Harsimrat Badal was on a foundation laying-cum-project inauguration spree today. She launched 27 projects worth Rs 33.76 crore in the district, making it an unusually hectic day for government officials, who remained on their toes the entire day.



MP Harsimrat Badal inaugurates a water works civil station in Bathinda on Saturday. A Tribune photo

Rabbi Shergill may be AAP
Amritsar, February 22
Speculations are rife that the Aam Aadmi Party (AAP) will be fielding noted singer Rabbi Shergill from Amritsar Lok Sabha constituency. However, the picture will become clear once the AAP releases its second list of candidates that probably figures the party candidate from Amritsar as well.
Simranjit Mann to contest from Khadoor Sahib
Chandigarh, February 22
The SAD (Amrtisar) has decided to field its president Simranjit Singh Mann from Khadoor Sahib Lok Sabha seat. Party secretary general Jaswant Singh Mann said the SAD(A) would contest all 13 seats in Punjab, five in Haryana and one in Rajasthan.
Shashi Kant quits AAP
Chandigarh, February 22
Former DGP (Prisons) Shashi Kant today resigned from the Aam Aadmi Party (AAP), citing the party's alleged reluctance to take up prominently the issue of drugs in Punjab.


Murthy promises 5,000 jobs
Mohali, February 22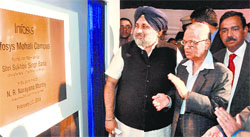 In a big boost for the Information Technology sector, Infosys will provide at least 5,000 jobs to software professionals after the completion of the first phase of its campus, worth Rs 425 crore. The announcement was made by Infosys founder and executive chairman Narayana Murthy here today.
Deputy CM Sukhbir Badal with Infosys founder Narayana Murthy in Mohali on Saturday. Tribune photo: Parvesh Chauhan
No shortcut to success: Army Chief
Patiala, February 22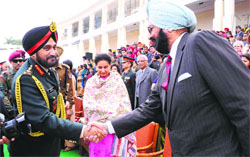 Army Chief Gen Bikram Singh presided over the 65th 'Academic Day' function of Yadavindra Public School (YPS) here today.




Army Chief Gen Bikram Singh greets SAD leader Malwinder Singh at Yadavindra Public School in Patiala on Saturday. Union Minister Preneet Kaur (centre) is also seen. Tribune photo: Rajesh Sachar
PCS prelims postponed to March 23
Chandigarh, February 22
The Punjab Public Service Commission (PPSC) has postponed the Punjab Civil Services (PCS) Combined Competitive Preliminary Examination to March 23 from March 16.
Diabetes a disease of the rich : UK doc
Ludhiana, February 22
Dr Onkar Sahota from UK today said coronary artery diseases were on the rise in the West while addressing the gathering at the 69th Annual Conference of the Association of Physicians of India in Ludhiana.
Future of healthcare lies in smart phones: Dr Sagar
Ludhiana, February 22
Lt Col Amitabh Sagar from Army Forces Medical College, Pune, today said smart phones could help people monitor their health at the physicians' conference in Ludhiana. He said the future of wellness lay in these phones.
Dayanand Hospital to open centres
Ludhiana, February 22
Sunil Kant Munjal, president of Dayanand Medical College and Hospital (DMCH), today said the hospital would open health centres at Shimlapuri and Haibowal to reach out to more people.


Court raps police for shoddy probe in rape case
Chandigarh, February 22
Virtually passing strictures on the Punjab Police for carrying out shoddy investigations into the rape of a minor mentally challenged girl at a care home in Ludhiana district, the Punjab and Haryana High Court has asserted that a special investigating team was required to be constituted instead of entrusting the probe to a junior police official.


Cop among 6 booked for abducting, killing manPuneet Pal Singh Gill
Ludhiana, February 22
A head constable posted at Haibowal police station (Ludhiana) and a Home Guards employee were among six persons booked for allegedly killing a man after abducting him from his house in Rajpura in Patiala.