Laughter riots
We hear it yet again… laughter is the best medicine. Laughter kills stress, laughter has a healing touch. Then the news about a popular TV character Gutthi quitting Comedy Nights With Kapil and joining a new show Mad In India pours in. No, we don't laugh for we have been hearing rumours about Sunil Grover who made Gutthi a household name having problems with the channel as well as Kapil Sharma.

(Clockwise) Chutki from Mad In india VS Gutthi of Comedy Nights with Kapil

Keepin' it real
It's not an unusual name for a rock band, Moon Dogs. It was a part of the nomenclature when Beatles renamed themselves from 'Johnny and the Moondogs'. Even their genre is favourite with most of the rock bands- Indi Rock.


Soul stirring: Hamza and Aaqib Photo: Parvesh Chauhan




The bad man
He is chiseled as a model, but turns a venomous villain, as he rattles the words he doesn't understand but knows what they mean. The wicked laughter, crinkled brow, intense eyes give shudders to others as he unleashes the demoniac wrath.


Role call: Vikramjit Virk Photo: Himanshu Mahajan




it's rocking
Three's company
For all those of you who fancy the kind of music that feeds your soul, Caroline, a song by The Mae Trio on Balcony TV is all that you need! The Melbourne-based band of three young musicians, The Mae Trio, is fast making a name for themselves in the Australian music scene.


Weight watch
Eat, pray, lose
Are you having a hard time sticking to your diet plan? Yes, it's really difficult to stick to extremely low-calorie diets, which can hurt your long-term success. Boredom and hunger can both undermine your weight-loss goals. It is important to remember that too much or crash weight loss has many negative consequences for the body and your health.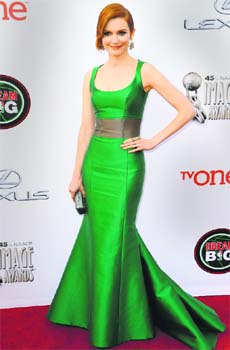 Striking a perfect pose: Actress Darby Stanchfield attends the 45th NAACP Image Awards in Pasadena, California. — Reuters

stress buster
Take control of your life
There are some qualities we are born with and emotional resilience is one of them. Some of us are lucky enough to have this in us but it can be and should be learned and developed. If you are the type who would like to handle life's challenges whether they are major or minor with greater ease, to grow from adversity and turn potentially negative events into positive ones, you definitely need to be more resilient.
TRENDSETTER
Casually classy
Every person has a sense of style. Yet, there are only a few who'd attract the second glances. It could be tuxedos, it could be torn jeans. Our this week's face in the crowd Deeptanshu Thukral, 27, manager in an MNC, believes in dressing up to the hilt.
Film fiesta
Chandigarh Sangeet Natak Akademi and Embassy of the Czech Republic are going to organise a three day Czech Film Festival from February 26 to 28. 2014 at Government Museum Auditorium—10, Chandigarh.


Randeep Hooda: I don't do conventional things
In Bollywood, the leading actors either belong to a high profile family or are related to someone famous from the industry. However, there are actors like Randeep Hooda who are known for their acting skills and their struggle. He talks about his latest film Highway, his past failures and more...
Different take: Randeep Hooda