Modi hardsells pro-farmer image
Jagraon, February 23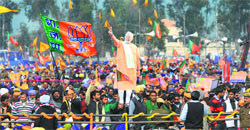 The NDA's prime ministerial candidate, Narendra Modi, while addressing a mammoth rally here today, did not speak on the 1984 riot victims, greater devolution of central funds and special package for the border state. These demands were raised by SAD president Sukhbir Singh Badal and Chief Minister Parkash Singh Badal at the rally.

Supporters of the BJP and SAD with a cutout of Narendra Modi at the 'Fateh Rally' in Jagraon on Sunday. Tribune photo: Himanshu Mahajan

Modi's assurance to farmers meaningless, says Bajwa
Chandigarh, February 23
Punjab Pradesh Congress Committee (PPCC) president Partap Singh Bajwa today said that BJP prime ministerial candidate Narendra Modi had not promised to withdraw the Special Leave Petition (SLP) in the Supreme Court against the stay granted by the Gujarat High Court to Sikh farmers.
Plotters of 1984 riots must be exposed: CM
Jagraon, February 23
Chief Minister Parkash Singh Badal today said the SAD was not opposed to the setting up of a Special Investigating Team (SIT) to probe the 1984 anti-Sikh riots, but it being formed under the "Congress leadership." He was addressing the Fateh Rally here.
Traffic goes haywire after rally
Jagraon, February 23
Traffic went haywire on the Ludhiana-Moga highway along the venue of the Fateh Rally as soon as the public meeting ended.


Netting profits through fish farming in waterlogged Muktsar
Muktsar, February 23
A Union Government scheme that offers 90 per cent subsidy on new fish ponds in waterlogged areas has come as a ray of hope for farmers affected by the menace in the district.
Sikh farmers in Kutch sceptical
Chandigarh, February 23

Farmers settled in Kutch remain sceptical of Narendra Modi's assurance that they will not be evicted from their land.Speaking at the Jagroan rally today, Modi had said that vested interests were spreading canards in this regard.




Jaswinder Singh, who was attacked by land mafia, with his family members at Loriya village near Bhuj in Gujarat. file photo
Rs 150-crore plan to upgrade Patiala medical college
Patiala, February 23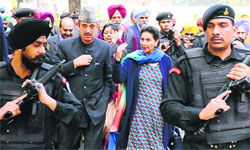 Union Health Minister Ghulam Nabi Azad here today laid the foundation stone for upgrading the Government Medical College and Rajindra Hospital under the third phase of the Pradhan Mantri Swasthya Suraksha Yojana.


Union Minister Ghulam Nabi Azad and Minister of State for External Affairs Preneet Kaur at Government Medical College in Patiala on Sunday. Tribune photo: Rajesh Sachar
Get kids vaccinated against H1N1: Experts
Ludhiana, February 23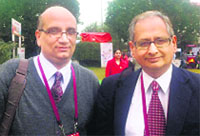 Dr Vikas Suri and Dr Ashish Bhalla from Chandigarh said children less than a year old and people suffering from diabetes, AIDS, cancer, etc were at high risk of catching the H1N1 virus. They were addressing the gathering at the 69th annual conference of Association of Physicians of India (API) here today. They said those susceptible to the virus should get vaccinated every year.
Dr Vikas Suri and Dr Ashish Bhalla in Ludhiana on Sunday. A Tribune photograph
50% AIDS patients are youth: Expert
Ludhiana, February 23
Fifty per cent of AIDS patients were young and parents and peer educators could play a pivotal role in raising awareness among them, said Dr BB Rewari, National Programme Officer for Anti-Retroviral Treatment at National AIDS programme.
Farmer killed in clash with cops cremated
Amritsar, February 23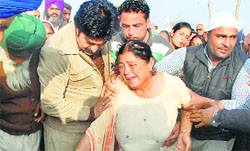 Bahadur Singh (74), the farmer who had died during a clash between agitating farmers and the police two days ago, was cremated at his native Bandala village near here today.






Family members of the deceased at Bandala village on Sunday. Photo: Vishal Kumar
Social body announces Rs 1 cr for skill development
Chandigarh, February 23
A Delhi-based social welfare organisation, The Sun Foundation, has announced the setting up of a corpus fund of Rs 1 crore for skill development and professional education for kith and kin of war widows and victims of terror attacks in the state.
BSF ups vigil to check cross-border smuggling
Abohar, February 23
The Ministry of Home Affairs has finalised a plan to renovate fencing along the 100-km-long border with Pakistan apprehending that Punjab-based narcotic smugglers may become more active in the Sriganganagar region.
SLIET students protest during convocation
Sangrur, February 23
Students of the Sant Longowal Institute of Engineering and Technology (SLIET) held a protest during their convocation ceremony on Saturday. The students raised slogans against SLIET director as a student, Navneet Kumar, who had secured the top position in Bachelor of Engineering in Welding Technology, was not given a gold medal.
Congress MLA from Dhuri may join SAD
Chandigarh, February 23
High-profile Congress MLA from Dhuri Arvind Khanna may join the SAD in the near future, say sources. Congress MLA Harchand Kaur, who represents the Mehal Kalan constituency in Barnala, may also desert the party.
'Thrashed' by classmates, 16-year-old ends life
Hoshiarpur, February 23
A 16-year-old Class X student of a local school allegedly committed suicide by consuming a poisonous substance after being "harassed" by five classmates.
Thieves cut open ATM at Mukerian
Hoshiarpur, February 23
Some unknown persons cut open an ATM of Punjab National Bank on the Talwara road in Mukerian with a gas cutter and fled with cash this morning. Bank officials were reluctant to give details about the loss. However, sources said Rs 24 lakh was put in the ATM two to three days ago.
Man booked for killing ex-wife
Phagwara, February 23
A Dalit woman, Kamaljit Kaur (25), was allegedly strangulated to death by her former husband at her house in Phagwara late last night.