The best mix
Remixing is a cross between technology and art. While technology is a constant, art is a variable and changes with the person at the console. If both had been a constant, there wouldn't have been any difference between DJ Aqeel and the one playing music at a 'sangeet' in the neighbourhood. "Technology helps you extract vocals from music but how to get it, modulate it and re-present it is where the skill of the DJ comes in," shares DJ Aqeel, in Chandigarh on Friday to launch Hippodrome-Bar & Night Club at Park Plaza. This is one of the night clubs that Aqeel will manage, besides his popular ones — Hype and RSVP. He shares excerpts from his journey.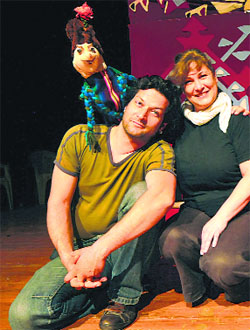 Song and string
Although puppets evolved into cartoons and animation characters over time, the essence of this age-old art form is still in the rawness of its execution and innovative experimentation, which infuses in this art form the much-needed novelty and drama. On the last day of the second edition of the International Theatre Puppet Festival, at the Tagore Theatre, Chandigarh, the actors and director, Hristina Arsenova, of theatre group State Puppet Theatre-Burgas of Bulgaria, speak volumes about their show Tumba Lumba.






Show Time: Dian Rusev and Rumyana Kraleva

Abuses abused?
Seems like it's rather 'cool' to blurt out expletives today, without bothering where you are or who are you with! The problem grows manifold when our artistes go overboard with their creations or on the stage. Honey Singh has come under the scanner more than once; Hard Kaur landed in a controversy yet again at a student festival in New Delhi. While some dub it as a generation being 'honest' others worry about its impact on young minds.

CLear take: (L-R) Ajay Beh and Piyush Jha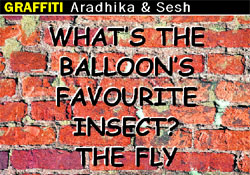 Punjabi Tadka
Thinking right
It was his track Soch that changed the 'soch' of Punjabi music listeners. Well, not literally though. Punjabi singer Hardy Sandhu created waves with his track Soch that received great reviews. Hazel-coloured eyes, a neat goatee and hair done up stylishly, Hardy continues to mesmerise with his soothing romantic tracks. Harry, who started his singing career in 2012, has a long way to go.
Future Shock
Stay connected


Now that Facebook has agreed to buy WhatsApp in an unprecedented $19 billion deal, the future of free messaging apps looks brighter. Facebook has lately become a hangout place for parents to stay connected and possibly get a peek into their children's life. Little wonder then, teenagers have started distancing themselves from Facebook. Acquisition of WhatsApp by the social media giant is being seen as a way to engage these younger members of the society.
Just beat it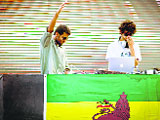 Live performance will make the party lovers groove to its tune as Pune-based TripShot Crew is all set to electrify the environment at F-Bar and Lounge in Chandigarh this Sunday. Gear up for 'Sunday Sundowners', the weekly musical show. Witness music, fun and lip-smacking delicacies on the open and beautiful terrace of the newly launched F Bar and Lounge which gives you a spectacular city view.
Travel in style
Victorinox brings innovation to hard-side luggage by launching its Spectra 2.0 Collection. The Spectra 2.0 collection is designed to give you what you need, when you need it. It can make your trip easier and more convenient every step of the way. It has been designed in a way to assist you at all times whether it's while packing, in transit or upon arrival at your destination. — TNS

Master Chef
Something fishy
The season to relish fish in its various forms is at its peak now. Though it is taken all over the year in other parts of the country, for the north it is a "no! no!" from May to August. So enjoy it while you can with this very light dish.


Cold waves

A model presents a creation by Israeli-American designer Alber Elbaz as part of his Fall/Winter 2014-2015 women's ready-to-wear collection show for fashion house Lanvin during Paris Fashion Week February 27. REUTERS
star track
Saket & his side effects
Saket Chaudhary became a force to reckon with after Pyaar Ke Side effects. After seven years, he is back with his second film, Shaadi Ke Side Effects which has a lot of hype around it. He talks about people he knows in the industry and film-making.



Arjun, Alia to lock-lips in 2 States


Life's good


Crowd puller


Baby Doll in business


Hot properties


New address


Leading lady


Grey zone


Side kick


Bhatt's Bad debut


Socially correct!


A lot in a surname


Jai ho Danny


Jolie can cook


Game point


Fast track action
chatter box
Biggies on Boogie Woogie
The sets of Boogie Woogie came to a standstill as Bollywood beauties Madhuri Dixit and Juhi Chawla, both known for their gorgeous smiles, came on the sets to promote their upcoming movie Gulaab Gang. Juhi Chawla, dressed in a beautiful white gown, along with a chic looking Madhuri Dixit mesmerised everyone. In fact, they were also spellbound by the stellar performances of the contestants.



Right act


Parting ways


Sing along


Animal instinct!


Dramatic affair


Longer innings


Ekta withdraws
first day first show
Quite effective
Shaadi Ke Side Effects is a Bollywood comedy movie. Directed by Saket Chaudhary, the film features Farhan Akhtar and Vidya Balan in the lead roles, while Ram Kapoor, Vir Das and Hariharan are in the supporting roles. The film revolves around a young couple who experience many comic events after their marriage.