Kairon launches Atta-Dal Scheme in Fatehgarh Sahib
Fatehgarh Sahib, February 28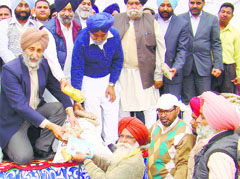 Punjab Minister for Food and Civil Supplies Adesh Partap Singh Kairon has said that the revamped Atta-Dal scheme is not a political gimmick, rather the government is paying the debt of poor labourers, and small and marginal farmers who contribute foodgrain to the national pool.


Minister for Food and Civil Supplies Adesh Partap Singh Kairon distribute a blue card to a beneficiary of the Atta-Dal Scheme in Fatehgarh Sahib on Friday. Tribune photo
Punjabi educationist honoured for lifetime of service
Johannesburg, February 28
A retired South African Indian educationist, who went back to college to complete his qualifications at the age of 55, has been honoured for a lifetime of service.
'Ignored' by SAD, BJP cadres boycott Sukhbir's function
Sirhind, February 28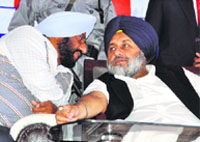 Accusing its alliance partner SAD of showing disrespect to its workers, the BJP here today boycotted a function presided over by Deputy CM Sukhbir Singh Badal.





Deputy CM Sukhbir Badal with Kulwant Singh, SAD nominee for Fatehgarh Sahib Lok Sabha seat, in Sirhind on Friday. Tribune photo

SAD to name Patiala nominee next week
Nabha/Sanaur, February 28
Keeping the aspirants for the SAD ticket from Patiala guessing, Deputy Chief Minister Sukhbir Badal today said the candidate would be declared next week.
Cong accuses Dy CM's aide of usurping NRI's property
Chandigarh, February 28
PPCC spokesman Sukhpal Singh Khaira, at a press meet here today, asked the Home Minister to order a CBI inquiry against his aide Krishan Kumar who had "usurped" the Rs 300 crore worth Claremont Hotel owned by an old NRI couple on MG Road in New Delhi.
Fissures in Sanjha Morcha over PPP-Congress alliance
Chandigarh, February 28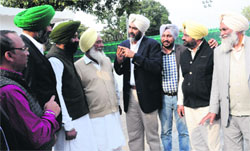 The central committee of the People's Party of Punjab (PPP) today authorised its chief Manpreet Badal to strike an electoral alliance with the Congress. But the state CPI, a constituent of the Sanjha Morcha, has refused to back any arrangement with the Congress.

Manpreet Badal with PPP central committee members at his residence in Chandigarh on Friday. Tribune photo: Manoj Mahajan

Congress may field outsider for Amritsar Lok Sabha seat
Chandigarh, February 28
The Punjab Pradesh Congress Committee may field a candidate from outside the state for the Amritsar Lok Sabha seat.


Demands unmet, farm activists jam GT Road
Amritsar, February 28

A dharna by Dehati Majdoor Sabha in support of their demands took an ugly turn today when scores of its activists resorted to road blockade on the Amritsar-Jalandhar highway near Rayya for around a couple of hours, bringing the entire traffic to a halt.




Dehati Majdoor Sabha members block the Amritsar-Jalandhar highway near Rayya on Friday. Tribune photo
'84 riots: Official to be examined on March 11
New Delhi, February 28
A Delhi court today fixed March 11 for cross-examination of a senior Delhi government official, who is a prosecution witness in a 1984 riots case in which Congress leader Sajjan Kumar and others are facing trial.
Minister's son fails to appear before ED
Jalandhar, February 28
Damanvir Singh, son of Minister for Jails Sarwan Singh Phillaur, did not appear before the Enforcement Directorate (ED) today. Damanvir, named by druglord Jagdish Bhola in the Rs 6,000- crore drug racket in the state, had been summoned by ED officials for questioning. They waited for him till 5 pm.
Chowdhary lays stone for cancer centre in Hoshiarpur
Hoshiarpur, February 28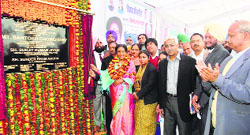 Union Minister of State for Health and Family Welfare Santosh Chowdhary laid the foundation stone of the Tertiary Cancer Care Centre (TCCC) here today.


Union MoS for Health and Family Welfare Santosh Chowdhary unveils the foundation stone of Tertiary Cancer Care Centre in Hoshiapur on Friday. A Tribune photograph
IT raids at 3 shops in Hoshiarpur
Hoshiarpur, February 28
Teams of the Income Tax (IT) Department conducted raids at three business houses in the district. These included two jewellers in Hoshiarpur and a clothing showroom in Tanda.
Fazilka traders meet Sukhbir, air grievances
Fazilka, February 28
A delegation of Beopar Mandal, Fazilka, met Deputy Chief Minister Sukhbir Singh Badal during his visit to Fazilka town yesterday. Led by their president Ashok Gulbadhar, they apprised Sukhbir about the difficulties being faced by them and handed him a memorandum of their demands.
3 trains flagged off from Sirhind
Sirhind, February 28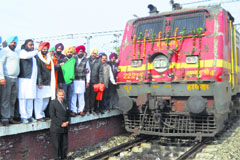 Fatehgarh Sahib MP Sukhdev Singh Libra and local MLA Kuljit Singh Nagra flagged off three trains from here today. The trains are Amritsar-Sealdah Akal Takht Express, Amritsar-Haridwar Janshatabdi and Jammu-Indore Malwa Express.





MP Sukhdev Singh Libra flags off a train at the Sirhind railway station on Friday. Tribune photo
Martyrs' remains dug out from Ajnala well
Amritsar, February 28
Mortal remains of martyrs were dug out from a historic well, "Kalianwala Khu", in Ajnala today.
EC has no powers to transfer DGP: Shukla
Chandigarh, February 28
The Election Commission cannot transfer Punjab Director General of Police (DGP) Sumedh Singh Saini as it has no jurisdiction to do so.
Help for Indo-Canadian children
Toronto, February 28
Manmeet Bhullar, Indian origin human services minister of the Canadian province of Alberta, has announced nearly $90,000 grant to help sexually abused Indo-Canadian children in Calgary.
YAD activist fires at gurdwara panel head
Ludhiana, February 28
A day after two rival Youth Akali Dal (YAD) factions exchanged fire in Sarabha Nagar, another member of the outfit allegedly opened fire at a gurdwara committee president today.
Oxygen plant opens in hospital
Patiala, February 28
A liquid oxygen plant was inaugurated at Government Rajindra Hospital, Patiala, today. The 6-KL plant will cater to the need of oxygen of the entire hospital.


Fix responsibility for upkeep of Ludhiana colonies: HC to state
Chandigarh, February 28
The Punjab and Haryana High Court has set up a month's deadline for the State of Punjab and its functionaries to determine whether the maintenance of colonies in Ludhiana is to be carried out by the Improvement Trust or the Municipal Corporation (MC).


Waiter ends life after being beaten up
Faridkot, February 28, 2014
A 20-year-old waiter of Chand Marriage Palace allegedly jumped into a canal after being thrashed by some people here yesterday.