Youth body bars Akali leaders from entering Faridkot village
Faridkot, February 27
A land dispute at Deep Singh Wala village in the district has landed the local Akali leadership in a fix.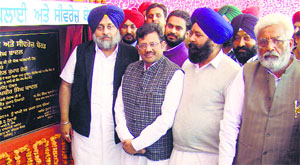 Sukhbir promises to open Sadique border check post
Fazilka, February 27
Punjab Deputy Chief Minister Sukhbir Singh Badal has said that if the National Democratic Alliance (NDA) is voted to power at the Centre, the state government will open Sadique border check post in the Fazilka sector for trade and commerce.


(From left) Deputy Chief Minister Sukhbir Singh Badal, BJP state president Kamal Sharma, Ferozepur MP Sher Singh Ghubaya and Health Minister Surjit Kumar Jyani lay foundation stone of a sewerage project in Fazilka on Thursday. TRIBUNE PHOTO

Over 2,800 blood units go waste
Muktsar, February 27
Punjab Health Department's words defy its actions, or so it seems. On the one hand, thr Department motivates people to donate blood and, on the other, it wastes them.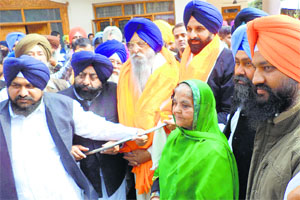 Majha satraps put up unity show at Brahmpura's rally
Amritsar, February 27
The ruling SAD today put up a unity show in Tarn Taran in support of the party candidate from Khadoor Sahib, Ranjit Singh Brahmpura, with ministers and SAD leaders of all nine segments in the constituency rallying around him.



Akali leader RS Brahmpura and minister Bikram Majithia (both with siropa) at a rally in Tarn Taran on Thursday. A Tribune photo

Majithia scared of fair probe into drug racket: Cong
Chandigarh, February 27
The PPCC today alleged that Revenue Minister Bikram Majithia was scared of a fair investigation into the drug trafficking case.
Majithia dares Bajwa to contest Lok Sabha poll
Hoshiarpur, February 27
Punjab Revenue Minister Bikram Singh Majithia has challenged Congress state president Partap Singh Bajwa to contest the Lok Sabha elections.
AAP picks doctor to cure all that ails Patiala
Patiala, February 27
The Aam Aadmi Party has announced the candidature of renowned cardiologist and social activist Dr Dharamvir Gandhi for the Patiala parliamentary seat.
SAD ticket aspirants on their toes
Patiala, February 27
Local Akali workers expect SAD president and Deputy CM Sukhbir Singh Badal to announce the party candidate for the prestigious Patiala seat during his visit here tomorrow. The Congress is almost certain to allot the ticket to three-time MP Preneet Kaur.
Like AAP, Cong to go door-to-door
Chandigarh, February 27
Impressed with the AAP style of campaigning in the Delhi Assembly elections, the All-India Congress Committee (AICC) has asked its state units to chalk out a programme to reach out to every voter.
CPM: No tie-up with Cong
Chandigarh, February 27
Charan Singh Virdi, CPM's Punjab unit secretary, today ruled out an alliance with the Congress in the ensuing Lok Sabha elections. He said the CPM would walk out of the Sanjha Morcha if any of its constituents entered into a pact with the Congress.
Sanjha Morcha meeting put off
Chandigarh, February 27
A senior functionary of the Sanjha Morcha and CPI leader Dr Joginder Dayal today said the Morcha meeting scheduled for tomorrow had been put off.


L&T may sell Rajpura plant
Patiala, February 27
Larsen and Toubro Ltd (L&T), is reportedly contemplating to sell its 1,400 MW Rajpura thermal power plant worth Rs 9,600 crore once it becomes fully operational.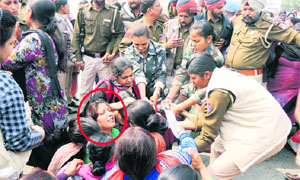 Agitating nurses threaten immolation
Muktsar, February 27
The activists of the Staff Nurse Employees' Union today on the seventh day of their protest climbed an overhead water tank and threatened to set themselves ablaze.

Monu Rani fell ill during a clash with the police in Lambi village in Muktsar on Thursday. A Tribune photograph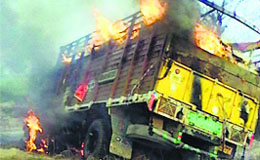 2 kanwarias run over, mob sets canter afire
Barnala, February 27
Two kanwarias (devotees of Lord Shiva) were killed and two others were injured in a road mishap on the Barnala-Bathinda highway near Ghunsan village (Tapa) this morning. Following the mishap, an angry mob set a canter, which allegedly ran over the kanwarias, on fire.
The burning canter on the Barnala-Bathinda highway near Ghunsan village in Barnala on Thursday. Tribune photograph

Mining issue to dominate poll campaigns in Anandpur Sahib
Ropar, February 27
The issue of the ban on mining is likely to remain a hot topic during elections campaigns in the Anandpur Sahib constituency. The ban has affected thousands of people, including the crusher owners, labourers, transporters and vendors.
Corpn chief's village gets 31 sports kits in 2 years
Muktsar, February 27
In Punjab Agro Foodgrain Corporation chairman's native village Kolianwali in Lambi, the Sports Department has distributed 31 sports kits in two years. Other villages in the vicinity have got not more than six kits in the same period.
Channy is Principal Secy, Home
Chandigarh, February 27
The Punjab Government today appointed IAS officer SS Channy as Principal Secretary, Home. He has got the additional charge of Home Department, besides being the Principal Secretary, Transport, Cultural Affairs and NRI Affairs.


Act against SI for shoddy probe: HC
Chandigarh, February 27
The Punjab and Haryana High Court has indicted a Sub-Inspector for investigating the case of a minor's rape by her father in a casual manner. The court asked Punjab's Director-General of Police to hold an inquiry against the officer.