Students of the UIET, PU, with an all-terrain vehicle designed by them that bagged the first prize in the cost award category at a national motor sports event in Indore (Left) and Cars take part in the JLPL Flowers Show Vintage Car Rally at Sector 10, Chandigarh, on Thursday. Tribune Photo: Manoj Mahajan
More men show up at PGI's infertility clinic, courtesy rising awareness
Chandigarh, February 27
In what can be attributed to increased faith in treatment and acceptability among men, the number of couples showing up at the PGI's male infertility clinic has doubled in the past decade.
Cop caught taking bribe gives police the slip
Chandigarh, February 27
A day after a traffic constable was caught taking a bribe of Rs 300 in a trap laid by his seniors, the constable is on the run. Raids are being conducted to arrest the constable, Tejinder Singh.
Jeweller gets extortion letter
Chandigarh, February 27
A Sector 35-based jeweller, Manoj Jain, has received an extortion letter asking him to pay Rs 6 crore. The letter states that if the jeweller fails to do so, his son will be kidnapped.





Chandigarh votes 2014
Cong to begin campaign on Sunday
Chandigarh, February 27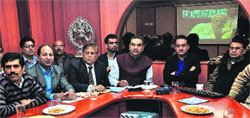 Finally, the Congress has also decided to start campaigning for the Lok Sabha elections in the city.



City BJP president Sanjay Tandon (third from right) with party activists at Sector 34, Chandigarh, on Thursday. Tribune photo: Parvesh Chauhan
Start paid parkings in markets: F&CC
Chandigarh, February 27
With paid parking being introduced in two parking lots in Sector 22, the Municipal Corporation (MC) is keen on turning other parking lots in sector markets that witness rush, into paid parkings.
Rs 30 lakh approved for developing parks, green belts
Chandigarh, February 27
The Chandigarh Municipal Corporation (MC) is going to spend around Rs 30 lakh on developing various parks and green belts in the city. The MC will also install playing equipment and benches in the parks.
13.5 lakh new families covered
Mohali, February 27
Under the new atta-dal scheme, 31.5 lakh blue-card holder BPL families in the state will get wheat and pulses at the subsidised rates of Re 1 and Rs 20 per kg, respectively. Now, the ambit of the scheme had been extended by including around 13.5 lakh new families. They had been provided with wheat at a much lower price.
Increasing phosphate level a threat to Sukhna lake: Study
Mohali, February 27
A study has revealed that the phosphate level in the Sukhna Lake has risen to a level that can seriously damage the ecology of the water body.The accepted level of phosphates in water ecologies is 5 mg/litre. However, a study conducted by the Rayat Bahra Group of Institutes has shown that phosphate in the Sukhna is much higher than the desirable levels. At places, it is almost double the desired levels.
Unemployed health workers demand jobs
Mohali, February 27
High drama was witnessed at Kharar Sabji Mandi when around 20 unemployed youngsters climbed on water tank, demanding the state government to provide them employment here this evening. The protestors were members of Unemployed Multi-Purpose Health Workers (Male) Union, who demanded the government to provide them jobs.
Will introduce beat system with modifications, says
new Mohali SSP
Mohali, February 27
Mohali would soon have a 'traditional' beat system but with some modifications, said the new Senior Superintendent of Police Gursharan Singh Sandhu, who joined his duty here today evening.
SSP Gursharan Singh Sandhu
Mid-day meal cooks block traffic in Mohali
Mohali, February 27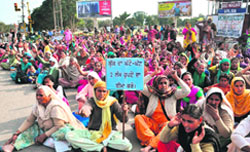 Over 700 members of the Democratic Mid-day Meal Cook Front, Punjab, blocked the traffic at the light point of Phase VII here today. The protesters were venting their ire against the state government alleging that it was going to privatise the Mid-day Meal cooking system soon. They also demanded that their services be brought under the Labour Act.
Members of the Democratic Mid-day Meal Cook Front, Punjab, block traffic at the Phase VII light point in Mohali on Thursday. Tribune photo: Parvesh Chauhan
UT proposal on dividing ADC's work resented
Chandigarh, February 27
The Chandigarh Administration's proposal to the Election Commission to divide the work of Additional Deputy Commissioner Tanvi Garg, a 2009-batch UT cadre IAS officer, has led to resentment among other officers on deputation in the UT.
Mahashivratri celebrated with religious fervour
Panchkula, February 27
Long queues were witnessed in front of the Saketri temple as hundreds of Lord Shiva devotees reached there to pay obeisance on the auspicious Mahashivratri today.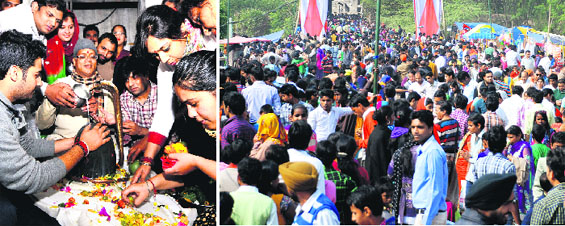 Devotees perform rituals at Sanatan Dharam Mandir, Sector 23, Chandigarh, on the occasion of Mahashivratri on Thursday; and (right) devotees throng the temple at Saketri in Panchkula to pay obeisance. Tribune photos: Pradeep Tewari/Nitin Mittal
Expert throws light on crystals
Chandigarh, February 27
India followed the English model of science, technology production and prosperity, but China focused on setting up manufacturing units to gain prosperity.
62.4 million people in India diabetic: Expert
Chandigarh, February 27
China is the diabetes capital of the world. Going by the figures of the International Diabetes Federation-2013, 92.4 million Chinese people are suffering from diabetes. India, too, does not lag behind as nearly 62.4 million people are diabetic.
60-member foreign delegation visits CII-Avantha
Chandigarh, February 27
A 60-member foreign delegation visited 'CII-Avantha Centre for Competitiveness for SMEs' today to acquire knowledge on competitiveness, leadership and entrepreneurship.
Tributes paid to Chandra Shekhar Azad
Chandigarh, February 27 Glowing tributes were paid to freedom fighter Chandra Shekhar Azad on his martyrdom day today. A 'Mashaal March' was organised by the Students For Society (SFS) and members of the civil society. The march commenced from the Student Centre and concluded outside Panjab University Vice-Chancellor's office.
UK varsity eyes collaboration with Panjab University
Chandigarh, February 27
The University of Birmingham, UK, is exploring the possibility of research and other collaborations with Panjab University (PU), Chandigarh.
Delhi IIT don delivers Prof Bawa Kartar Singh lecture
Chandigarh, February 27
Shanti Swarup Bhatnagar Awardee and Professor at IIT Delhi Charusita Chakravarty delivered the Prof Bawa Kartar Singh memorial lecture during the Chandigarh Science Congress (CHASCON) at Panjab University today.