Quit on my own: Admiral Joshi
New Delhi/Mumbai, Feb 27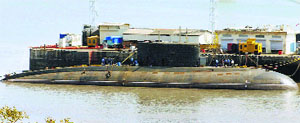 The government has started the process of appointing a new Navy Chief after Admiral DK Joshi resigned yesterday. Vice Admiral RK Dhowan, Vice Chief of the Navy, was made Acting Chief after Admiral Joshi resigned owning moral responsibility for the accident on board the submarine INS Sindhuratna yesterday.
Back to base INS Sindhuratna is docked at the Naval Dockyard in Mumbai on Thursday after fire broke out in one of its compartments, killing two officers. PTI

Ex-soldiers praise Joshi
New Delhi, February 27
The unprecedented resignation by Naval Chief Admiral DK Joshi has earned him applause from retired soldiers while Defence Minister AK Antony is being questioned for the hasty acceptance of the resignation and not acting like a statesman.
Redundant laws must go, Modi tells industry
New Delhi, February 27
BJP prime ministerial candidate Narendra Modi today said effective governance was more important than policies and called for eliminating redundant laws.
Iran for better security ties with India
New Delhi, February 27
Iranian Foreign Minister Mohammad Javad Zarif today called for increased cooperation between the two countries to stabilise the security situation in the region.
Fratricides, suicides return to haunt security forces in J-K
Jammu, February 27
After a long hiatus, fratricides and suicides have returned to haunt the security forces in conflict-ridden J&K. Senior Army officers dubbed the incidents this year, including today's carnage in Ganderbal, as stray and isolated and attributed them to a multitude of factors like mobile phone technology, domestic problems back home, denial of leave vis-a-vis the hostile and stressful working conditions of soldiers.
Media must act responsibly: Prez
New Delhi, February 27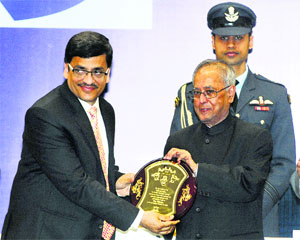 Observing that newspapers must act as conscience-keeper of the country, President Pranab Mukherjee today regretted that some publications have resorted to 'paid news' and other such marketing strategies to increase their revenue. "There is a need for self-correcting mechanisms to check such aberrations. The temptation to 'dumb down' should also be resisted," he said addressing the platinum jubilee celebrations of the Indian Newspaper Society (INS).
President Pranab Mukherjee presents a plaque to Vinay Verma, Officiating General Manager, The Tribune Trust, in New Delhi on Thursday. Tribune photo: Mukesh Aggarwal

India, Israel ink 3 security agreements
New Delhi, February 27
The Ministry of Home Affairs has signed three security agreements — Mutual Legal Assistance Treaty in Criminal Matters; Agreement on Protection of Classified Material; and Agreement on Cooperation in Homeland and Public Security — with Israel today.
Govt committed to pension plan: Antony
New Delhi, February 27
Laying to rest speculations on one rank-one pension (OROP) for ex-servicemen, Defence Minister AK Antony today assured the Services that the government was fully committed to implementing OROP and that the requisite funds would be made available to ensure its implementation.
Nariman opts out of Lokpal search panel
New Delhi, February 27
Eminent jurist Fali S Nariman has refused to be part of the eight-member committee headed by retired Supreme Court judge KT Thomas that will scout for suitable candidates for appointment as chairperson and members of the proposed Lokpal, the anti-corruption ombudsman.