School kids served substandard food
Patiala, February 26
The state authorities are yet to address the issue of poor quality mid-day meals despite repeated complaints by various schools in the district. The government had given the mid-day meal project to a private contractor. However, the move has proved detrimental for around 16,000 students studying in 92 schools in Patiala. Teachers alleged the contractor was providing poor-quality food. Moreover, the quantity of food was insufficient.
Sports Dept set to benefit from hike in liquor prices
Patiala, February 26
The news that liquor is set to get costlier in the state from April might have disheartened Bacchus lovers but it has lifted the spirits of the Sports Department as its annual share through liquor sale will also increase.
Police on their toes during Sukhbir's Faridkot visit
Faridkot, February 26
A day after the breach in Revenue Minister Bikram Singh Majithia's security in Kapurthala's Begowal town, the Faridkot police were on their toes today during Deputy Chief Minister Sukhbir Singh Badal's visit to the district.
Book Joshi for forgery: Cong
Amritsar, February 26
The Punjab Congress today demanded that an FIR be lodged against Minister for Local Bodies Anil Joshi and his kin for enrolling themselves as voters at two places and for forgery. They demanded that he be dismissed.
Cong keen on pact with Manpreet


Chandigarh, February 26
The Congress election committee is likely to approve the candidature of Perneet Kaur (Patiala), Vijay Inder Singla (Sangrur), Ravneet Singh Bittu (Anandpur Sahib) Mohinder Singh Kaypee (Jalandhar) and Manish Tewari for the Lok Sabha elections. Sources said the committee was likely to announce its candidates for Punjab by March 3. The ruling Shiromani Akali Dal has already announced candidates for most of the constituencies.
Badal Govt mismanaging finances: Bajwa
Chandigarh, February 26
Partap Singh Bajwa, PPCC chief, today said RTI information obtained by Dr Jasdeepak Singh, convener of the Cong RTI cell, showed that Punjab's overdraft from RBI ran into crores and the government was paying a huge interest on it. Bajwa said the state government had stretched its "ordinary ways and means" advance limit from Rs 360 crore during 2008-09 to Rs 540 crore in 2013. He said this reflected poor fiscal management. Bajwa said that between 2008 and 2013, the SAD-BJP Government had paid an interest of over Rs 59 crore. — TNS
AAP to hold Hola Mohalla conference
Ropar, February 26


The Aam Aadmi Party (AAP) will hold a political conference during the Hola Mohalla to be held at Anandpur Sahib near here next month. "Party supremo Arvind Kejriwal is likely to address the gathering on the occasion," said Kamal Kishore Sharma, AAP in charge in Ropar. Last year, SAD-BJP alliance, Congress and Shiromani Akali Dal (Amritsar) held political conferences during Hola Mohalla. Sharma said the party was gearing up to contest the upcoming parliamentary elections and would soon announce the party candidate from Anandpur Sahib constituency. — TNS
AAP approaches Bhagwant Mann
Chandigarh: Comedian Bhagwant Mann (in pic) has been approached by AAP convener Arvind Kejriwal, who has asked him to decide on the issue by the first week of March, say sources. Bhagwant is close to AAP leader Kumar Viswas. — TNS

NRI named by Bhola is close to Majithia: Cong
Jalandhar, February 26
Sukhpal Khaira, PPCC spokesperson, today alleged that Revenue Minister Bikram Majithia, during a visit to Canada, had stayed with NRI Satpreet Satta, who had been named by drug lord Jagdish Bhola in the Rs 6,000 crore drug racket.
Bhola produced in Mohali court
Mohali, February 26
The Punjab Police on Wednesday produced drug lord Jagdish Bhola and other accused in the multi-crore drug racket in a local court under tight security.
Ludhiana unit evades Rs 1.25 cr VAT
It had shown bogus cotton purchases to claim tax credit
Patiala, February 26
The Excise and Taxation Department has exposed a forging unit for claiming input tax credit by showing bogus cotton purchase to evade VAT. Anurag Verma, Excise Commissioner, said: "An FIR would be lodged against directors of Inderjit Forging Pvt Ltd, Ludhiana, for defrauding the state exchequer. It was found that in the last quarter of 2012-13, the dealer had sold iron and steel forging worth Rs 23.44 crore. He was liable to pay Rs 1.25 crore VAT, but to evade that he showed bogus purchase of cotton worth Rs 17.02 crore from SK Industries, Amritsar, to claim tax credit and reduce his tax liability.
It's a poll gimmick, say Bhullar's kin
Bathinda, February 26
Convict Devinder Pal Bhullar's family today described the Centre's move not to execute him, owing to his frail mental health, as a poll gimmick. Bhullar's cousin Gurbachan Singh, 10 years his senior, said the family would be relieved only when Devinder was released. "Devinder was docile and shy. It is hard to imagine how he has survived all these years in jail," he said.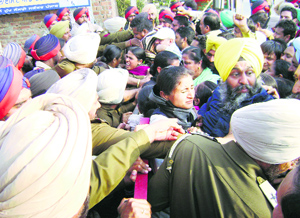 On the boil: Government employees clash with the police near Finance Minister Parminder Dhindsa's residence in Sangrur on Wednesday. Tribune photo: Sushil Goyal

Naujawan Sabha activists protest
Jalandhar, February 26
A day after the Naujawan Bharat Sabha showed flags to Revenue Minister Bikram Singh Majithia at Talwandi Chaudhrian, the Kapurthala police today arrested activists Jagroop Singh and Kulwinder Singh under Sections 353, 332, 186 and 149 of the Indian Penal Code.
Unions demand plots for the homeless, protest in Muktsar
Muktsar, February 26
Activists of the Bharti Kisan Union (Ekta-Ugrahan) and Punjab Khet Mazdoor Union today laid siege to the District Administrative Complex (DAC) here today, demanding possession of plots to homeless people announced by the state government.
Waterlogging problem
Determined to find solution: CM
Gurdaspur, February 26
Expressing concern over the pitiable condition of farmers due to waterlogging in a few segments of Dinanagar assembly constituency, Chief Minister Parkash Singh Badal said the state government was duty bound to find a viable solution to the problem.
14 senior police officers transferred
Chandigarh, February 26
The state government has transferred five Senior Superintendents of Police (SSPs) and nine other senior police officers.
Now, Gursharan Singh Sandhu is the SSP of Mohali; Gurpreet Singh Toor is SSP, Ropar; Harjinder Singh is SSP, Batala; Harcharan Singh Bhullar SSP, Khanna; and Sushil Kumar is the SSP of Hoshiarpur.
Decision on new job for Bains today
Chandigarh, February 26
A decision regarding a post-retirement job for DS Bains, Principal Secretary, Home, is expected to be taken tomorrow. Bains retires on February 28. Highly placed sources said Chief Minister Parkash Singh Badal had returned to the state capital this evening.
Only Akal Takht can resolve calendar row, says Makkar
Fatehgarh Sahib, February 26
Akal Takht chief Jathedar Gurbachan Singh should form a committee to resolve the Nanakshahi calendar row, said SGPC chief Avtar Singh Makkar here today. The Sant Samaj had in December last year urged Akal Takht to revert to the Bikrami calendar.
AISSF to meet PM on 1984 anti-Sikh riots
Moga, February 26
A delegation of the All India Sikh Students Federation (AISSF) will meet Prime Minister Manmohan Singh in Delhi tomorrow to demand legal action against Congress leaders who were allegedly involved in the killings of Sikhs in the 1984 riots. Karnail Singh Peer Mohammad, president, AISSF, said the recent revelations made by Congress vice-president Rahul Gandhi had also testified that some Congress leaders were involved in the riots. He said the Prime Minister, being a Sikh, should act against the guilty. TNS


Sikh bus driver wins turban suit
London, February 26
A Sikh bus driver in Finland has been granted the right to wear turban at work. Gill Sukhdarshan Singh was in a dispute with his employer, Veolia Transport, in the city of Vantaa for more than a year over the issue, Yle, a Finnish public broadcasting company, reported on Tuesday. Gill's dispute with Veolia Transport was resolved after an agreement between the transport workers' union and the employers' organisation. Now, Sikhs would be able to wear either their own turbans or those provided by their employer, the report said. "I can wear my turban at work now and that's the important thing," Gill said. — IANS
HC refuses to entertain plea for CBI probe into drug racket
Chandigarh, February 26
The Punjab and Haryana High Court refused to entertain a petition filed by the Shiromani Akali Dal (Amritsar) for a CBI probe into drug trafficking case. The order came just over a month after two similar petitions by PPCC president Partap Singh Bajwa and senior Congress leader Jagmit Singh Brar failed to find favour with the High Court.
HC relief for Dera Sacha Sauda chief
Chandigarh, February 26
Nearly seven years after Dera Sacha Sauda chief Sant Gurmeet Ram Rahim Singh was accused of blasphemy, the Punjab and Haryana High Court today quashed the orders whereby the Trial Court had taken cognisance of the matter after police filed a cancellation report. Sant Gurmeet was accused of wearing a dress similar to one traditionally associated with Guru Gobind Singh.
No impact if accused not given legal aid during pre-trial: HC
Chandigarh, February 26
The Punjab and Haryana High Court has made it clear that lack of legal assistance to an accused at pre-trial stage does not vitiate the proceedings. The High Court has held that legal aid counsel is to be provided to an "unrepresented accused"; and not to an accused whose counsel chooses not to appear before the court.
3 of six accused get bail in suicide case
Hoshiarpur, February 26
Three of the six accused in the Kulraj Bedi suicide case got interim bail in the court of Additional Sessions Judge BS Deol. The court granted them relief as they were minors. The six have been charged with abetment to suicide. The plea of one of the four accused, who had filed the applications, was rejected as he was an adult.
SSSB scam: Akali leader Valtoha acquitted
Mohali, February 26
Mohali Additional District and Sessions Judge Dilbagh Singh Johal today acquitted SAD leaders Virsa Singh Valtoha, Tejinderpal Singh Sandhu and four others in the Subordinate Services Selection Board (SSSB) scam for want of adequate proof. It was in 2002 during Capt Amarinder Singh's government that a case under Sections 420, 467, 468, 471 and 120-B, IPC, and the Prevention of Corruption Act was filed against them. Defence counsel Satnam Singh Kler said the Vigilance had produced 22 witnesses. An elated Valtoha said he was happy that justice had been done. —TNS


150-kg poppy husk seized near Jalalabad
Fazilka, February 26
The police have seized 150 kg of poppy husk powder from a car near Jalalabad today. The accused, Sandeep Singh of Ferozepur's Lakheki Behram village and Raj Rani of Jalalabad, were arrested.