No to more MD seats in 'ill-equipped' Patiala college
Patiala, February 24
In a setback for Government Medical College, Patiala, the Medical Council of India (MCI) denied the college permission to increase the number of postgraduate seats. The MCI reportedly pointed out several anomalies, including shortage of staff, poor infrastructure, shortage of research activities and improper academic atmosphere.
Rural healthcare in disarray in Moga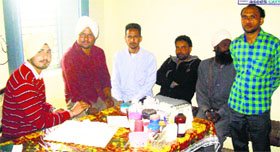 Moga, February 24
One visit to dispensaries in villages of Moga district is enough to gauge the sorry state of affairs of rural healthcare. With lack of medical supplies and shortage of doctors, it is in a state of disarray.


Avtar Singh (left), a pharmacist, attends patients in the absence of a doctor in the dispensary at Dhalleke village in Moga district. A tribune photograph

SAD candidate Kulwant kicks off campaign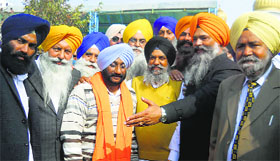 Fatehgarh Sahib, February 24
SAD candidate from Fatehgarh Sahib Kulwant Singh today began his campaign after paying obeisance at the historic gurdwara here.





SAD nominee Kulwant Singh (having siropa) with supporters in Fatehgarh Sahib on Monday. A Tribune photograph

SAD, BJP leaders spar over CM's function
Dinanagar, February 24
Fissures have surfaced between the SAD and the BJP over CM's Sangat Darshan programme in the Dinanagar assembly constituency. A similar function is to be held in Dera Baba Nanak tomorrow where Gurdaspur SAD president SS Langah is halqa in charge.


22 injured as protesters clash with police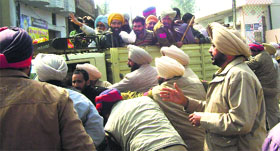 Sunam, February 24
The police today lathi-charged a group of persons opposing re-installation of uprooted poles and decorative flags outside Shree Neelkantheshwar Ram Mandir, Sitasar Dham, here.



Policemen bundle up protesters in an autorickshaw in Sunam on Monday. A Tribune photograph

Centre approves 3 projects for state
New Delhi, February 24
The Union Government has approved a sewerage treatment plant and water supply scheme in Amritsar and integrated municipal solid waste management facilities in Ludhiana under Jawaharlal Nehru National Urban Renewal Mission.
Martyrs' remains to be taken out of Ajnala well on February 28
Amritsar, February 24
The Gurdwara Shaheed Ganj management committee will bring out the mortal remains of 282 soldiers, who laid down their lives in the country's first war of Independence, from Kalianwala Khu in Ajnala on February 28.
Former Jathedar 'thrashes' riot victim
Amritsar, February 24
A 1984 riot victims' body today accused former Akal Takht Jathedar Puran Singh and his sons of thrashing one of their members who was a resident of a colony owned by them. A land dispute was stated to be the reason behind the attack.
Association of physicians conference
Medicine as per your genetic code soon: Expert
Ludhiana, February 24
Different people respond to different treatments. A study on the matter led the researchers to personalised medicine, which is now moving closer to being more precise and predictable.
Farm unions opposing GM crops to protest
Chandigarh, February 24
Various organisations opposed to the release and field trials of genetically modified (GM) seed have decided to intensify their agitation in the state.
Sukhoi comes too close to two civilian planes
New Delhi, February 24
The IAF scrambled a Su-30MKI after its radars detected a slow moving unidentified flying object going towards Pakistan near Amritsar border and in the process, it came close to two civilian flights operating in that area.
Protest by nurses in Lambi enters Day 4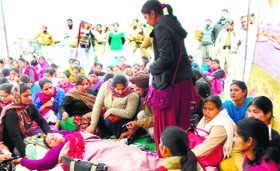 Muktsar, February 24
The state-level protest of the Staff Nurse Employees' Union today entered fourth day at Lambi village here.






Members of the Staff Nurse Employees' Union protest at Lambi village in Muktsar district on Monday. A Tribune photograph

Ferozepur-Chandigarh train on anvil: MLA
Ferozepur, February 24
Ferozepur City MLA Parminder Singh Pinki said the much-awaited Ferozepur-Chandigarh Intercity Express was likely to be introduced soon.
Ferozepur college brings laurels
Ferozepur, February 24
Dev Samaj College for Women (DSCW) has been awarded 'A' Grade and has attained the highest score (3.75/4) among the 618 institutions accredited by NAAC last year. The development is significant for the border district, which is considered to the an economically backward region.
Farmers to protest police lathicharge from today
Amritsar, February 24
Activists of various farmers' bodies will stage a dharna outside the Deputy Commissioner's office here tomorrow to protest against the killing of a farmer allegedly in police lathicharge last week and the arrest of farmer leaders after the clash.
'Sanskritpedia' need of the hour, says PU VC
Hoshiarpur, February 24
Panjab University Vice Chancellor Arun Grover today said "Sanskritpedia" on the lines of Wikipedia was the need of the hour so that the treasure of knowledge hidden in the ancient scriptures could be accessed by everybody.
Lovers end life after 'marriage'
Abohar, February 24
Sonu (20) and a teenaged girl were found dead in a field at Khatwan village in Abohar sub-division.


HC declines petitions on Ashutosh
Chandigarh, February 24
Two petitions for conducting Nurmahal dera chief Ashutosh Maharaj's post-mortem examination and for directions to the state to take over his properties failed to find favour with the Punjab and Haryana High Court.
Don't give dishonest advice: HC to lawyers
Chandigarh, February 24
In a stern warning, the Punjab and Haryana High Court has cautioned legal professionals not to impart dishonest advice. The High Court has made it clear that lawyers are "officers of the court" and have a duty towards their clients, but they cannot ignore legitimate orders passed by the courts.
Sniffer dogs to check drugs in jails, HC told
Chandigarh, February 24
The Punjab Government has decided to purchase eight sniffer dogs to check the inflow of drugs in the jails. The government has sanctioned Rs 6.48 lakh for the purpose.

Heroin worth Rs 50 crore seized near Amritsar

Amritsar, February 24
The BSF last night recovered 10 kg of heroin following an encounter with smugglers in the Amritsar sector.





Another catch: MF Farooqui, DIG (centre), and other officers with the seized heroin at Khasa village near Amritsar on Monday. Photo: Vishal Kumar

Suicide: Cong leader's son among 6 booked
Hoshiarpur, February 24
The police have booked six students of a local school for allegedly driving a classmate to suicide after beating him up on Saturday.