Cong alleges CEO held secret meeting with Saini; writes to EC
Chandigarh, February 25
The Punjab Pradesh Congres Committee (PPCC) has requested Chief Election Commissioner VS Sampath to seek an explanation from Chief Electoral Officer (CEO),Punjab, for secretly meeting Punjab police chief Sumedh Singh Saini at the latter's residence.
Makhan is BSP candidate from Anandpur Sahib
Mohali, February 25
Renowned Punjabi singer KS Makhan is Bahujan Samaj Party's (BSP) candidate from Anandpur Sahib constituency for the forthcoming Lok Sabha elections.
CPM workers protest
Tarn Taran, February 25
Demanding permanent jobs, CPM workers protested in front of the DC's office here today. Devinderjit Singh Dhillon, district secretary, condemned the state governments for its polices. — TNS
Suicide: Family blames school, to protest outside campus today
Hoshiarpur, February 25
Hundreds of grief-stricken people bid a tearful farewell to Kulraj Bedi as his mortal remains were consigned to the flames at the Haryana Road cremation ground here today.
Election duty norms relaxed
Chandigarh, February 25
The Election Commission of India today issued amendments to instructions dated January 9, 2014, wherein it was mentioned that "no officer connected with elections directly or indirectly should be allowed to continue in the present district of posting".
SDM to probe police lathi charge on farmers in Amritsar
Amritsar, February 25

Chief Minister Parkash Singh Badal today ordered a magisterial probe into the police lathi charge on farmers protesting outside the PSPCL office here last week, leading to the death of a farmer. Deputy Commissioner Ravi Bhagat said SDM Vimal Setia would investigate the incident.

Activists of various farm organisations protest outside the DC's office in Amritsar on Tuesday. tribune photo: Vishal Kumar

Investors won't contribute to cancer fund
Chandigarh, February 25
Investors whose proposals worth Rs 4,000 crore have been approved by the Punjab Government have asked the latter to lower the mandatory contribution of 1 per cent of the fixed capital investment towards a cancer treatment fund.
9 revenue officers to join PCS
Chandigarh, February 25
The Punjab Government is all set to induct nine District Revenue Officers into the Punjab Civil Service (PCS). The names of these officers have been cleared by the Punjab Public Service Commission (PPSC).
'Shobha Yatra' held amid tight security in Sunam
Sangrur, February 25
The court of Sub-Division Judicial Magistrate (SDJM), Sunam, Sanjiv Kundi, today remanded five persons, arrested after a clash with the police near Sitasar Dham in Sunam yesterday, in judicial custody till March 11.
NRI brothers accuse SAD leader of land grab
Khamano, February 25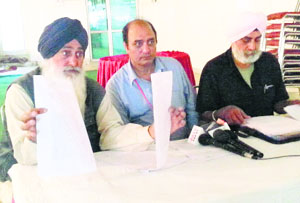 Despite the state government's assurance of protecting the interests of people living abroad, three Non-Resident Indian (NRI) brothers are moving from pillar to post to allegedly get their land freed from an Akali leader. While addressing the media, Sardool Singh, Jasvir Singh and Baljinder Singh, residents of Khamano, said they were five brothers and owned about 100 acres of land in the village.
The three NRI brothers in Khamano on Tuesday. Tribune photo

Epidemic threat looms large in Bassi Pathana, residents cry hoarse
Bassi Pathana, February 25
The threat of an epidemic looms large in this erstwhile industrial town as the pipes supplying water to residents pass through the drainage system.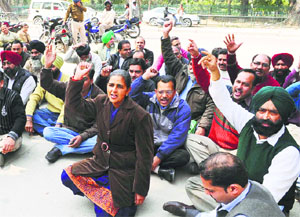 On warpath: Members of the PSEB Accounts Audit Association protest against the PSPCL in Patiala on Tuesday. Tribune photo: Rajesh Sachar
Govt readies charge sheet against former DC Garg
Chandigarh, February 25
The Punjab Government has charged 1998-batch IAS officer and former Deputy Commissioner of Patiala Vikas Garg with the misuse of official position and his failure to prevent loss to the state exchequer by aiding the sale of prime government land in Patiala worth Rs 250 crore.
Unpaid for 9 months, college teachers boycott classes
Chandigarh, February 25
Around 4,000 teaching and non-teaching staff members of 136 state government-aided colleges today boycotted their classes for two hours in protest against the non-payment of their salary for nine months.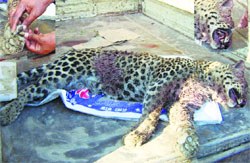 Leopard injures 3 in Moga village, shot
Moga, February 25
At least three persons were attacked by a leopard while they were irrigating their fields at Jaimalwala village in Moga district on Tuesday. Panicked villagers later shot dead the big cat and informed Forest and Wildlife Department officials.
The body of the leopard in Moga on Tuesday. A Tribune photograph

HC flays state for arbitrary dismissal of patwari
Chandigarh, February 25
In a major embarrassment for the state government, the Punjab and Haryana High Court has held it culpable of proceeding against an employee in an arbitrary and predetermined manner.
Armyman, kin get 10-year jail for dowry death
Gurdaspur, February 25
The court of the Additional Sessions Judge has sentenced an Armyman to 10 years' rigorous imprisonment (RI) for killing his wife over dowry.
Heroin worth Rs 50 cr seized in Attari
Amritsar, February 25
Customs officials seized 10 kg of heroin from a goods train at the Attari railway station here today. The contraband is estimated to be valued at Rs 50 crore in the international market.
Five held for theft of batteries
Hoshiarpur, February 25
The Tanda police have arrested five members of an inter-state gang of thieves from a grain market in the district's Miani village. A car and weapons were seized from them.