CM to be probed if BJP comes to power: Parveen
Una, February 25
BJP state spokesman Parveen Sharma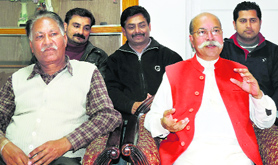 today said after their party came to power at the Centre, probe into allegations of corruption against Chief Minister Virbhadra Singh and members of his family would be initiated. Addressing mediapersons here, he said the exchange of money between Vakamulla Chandershekhar and Virbhadra's family members and purchase of farm house by Vikramaditya Singh would be probed by investigating agencies.
BJP state spokesman Parveen Sharma addresses mediapersons in Una on Tuesday. Photo: Rajesh Sharma

Health plan for people to continue
Shimla, February 25
The government today signed an agreement with New India Assurance Company Limited in Delhi to continue the Rashtriya Swasthya Bima Yojna (RSBY) for next financial year. The next round of the policy will be started from June 1, 2014.
HP not in haste over red beacons
Shimla, February 25
With the government adopting a wait and watch policy on the removal of red beacons from government vehicles, the deadline of March 10 set by the Supreme Court is unlikely to be met in the state.
Govt committed to growth: CM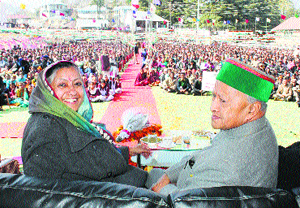 Dalhousie, February 25
Chief Minister Virbhadra Singh has accused the previous BJP government of leaving behind a deficit of more than Rs 10,000 crore and the case of the state was not pleaded with the Finance Commission. The 13th Finance Commission underestimated the committed liabilities of the state and the lowest increase of 50 per cent was recommended for the state.

Chief Minister Virbhadra Singh at a public meeting at Salooni in Chamba district on Tuesday.

Rs 4 crore earmarked for self-help groups: MP
Kullu, February 25
Member of Parliament (MP) from the Mandi constituency, Pratibha Singh, launched the district menstrual hygiene programme at Devsadan today. She was here to preside over an awareness conference for women, organised by the District Rural Development Authority (DRDA).
Inflated bills have consumers fuming
Shimla, February 25
After receiving inflated electricity bills, residents are up in arms against the Himachal Pradesh State Electricity Board (HPSEB), accusing it of installing faulty meters under the Accelerated Power Development and Reforms Programme (APDRP), which covers 14 towns.
Exempt us from registration, licensing fee: Milk producers
Shimla, February 25
Small-scale milk producers from rural areas today demanded exemption from the registration and licensing fee under the Milk Produce and Food Safety Act, 2006, as the proposed move would hit them. They also demanded an increase in milk prices and the setting up of a cattle feed bank at key stations.
Shimla Film Festival on April 12, 13
Shimla, February 25
A two-day Shimla Film Festival, to be organised by Himachal Media (HMPL) on April 12-13, will offer an opportunity to film makers, especially those belonging to the hill state, to showcase their talent.
Saakshar Mission trainers await honorarium
Chamba, February 25
Over 500 preraks (trainers), who had been employed under the Central Saakshar Bharat Mission (SBM) scheme, have not been paid their honorarium for the past 11 months.
Four days on, cops fail to nab Nurpur escapees
Nurpur, February 25
Days after a group of five culprits hailing from Jammu and Kashmir escaped from the custody of the Nurpur police, the Kangra police have remained unsuccessful in nabbing the escapees. The group escaped from the lock-up on Friday night, in a planned conspiracy. Concerted efforts by the police teams to catch the culprits from the bordering states have failed to bear fruit.
Proposal to expand Kullu-Manali airport on cards
Kullu: Pratibha Singh today said facts and figures related to the losses during floods and cloudbursts in June last year were apprised to Lok Sabha Speaker Meira Kumar. The Speaker had mentioned about the disaster to the House and it was after that the Budget had been allocated for relief and development of the flood-hit areas of the state.
'To promote sports culture in state'
Chamba, February 25
Cricket and other sports are gaining popularity in Himachal Pradesh and the state government is providing adequate assistance for the promotion of sports culture in the state. This was stated by Chief Minister Virbhadra Singh while presiding over a prize distribution function of the 8th Rajkumar Brijendra Singh Memorial Cricket Championship at Chamba last evening.
Vikramaditya serves notice on BJP leader
Shimla, February 25
Vikramaditya Singh, president, Himachal Youth Congress and son of Chief Minister Virbhadra Singh, today served a legal notice on state BJP general secretary Randhir Sharma for making "unsubstantiated and malicious" remarks against him. He asked Sharma to tender apology within 10 days or face defamation suit.
Tanda student excels in quiz
Kangra, February 25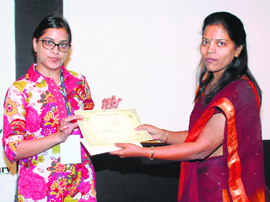 Dr Gayatri Khatri, a third-year postgraduate student from the Skin Department of the Dr Rajendra Prasad Government Medical College (DRPGMC), Tanda, has won the first prize in the All-India Quiz Contest held by the Skin Allergy Research Society of India. Dr Munish Saroch, spokesman, DRPGMC, said Dr Khatri qualified the preliminary round held online on December 15, 2013, where postgraduate students from all over the country participated.
Dr Gayatri Khatri being presented a certificate at Dr DY Patil Hospital and Research Centre in Navi Mumbai.

22 injured as bus falls off road in Una
Una, February 25
A private bus fell off the road near Gagret block of Una district. 22 passengers were injured, including driver Sadiq Mohammad and conductor Dinesh Kumar. The bus was plying from Gagret to Amb. The injured were shifted to the Gagret Primary Health Centre. According to Superintendent of Police Anupam Sharma, the driver reportedly lost control over the vehicle due to over speeding and a criminal case had been registered against him. Other injured are Mangal Ram, Kusum Devi, Pulia Devi, Surindra Kumari, Nirmala Devi, Rattni Devi, Sneha, Prem Chand, Pooja Devi, Liaqat Ali, Ghulam Nabi, Abdul Rehman, Anita, Suman, Mela Ram, Phulia Devi, Sandeep Kumar, Dhani Ram, Meera Devi and Mushtaq Ali. OC
AAP files FIR against Kangra MP
Mandi, February 25
State convener of the Aam Aadmi Party (AAP) Desh Raj Sharma lodged an FIR with the local police against Kangra Member of Parliament Rajan Sushant and one of his supporters for allegedly threatening to kill him (Sharma) here today. Sharma said, "Sushant's supporter telephoned me today morning and said I should come to Kangra to welcome Shushant, who will come there after joining AAP, else he (supporter) would come to Mandi and kill me." He alleged that the threat was issued to him at the behest of Kangra MP Sushant. The Mandi SP said, "AAP activists registered a complaint in this regard and I have asked the SHO to take action in the matter." TNS
BA-I exam results declared
Shimla, February 25
Himachal Pradesh University (HPU) has declared the result of BA part-I for which the supplementary examination was held in September 2013. This was disclosed Controller of Examination here today. Total 16,154 candidates appeared for the exam and 8,672 passed. The pass percentage of students was 53.68 per cent, he added. Meanwhile, the Students Central Association has urged the Vice-Chancellor to extend the date of admission to the International Centre for Distance Education and Open Learning from February 22 to March 5 as the results were not declared on time. — TNS
First unit of Parbati project commissioned
KULLU: One of the four units of the 520-MW Parbati Hydro Electric Project (PHEP) Stage-III has been commissioned in the underground power house at Bihali. The project is being executed by the National Hydroelectric Power Corporation (NHPC). — OC