Plugging heroin smuggling in Punjab
Since 2005, there has been a shift in the ISI strategy. It wants to push more and more heroin into India through Punjab to generate funds for its covert operations. With its corrosive effect on the youth, heroin is the new weapon to wound India.
Rohit Choudhary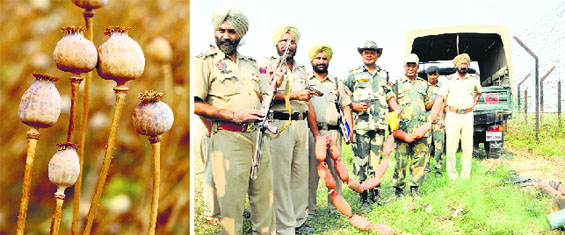 Heroin from the opium fields of Afghanistan accounts for 83 per cent of the global production (left) and Drugs are regularly intercepted at the Indo-Pak border in Amritsar
IN 2012, of the total 1,110 kg heroin seized in South Asia, 1,029 kg was seized in India. Out of this haul, 278 kg was seized in Punjab alone. Over the last few years smuggling of heroin in the state has shown an alarmingly phenomenal increase. Last year, the recovery in Punjab touched 416 kg, up from less than 50 kg till 2005. Though the Indo-Pak border manned by the BSF is more than 2,300 km, out of which only 550 km falls in Punjab — the remaining being in J&K, Rajasthan and Gujarat — the recoveries in Punjab are far beyond their share of the border. Last year, only about 20 kg heroin was recovered in Rajasthan and about 40 kg in Gujarat and J&K as against 400 kg in Punjab.
The phenomenon needs a deeper analysis and countermeasures to check the resulting threat to Indian security and damage to society.
Disturbed past
Punjab has lived through an era of terrorism aided and coordinated by Pakistan. Smugglers and couriers from across the border actively participated under the aegis of the ISI in supplying weapons to terrorists. It was with the objective of preventing unchecked movement of terrorists and weapons across the border, which was proving to be major impediment in controlling terrorism in Punjab, that border fencing was erected by India. It was a highly successful measure, but given the topography, the smuggling of weapons could not be prevented entirely. The weapons recovered in Punjab from 1990 to 1994 are a testimony to that. During this period, about 2,000 AK 47/56/74 rifles, 1,200 other rifles, 4,250 small arms, 1,150 hand grenades, 870 bombs, 5,400 kg explosive material and 3 lakh cartridges were recovered in Punjab. The supply of arms and explosives dwindled with the arrival of heroin on the scene.
Narco-terrorism
While the years from 1994 saw a sharp decline in terrorist activities in Punjab, the bid to infiltrate weapons from Pakistan continued. Over a period of time, the consignments began to be mixed with packets of heroin and bundles of fake currency notes to make smuggling lucrative. The period from 1995 to 2005 can be called a decade of transition, whereby the focus of smuggling gradually shifted from weapons to heroin. Since the year 2005, there has been an apparent strategic shift by the ISI to push the drug into India through Punjab. Heroin is easily available from Afghanistan, which accounts for nearly 83 per cent of the global heroin production. This way, the ISI can generate unaccounted money to fund its disruptive covert operations in various parts of India. It also weakens the population, and thereby the nation. Once the pride of the Army, the Punjab youth can now barely match up to the recruitment standards of the force.
Easy money
While the takers for arms and explosives were difficult to find in Punjab, heroin was turning out to be a money spinner, not only for Indian farmers on the border — many of whom started working as couriers — but also for the smugglers on the Indian side. Pakistani couriers easily develop relations with farmers and lure them with huge commission for supplying the consignment. Pakistani mobile phone SIM cards help farmers in safely communicating with Pakistani smugglers without any fear of monitoring and evidence on apprehension. The rate for Indian couriers is Rs 50,000 for five packets to be carried and delivered across the border. If the delivery is made in Delhi, a smuggler makes Rs 2 lakh.
Drug affliction
Punjab is the primary gateway for smuggled opiates. While there are reports of heroin brides from Afghanistan due to economic gains from the drug trade there (55 per cent of Afghanistan's economy is tied to drugs), in Punjab, Maqboolpura in Amritsar is known as the 'village of widows' since many young men have died of drug abuse. The gravity of the menace can be gauged from the fact that only in a span of over nine months (Jan to Oct 2013), over 3,300 FIRs were registered in cases related to drugs and 3,600 persons were arrested in the state for illegally possessing banned drugs. Daulewala of Moga district has earned an unwanted sobriquet — 'drug capital of Punjab'. In the past six years, this village, with nearly 400 households, has 390 cases registered against its residents pertaining to drug peddling and the Narcotic Drugs and Psychotropic Substances (NDPS) Act. Many villages do not have health clinics but have drugstores, which often make sizeable profits selling pills and other synthetic drugs to addicts who cannot afford heroin.
Drugs in Punjab are a multi-dimensional problem affecting different sections of society. It is a favoured route for the smuggling of heroin and the trend is emerging towards the local distribution of a part of the consignment in the villages and cities of the state. The local population is consuming traditional drugs like poppy husk (1.71 lakh kg last year), charas and ganja in villages and the urban youth is taking to smack. The consumption of shelf drugs from medical stores like cough syrups and Iodex etc. has also gone up. About 12.38 lakh banned capsules, 27,000 injections and 9,000 bottles of habit-forming syrups were seized last year. The production of synthetic drugs like M-amphetamine, or ICE, is being undertaken for smuggling to Europe, Canada and the US.
Multi-pronged approach
India is sandwiched between two major regions of the world producing illicit narcotics (the golden triangle and the golden crescent). On account of being a traditional cultivator of illicit opium and a supplier of this raw material for medical and scientific needs of pharmaceutical industry, which makes use of narcotic drugs and psychotropic substances to make critical medicines, the Government of India came up with a comprehensive policy on narcotic drugs and psychotropic substances in the year 2012. The policy attempts to curb the menace of drug abuse and contains provisions for treatment, rehabilitation and social re-integration of victims of drug abuse. Implementation of the provisions of the policy would also lead to reduction of crime and drugs abuse.
Since multiple agencies are involved in the process, there is a need for regular meetings for sharing information and coordination among different agencies in the region such as the police, BSF, Narcotics Control Bureau, Delhi Police, Intelligence Bureau, Customs and Excise, Enforcement Directorate, RAW, Railways and DRI.
There should be strict surveillance on smugglers and 'hawala' operators with past record, including those lodged in various jails in Punjab, Delhi, Rajasthan, J&K and Mumbai. Community participation measures would create awareness and also help in the identification of drug peddlers and persons living beyond their means in the border villages and towns. It is also imperative that some effective mechanism is evolved with Pakistan so that identified smugglers in Pakistan do not indulge in drug trafficking to India with impunity.
The computerised data bank relating to DNA and fingerprints of all drug dealers and peddlers should be maintained and shared among different enforcement and intelligence agencies. The provisions of the relevant Act like criminal procedure code and prison manual should be amended to allow DNA profiling of all arrested persons by different agencies, irrespective of the final outcome of the case. The conviction rate of the NDPS Act cases can be improved by conducting specialised training programmes and strengthening of Forensic Science Laboratories. There are stringent provisions for punishment under the Act and to prevent its misuse and miscarriage of justice, there are additional mandatory requirements pertaining to arrests and recovery to be fulfilled by the investigating officers. These can be highlighted in the training programmes.
Dreadful substitute
Desomorphine, which goes with the street name 'krokodil', is a new drug currently and increasingly being used in Russia due to its relatively simple synthesis from codeine which is available over the counter. This was after Russia started a major crackdown on heroin production and trafficking. It has been estimated that around 1,00,000 people use 'krokodil' in Russia and its use has been confirmed among Russian expatriate communities in a number of other European countries. It is a cheap alternative to heroin but the impurity of homemade 'krokodil' produces severe tissue damage, phlebitis and gangrene, which sometimes requires limb amputation in long-term users. Such drugs may find usage in Punjab too.
As Punjab reels under the onslaught of heroin smuggling from Pakistan, there is a need to adopt a multi-pronged approach and initiate robust measures in the region to counter it urgently.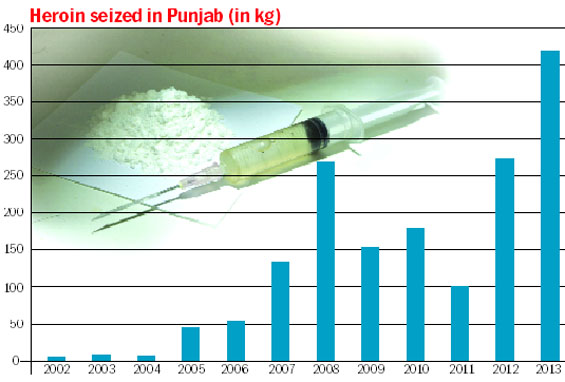 The writer is ADG, Punjab Police
Smuggling tactics
* Digging tunnels underneath the barbed wire fencing.
* Throwing consignment over the fence.
* Concealing contraband in cultivated land of Indian farmers across the fence and transporting it by hiding it in tractors and other farm implements.
* Smuggling contraband concealed in goods legally imported through rail and road.
* Through riverbed area where barbed wire is either not erected or is breached.