Subversive texts or alternative perspectives
Challenging established beliefs is the basis of all academic research. In a liberal world, objections to the written word can be expressed by another set of words. By banning books an absolute truth cannot be established
Anshu Malhotra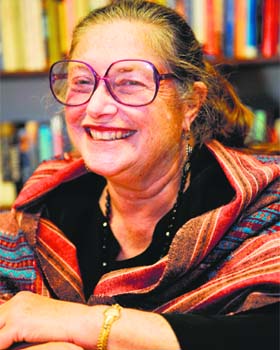 Over the last fifteen years that I have lived in my present residence in Delhi, I have been witness to the Shani mandir, sitting on a pavement just outside the aspirational mandir of the Indian youth, the IIT, grow exponentially. From a non-descript little structure that presumably only the initiated knew about, it has spread its wings, so to speak, commanding the respect and genuflections of a growing tribe of visitors eager to appease or please the wrathful god/graha. (The career graph of its priest has similarly transformed in popular parlance from a cycle-puncture fixer, a paanwala to finally hitting the jackpot with the mandir idea). The passersby bow their heads to ensure the benign gaze of the lord, cars stop just a fraction as they whizz by lest their occupiers be seen to be neglectful of the might of the most destructive of planetary gods, and on Saturdays there is a virtual jam in and around the temple — what with cars, devotees and beggars jostling for space on the road next to the pavement, a major artery linking the city to the cyber-city. As functions organised by the mandir's keepers multiply, pavements get swallowed, and traffic jams become a nuisance, I have never witnessed a protest from any quarter against either the psychedelic religiosity that constantly assaults visual and aural senses, or that belittles our collective civic rights.
However, there are protests galore, and court cases to boot, if an erudite scholar with decades of research behind her dares to explain this maddening, widening, evolving, involving, religiosity that we conveniently call 'Hinduism' from an 'alternative' perspective. Yes, I am speaking of Wendy Doniger's 'The Hindus: An Alternative History,' recently withdrawn by Penguin India from the market (and to be pulped in the next six months), after an out-of-court settlement with the Shiksha Bachao Andolan, an outfit assumedly brought into existence by a person called Dinanath Batra to set straight our crooked knowledge and worse, our crooked morality. And the depressing regularity with which us hapless 'liberal types' are dinned our dharmic lessons – just think of the fate of some of the writings and other creative expressions of the likes of Salman Rushdie, M.F. Husain, A.K. Ramanujan, James Laine, Taslima Nasreen to name a few – would have set straight any dogged kutta, but us dogs do have the most curled tails.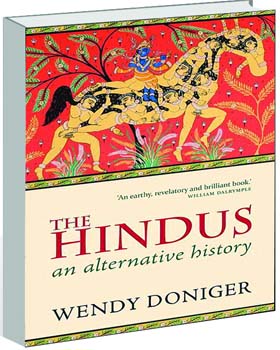 So what would an alternate history of Shani maharaj and his temple be, away from, let's say, the perspective of the priests and upper caste men and women that scrape their foreheads on its portals? A view, for example, from the displaced denizens of the pavement, or say from the beggars who thrive because of the temple's growing popularity? Or perhaps a standpoint away from that of the father Surya, and the son Shani, one that gives account of the mother Chhaya, a mere shadow, or the vahana, the ubiquitously maligned crow?
For that's what Doniger has dared to do in this book – speak of the alternative perspectives from those of the Sanskrit-spouting Brahmins and upper caste men – to those of the women, the untouchables, of animals, of the vernacular and the deshi. Not only does she delight in bringing alternate sources to the forefront, those not assembled and collated by high caste men, but equally enjoys shining the light on those very cracks and crevices in the Sanskritic literature that allow a space for other voices, different concerns. Nor is she shy of bringing her 'outsider' perspective to Hinduism (if decades of search still tags you as an outsider), saying tongue-in-cheek that 'you don't have to be an elephant to study zoology, but zoologists do not injure elephants by writing about them.'
Determined to de-centre Hinduism, studying it from the margins as it were, she insists contentiously that there is no single central quality that Hindus must have, likening it to a 'Zen' diagram (no, not a Venn diagram), with no central ring. This is an idea anathema to the Rightists, who see not just a central core to their idea of Hinduism, but also claim that that is the only possible vision one must have. No wonder this phoren woman, a Jew, delightfully telling the world about the multiple other Hindus, happily splashing the pages with their concerns and histories, anecdotally recounting their many stories, deliciously speaking of their sensual appetites and sexual escapades, is the target of dyed in the saffron wool oldish men, who have spent years cleansing Hindu polytheism of its 'poly', Krishna of his amorous gopis, and Ram of any human desire (except of course of revenge against the 'usurpation' of his alleged birth place).
But let's pause a minute and think not only of the growing intolerance in society, the vicious scramble for cultural space, the anxious outlook that believes in annihilating any opinion other than its own, but also the implications for an increasingly competitive polity. In this season of garnering votes, when parties are looking beyond their traditional vote banks, does it behoove to wipe out histories of women, Dalits, and other benighted beings? The question is to be asked not only of the Hindu Right, who one might even smugly say have exposed their true upper caste colours, but also of the pusillanimous centrists, the leftists, and those secularists who have time and again retreated from taking a stand, paid lip-service to a liberal tradition they no longer believe in? The constructors of modern constitutional and democratic polity, the Ambedkars and the Nehrus and many others were extremely conscious of protecting the rights of the minorities, the women and the weak, in order to create a fair and egalitarian society. Dare we subjugate that fulsome legacy?
Doniger's is indeed a subversive text. Not because alternate visions did not have a voice in society. Her text, a tome of almost eight hundred pages, is a testimony to a constant presence throughout history. No, her book is subversive because what was on the periphery is beginning to occupy a central space in today's discourse. We should celebrate the scholar who has delved deep into Hinduism's pluralistic traditions, its multiple voices, its many well-known and not-so-well-known protagonists. They will not be silenced. As far as Doniger is concerned, I doubt if a prolific and voluble academic like her will be frightened into silence, least of all by the moralising men out to prove their righteously hurt manhood.
The writer is a Fellow at the Nehru Memorial Museum and Library, New Delhi.
Banned to bestseller
It's a basic rule of purchasing psychology — reading psychology is no different. Stifle a product's supply and its value goes up.
On Feb 11, American academic Wendy Doniger's book, "The Hindus: An Alternative History," was withdrawn after a lengthy legal battle between its publisher Penguin India Pvt. Ltd. and petitioner Shiksha Bachao Andolan Samiti that resulted in an out- of-court-settlement.
Within a day the Flipkart website showed "The Hindus" as sold out.
The book went from unranked to sales rank 9 within two days.
Even in the US, where the book is not banned, it moved from position 335,442 to 60 in terms of sales ranking.