Feminine touch
The inspiration could trickle from the smallest of sources and yet could reflect in the strongest of ways. A bird, a building or even her own self; designer Mandira Wirk believes in putting varied things in the garments she creates. While the inspiration could be right from, "fabrics to colours to even a wall paper," what binds them all together is the underlying philosophy of feminism.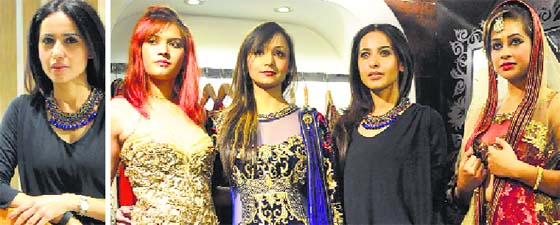 Right cut: Mandira Wirk (Third from Left) showcases her creations Photo: Manoj Mahajan

Blast from the past
There is certainly something compelling and substantial about theatre; perhaps the reason why television actors Mitali Nag and Ashok Kumar Banthia could never completely detach from this medium. They are in Chandigarh to stage the play Mohenjodaro at the Tagore Theatre along with writer-producer Akashaditya Lama and director Kulvinder Baksshish, who are all part of Mumbai-based theatre group Big Bang Theatres.


Play on: Members of Big Bang Theatres Photo: Manoj Mahajan
pet passion
Cat call
"It is not we, but they who have adopted us," share Meeta and Maneesh Roy, as they talk fondly of Muffin and Sugar, their tom cats! Maneesh, who is an Air Force officer, and his wife are concerned about stray animals and it is a routine for them to pick up injured stray cats and dogs, nurse them and then release them.
Adventure zone
If you feel like breaking the monotony, want to let some fresh air to hit your head hard, you can just drive down to the new Ramgarh Golf Range. A new property launched by The Fort Ramgarh, Castle Group, this place that just a few kilometers ahead of The Fort Ramgarh could throw in some change.

The eating joint at the Ramgarh golf range
Just Beat it!
Groove with the likes of Sonu Nigam, Shweta-Shradha Pandit and many more this Sunday, March 2 at Parade Grounds, Sector 17, Chandigarh. Be ready to groove away at the world's first and only Bollywood Electro Music Festival - Bollyboom which is being presented by Kingfisher Premium!
Leisure period
Come, step into the world of luxurious experience at JW Marriott Chandigarh at a special price of Rs 9,500 (all inclusive) onwards till December 31. This undoubtedly, is the perfect leisure getaway you can ever get.
Serious side of Kapil
Kapil Sharma is the darling of television today and his show has touched new heights. He has had his share of controversies too and is now making a film debut with YRF. He talks about his show and clears some controversies.
I'll take right advantage of the goodwill I've earned: Aamir
Actor-filmmaker Aamir Khan, who is geared up for the new season of his social issues-related TV show Satyamev Jayate, says he wants to continue to take the right advantages of being a celebrity, who is so loved by his fans.
Yami supports Food for Soul campaign
There isn't enough food for everyone in the country and now actress Yami Gautam endorses Food for Soul campaign, which aims at feeding the underprivileged. Initiated by online food ordering platform Foodpanda along with non-profit organisation Uday Foundation, the campaign encourages patrons to generously feed the lesser privileged.


A fresh face
Claire Castilino has recently made an entry into Sahara One's popular show Rishton Ke Bhanwar Main…Niyati, which is at a very interesting stage. She is playing an intense character called Sharmila. We catch up with Claire.

Role call: Claire Castilino