Tanda Medical College Super-speciality Wing
Post-inauguration, services likely to wait in the wings
Dharamsala, March 1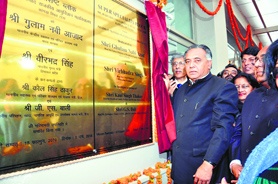 The super-speciality wing of the Dr Rajendra Prasad Government Medical College (DRPGMC), Tanda, was inaugurated today, but the medical services are not going to be operational for at least another year. Sources here said the government was still in the middle of purchasing equipment for the wing. Meanwhile, the recruitment of super-specialist doctors is said to be underway.
GS Bali, Minister for Technical Education, inaugurates the super-speciality hospital at the Tanda medical hospital in Kangra on Saturday. Photo: Kamaljeet

Sai Kothi project: Cong refutes charges
Shimla, March 1
The allegations made by the BJP with regard to irregularities in the re-allotment of the Sai Kothi hydro project are totally false and being levelled with a political motive to defame Chief Minister Virbhadra Singh. This was stated by Power Minister Sujan Singh Pathania while refuting the allegations here yesterday.
Negligence case against doctor couple
Solan, March 1
The local police here today registered a case of negligence against a doctor couple. A 28-year-old woman, who had come to their clinic for a hysteron salpingo gram (HSG) test yesterday, died soon after being administered two injections.
VB sends probe report to legal cell
Shimla, March 1
The State Vigilance and Anti-Corruption Bureau has sent the inquiry report of the cash-on-camera case against BJP leader Varinder Kashyap to the legal cell for further examination. Kashyap, who was re-nominated as the BJP candidate from the Shimla (Reserve) constituency for the coming Lok Sabha elections, was allegedly caught accepting cash on camera.
HPU Executive Council passes Rs 130-crore budget
Shimla, March 1
The Executive Council of Himachal Pradesh University (HPU) today approved a Rs 130-crore budget with an uncovered deficit of Rs 23 crore. The receipts included government grants amounting to Rs 69 crore against a demand of Rs 95 crore and domestic receipts amounting to Rs 38 crore.
Man shot dead in Mandi, 1 held
Mandi, March 1
A person shot dead his daughter-in-law's brother while he was asleep in his house at Lohardi village near Baggi under the Balh police station here yesterday. The victim, Daleep Kumar, was sleeping in his room when Kashmir Singh, father-in-law of his sister Bhawna, fired at him in the face from his licensed gun through a window near his bed.
Navrang 2014 ends
Kangra, March 1
It was all colour, with a dash of diversity and splendour. The two-day annual fest Navrang 2014 organised at the Dronacharya Post-Graduate College of Education, Rait, concluded today. This festival showcased talent, creativity and ingenuity of students from all over the state on one stage. This year the theme of Navrang was "Dream, Live and Inspire".
Shanta Kumar starts poll campaign from Chamba
Chamba, March 1
Shanta Kumar, BJP candidate for the Kangra Lok Sabha seat, formally kicked off the election campaign from Chamba today. Addressing mediapersons at the local Circuit House, Shanta said it was Chamba town from where he had launched the Antodaya Yojna in 1977 and, thereafter, when he was the Union Rural Development Minister he had launched the Antodaya Anna Yojna in 2000. Even today, the Antodaya Yojna was needed for the well being and social justice of people, he asserted.
Two killed as Sumo falls into reservoir
Dalhousie, March 1
Two persons were killed and another was seriously wounded when the Tata Sumo they were travelling in veered off the road and plunged into the Chamera reservoir near Taleru in Chamba district last night, a police report said here today. The vehicle was on its way from Pathankot to Masroond. The report said the body of the driver of the vehicle, identified as Ravinder Kumar, was recovered, while that of the other deceased, Lalit Kumar, was still missing.Injured Gopal Singh was undergoing medical treatment. A case of rash and negligent driving had been registered. oc