M A I N N E W S
India votes from April 7 in nine phases, counting on May 16
10 crore more voters than 2009 * Over 2.3 crore voters in 18-19 age group
Tribune News Service
New Delhi, March 5
The Great Indian General Election, the biggest ever democratic process in the country's history, will be conducted in nine phases between April 7 and May 12.
Counting of votes in all 543 constituencies is slated for May 16 and the 16th Lok Sabha has to be constituted by May 31. With 81.45 crore eligible voters across 9.30 lakh polling stations, polling will involve the use of electronic voting machines (EVMs).

General Election 2014/Ball set rolling for biggest-ever democratic exercise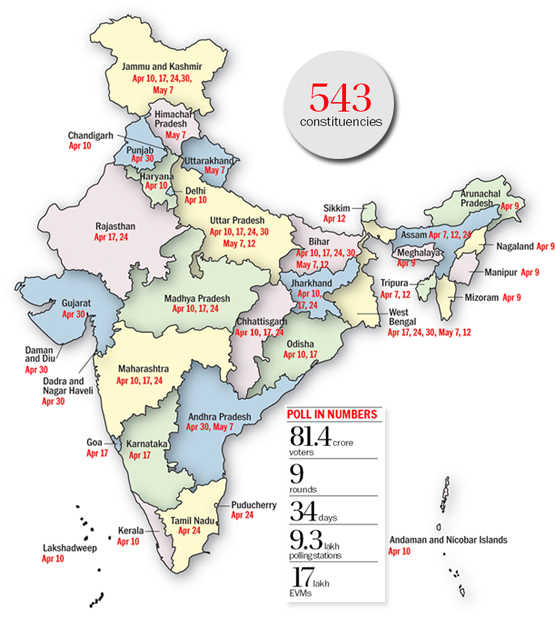 Punjab
date: April 30
seats: 13
Haryana
date: April 10
seats: 10
Chandigarh
date: April 10
seats: 1
Himachal
date: May 7
seats: 4
Jammu & Kashmir
date: April 10, 17, 24, 30, May 7/seats: 6
Uttarakhand
date: May 7
seats: 5


Elections will be conducted in phases on April 7, April 9, April 10, April 12, April 17, April 24, April 30, May 7 and May 12. The biggest phase will be on April 17 when 122 constituencies across 13 states go to the polls.
The model code of conduct, which bars the government from using public money to announce new schemes and projects, came into force this morning following the announcement of the schedule for elections to the 16th Lok Sabha and simultaneous Assembly polls in Andhra Pradesh, Sikkim and Odisha.
With the exception of Jammu and Kashmir, states in North India will go to the polls in separate yet single phases. While April 30 will be election day in Punjab, people in Haryana, Chandigarh and the National Capital of Delhi will vote on April 10. The hill states of Himachal Pradesh and Uttarakhand will see voting on May 7.
In J&K, the election will be held in five phases on April 10 (Jammu), April 17 (Udhampur), April 24 (Anantnag), April 30 (Srinagar) and May 7 (Baramulla and Ladakh). Chief Election Commissioner VS Sampath said multi-phase polling was needed in J&K due to security considerations. While Ladakh borders China and Gilgit-Baltistan in Pakistan occupied Kashmir (PoK), the constituencies of Jammu and Baramulla abut PoK. Andhra Pradesh will have both Lok Sabha and Assembly polls as an undivided state and candidates elected will automatically become legislators of their respective states after Telangana comes into being on June 2.
Sampath said the nine-phase polling and the entire process -- from today to counting of votes on May 16 -- will be over in 72 days, three days less than the previous election. The number of voters will be almost 10 crore more than the 2009 Lok Sabha election. Over 2.3 crore enlisted voters are in the 18-19 age group.
The Election Commission will give voters another option to get enlisted on March 9 when booth-level officers will be present in their respective offices across the country to accept forms from residents.
"Dates in parliamentary constituencies were set taking into consideration extreme summer heat, monsoon, harvest seasons, festivals and most importantly, school exams. Most polling stations are placed in schools," Sampath said, explaining why polls were being conducted on nine days. He said the polls were not to be seen as being conducted in nine phases, but as nine polling days that were needed to station security forces.
The ECI appealed to political parties and candidates to uphold the democratic traditions of the nation by maintaining high standards of political discourse and fair play in the course of their election campaigns.
The Election Commission will monitor production, storage and distribution of liquor during elections. Polls in Naxal-hit areas in Central India will be conducted in one go. Uttar Pradesh, with the maximum of 80 seats, will go to the polls on six days on April 10, 17, 24, 30 and May 7 and 12.