Must sink differences: Preneet
Banur, March 5
Member of Parliament from Patiala and Minister of State for External Affairs Preneet Kaur today said the Congress poll prospects in the Lok Sabha elections would depend on whether the state unit could put up a united front.

Union Minister Preneet Kaur (right) with Commerce Minister Anand Sharma in Banur on Wednesday. A Tribune photograph

Ludhiana MLA Bains throws hat in the ring
Ludhiana, March 5
Atam Nagar (Ludhiana) legislator Simarjit Singh Bains, an associate member of the Akali Dal in the Punjab Vidhan Sabha, will contest as an Independent from the Ludhiana Lok Sabha constituency. He claims to have the support of certain BJP leaders and Independent councillors.

Simarjit Bains (in pink turban), with supporters in Ludhiana on Wednesday. Tribune Photo: Himanshu Mahajan
SAD's Dhillon faces uphill task in Patiala
Patiala, March 5
With the SAD announcing the candidature of Deepinder Singh Dhillon, the Patiala seat will see an interesting contest among three candidates. Dhillon, a former Congress man, was once Preneet Kaur's confidant.
AISSF: Ticket to Tytler will be betrayal of Sikhs
Amritsar, March 5
The All India Sikh Students' Federation (AISSF) today said it would contest against Congress leader Jagdish Tytler, if the Congress allotted him the party ticket from the Delhi North-East seat.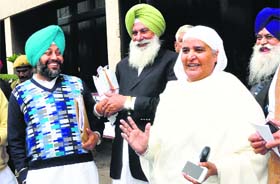 Bibi Jagir Kaur shares a light moment with Congress MLAs Gurkirat Singh and Ajit Singh Mofar after the assembly session on Wednesday. Tribune photo: Parvesh Chauhan
Chaudhary accuses Bibi of hijacking her projects
Jalandhar/Kapurthala, March 5
Senior SAD leader Bibi Jagir Kaur's move to lay the foundation stones of two community centres in two Kapurthala villages has kicked up a storm. The Congress is accusing the SAD-BJP combine of "hijacking" the UPA-led flagship programmes. Congress leaders claim Union Minister of State for Health Santosh Chaudhary had released grants out of her MPLAD funds for the centres.
Congress in dilemma over Ferozepur seat
Bathinda, March 5
Even as the Akalis have re-fielded sitting Member of Parliament Sher Singh Ghubaya from Ferozepur, the Congress is in a dilemma on whether to nominate an experienced leader or opt for a young face for the seat.
Vigilance Bureau to probe tree auction scam
Chandigarh, March 5
Minister for Rural Development and Panchayats Surjit Singh Rakhra announced that a vigilance inquiry had been ordered into illegal cutting of trees at Mahrajpur village of Dinanagar in Gurdaspur. He was replying to a question posed by MLA Aruna Chaudhary.
Harcharan Bains is SAD gen secy
Chandigarh, March 5
Harcharan Bains, adviser to the Chief Minister on national affairs, who submitted his resignation today, has been appointed SAD general secretary (Publicity and Media wing).
Capt nominates leaders to Jat Maha Sabha
Chandigarh, March 5
Former Chief Minister and the president of All India Jat Maha Sabha, Capt Amarinder Singh, yesterday nominated several senior party leaders, including sitting and former legislators to the national executive of the sabha.


Govt giving wheat instead of flour, say atta-dal scheme beneficiaries
Muktsar, March 5
Beneficiaries of the SAD-BJP Government's populist Atta-Dal scheme, which is being re-launched across the state, are feeling "cheated". They claim the government had promised to disburse wheat flour, but they are being given wheat, forcing them to shell out money for grinding.


Anganwari workers seek wages on Haryana pattern
Sangrur, March 5
The Anganwari Mulazam Union, Punjab, today said that it would continue the sit-in outside Finance Minister Parminder Singh Dhindsa's house here in spite of model code of conduct coming into force.
Anganwari workers and helpers burning effigies of Deputy Chief Minister Sulhbir Singh Badal and Finance Minister Parminder Singh Dhindsa in Sangrur on Wednesday. Tribune photo
Probe ordered into 'illegal' sale of plots by Fazilka MC
Fazilka, March 5
The Deputy Commissioner through the District Revenue Officer has ordered an enquiry by the Senior Superintendent of Police into the alleged irregularities in the sale of Municipal Council (MC) plots worth crores of rupees.
Will ensure there are no fake votes: DC
Hoshiarpur, March 5
Hoshiarpur Deputy Commissioner (DC)-cum-District Election Officer Tanu Kashyap today said it would be ensured that no fake vote is cast on behalf of ASD (absentees, shifted and duplicate) voters. She was addressing a press conference at District Administrative Complex here this evening.
Two Sangrur farmers awarded for innovation
Sangrur, March 5
Two farmers of Sangrur district have been awarded for adoption of innovative agricultural techniques and commercialisation of agriculture. Tirath Singh of Sandaur village in Ahmedgarh block and Jagdeep Singh of Kanoi village (near Sangrur) were recently conferred with the "Innovative Farmer Award" at Agricultural Science Fair by the Indian Agricultural Research Institute (IARI), New Delhi.
Khalsa's movement sabotaged: Sikh outfits
Amritsar, March 5
Members of various Sikh organisations today took out a march from Kartarpur to the holy city. They submitted a memorandum to Akal Takht Jathedar Giani Gurbachan Singh, seeking permanent release of Sikh detainees, on reaching here in the evening. The Jathedar was out of the town and the memorandum was received by his staff.


Double delight: 13 pairs of twins in Kapurthala school
Kapurthala, March 5
There are 13 pairs of twins at Sri Guru Harkrishan Public School here. The school has a strength of 1,000 pupils. To avoid confusion, schoolteachers have tried out various ways to distinguish the twins by putting them in different sections or asking the parents to ensure they sport different hairstyles.
A group of twins with principal Jasbir Wadhwa on the campus of Sri Guru Harkrishan Public School in Kapurthala on Wednesday. Tribune photo: Malkiat Singh
Protesters seeking jobs climb tank
Anandpur Sahib, March 5
Members of the Sikhia Providers' Union climbed the stairs of an over-head water tank seeking employment in government schools here today. The protesters alleged that thousands of union members had been given jobs but about 200 others in Ropar district had not been posted.
Doctors wear black badges
Hoshiarpur, March 5
Doctors in Hoshiarpur today wore black badges and protested against the recent incidents of "violence" and FIRs against doctors at Talwandi Sabo, Ludhiana and Kanpur. The doctors threatened to go on a strike if stern action is not initiated against the guilty.


Satisfied with police probe in drug case: HC
Chandigarh, March 5
The Congress efforts to make the drug menace case a poll issue suffered yet another setback today. Taking up the plea for a CBI probe into the case and related matters, the Punjab and Haryana High Court made it clear that so far it was satisfied with the probe carried out by the Punjab Police.
Selection of medical officers
High Court okays with SIT report
Chandigarh, March 5
The Punjab and Haryana High Court today expressed its satisfaction on a report submitted in a sealed cover by a special investigation team probing alleged irregularities in the selection of 312 medical officers carried out by the Punjab Public Service Commission in 2009-10.
Court may frame charges against Hawara
Ropar, March 5
The local court is likely to frame charges against Babbar Khalsa International (BKI) chief Jagtar Singh Hawara on March 19 in a case related to the bomb blast at Dhamana village near the dera of Baba Piara Singh Bhaniarawala.


Akali leader's son fires at dera man
Bassi Pathana, March 5
Akali leader Lakhbir Singh's son Attarpal Singh allegedly fired at a sevadar of a religious head of a dera here this evening. The bullet hit the sevadar, identified as Baljit Singh of Mohali, in his right foot. He was admitted to the Civil Hospital, Fatehgarh Sahib.
Three Tax Inspectors suspended for graft
Patiala, March 5
Three Inspectors of the Excise and Taxation Department have been suspended for allegedly harassing traders in Abohar district and accepting hefty bribes from them. The department has also sought the suspension of another official.
NCB seized 51 kg of contraband in a month
Chandigarh, March 5
In about a month, the Chandigarh unit of the Narcotics Control Bureau (NCB) has seized 51.49 kg of contraband from this part of the region. Union of India counsel Onkar Singh Batalvi submitted the information in the Punjab and Haryana High Court today.