We'll support whoever BJP names from Amritsar: SAD
Ludhiana/Mohali, March 4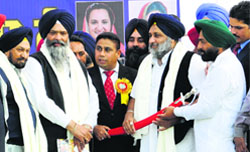 Deputy Chief Minister and SAD president Sukhbir Badal today said the party would support Navjot Singh Sidhu if the sitting MP was re-nominated by the BJP for the Amritsar Lok Sabha constituency.




Akali Dal leaders present a sword to Deputy Chief Minister Sukhbir Singh Badal during a rally in Mohali on Tuesday. Tribune photo

Politics at play over state funds for Moga villages
Moga, March 4
To beat the model code of conduct for the Lok Sabha elections, the Moga administration has gone into overdrive to impress the electorate.
SAD loath to rein in youth brigade
Chandigarh, March 4
In focus for all wrong reasons of late, the Youth Akali Dal (YAD) leaders have become a cause for serious concern for the parent party, the Shiromani Akali Dal (SAD).
Can't spend huge money on rallies: AAP's Gandhi
Patiala, March 4
Citing inability to spend huge amounts on poll campaign, Aam Aadmi Party's Patiala nominee Dharamvir Gandhi has constituted a 15-member committee comprising members from various walks of lives for undertaking a door-to-door campaign in all the nine legislative assembly segments of Patiala.
Bhagwant meets Kejri in Delhi, joins AAP
Chandigarh, March 4
Bhagwant Mann today formally joined the Aam Aadmi Party. He met senior AAP leaders, including Arvind Kejriwal, Manish Sisodia and Yogender Yadav, in Delhi.
Malwinder: Will oppose Preneet as well as Rakhra


Patiala, March 4
Malwinder Singh, brother of former Chief Minister Capt Amarinder Singh, today said he would oppose his sister-in-law Preneet Kaur if fielded by the Congress from the Patiala parliamentary seat. He would also oppose Cabinet Minister Surjit Singh Rakhra or his brother Charanjit Singh if fielded by the SAD.



Malwinder Singh. Tribune file photograph

AAP's Gandhi to hold three roadshows
Patiala, March 4
Unable to spend huge amounts on canvassing, AAP's Patiala nominee Dharamvir Gandhi has constituted a 15-member committee comprising members from various walks of life for door-to-door campaign in the nine legislative assembly segments of Patiala.

Session curtailed, Cong fumes
Chandigarh, March 4
The ongoing Budget session of the Punjab Vidhan Sabha has been curtailed and will conclude on Friday (March 7) instead of Tuesday (March 11) despite strong opposition from the Congress, which wanted a full session. Instead of the routine one session a day, two sessions will be held on Thursday.


Ludhiana, March 4
The National Commission for Schedule Castes and Schedule Tribes will probe the circumstances forcing Ranjit Singh (59), principal of a government school at Latala village, to com- mit suicide.

Bhullar case: Dal Khalsa slams Centre
Amritsar, March 4
Radical Sikh outfit Dal Khalsa today took strong exception to what it termed flip-flop approach of the Union Home Ministry vis-à-vis commutation of death sentence of Devinder Pal Singh Bhullar.

House pays tributes to Ajnala martyrs
Chandigarh, March 4
The Punjab Assembly today paid tributes to 282 Indian soldiers whose mortal remains were retrieved from a well in Ajnala near Amritsar.

College employees hold rally
Ludhiana March 4
A state-level rally of the Private College Non-Teaching Employees Union (Punjab and Chandigarh) was held here yesterday. The employees assembled at the local Arya College and then proceeded to Dandi Swami Mandir Chowk in a procession, raising the anti-government slogans. The protest concluded at the Deputy Commissioner's office.

Bureaucrats pull a quick one in Gurdaspur to beat EC deadline
Gurdaspur, March 4
The bureaucracy, for once, acted in no time and beat the model code of conduct to start construction of the multi-storey District Administration Complex (DAC) that will house all government offices.

Hoshiarpur locality faces demolition, residents protest
Phagwara, March 4
Tension prevailed in Onkar Nagar here when a team of the Improvement Trust visited the locality today to sound residents to vacate their house within two days.

IMA's state chapter seeks quashing of case against doc
Hoshiarpur, March 4
The Punjab chapter of the Indian Medical Association (IMA) has condemned the police for arresting a doctor on the charge of medical negligence leading to the death of an accident victim in Talwandi Sabo.


Muktsar, March 4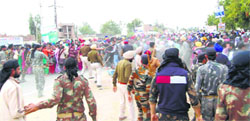 The police today cane charged a large number of Punjab Sikhya Provider Union activists, when they tried to gherao Chief Minister Parkash Singh Badal's residence at Lambi village.

Policemen cane-charge agitating teachers at Lambi village in Muktsar district on Tuesday. A Tribune photograph


Restoration of Jhaji Haveli moves at snail's pace
Fatehgarh Sahib, March 4
The project of restoring more than 300-year-old "Jahaji Haveli" of Dewan Todar Mal is going at a very slow pace.



Indo-Canadian is Miss Canada
Canada, March 4
An Indo-Canadian girl, who is a first-year nursing student at the University of Windsor, has won the prestigious crown of Miss Canada 2014.



Longowal's assassination: 30 years on, HC upholds cops' reinstatement
Chandigarh, March 4
Nearly three decades after Sant Harchand Singh Longowal was assassinated, the Punjab and Haryana High Court has upheld the reinstatement of two policemen on duty when the shooting took place.



Abohar man kills daughter over illicit relation
Abohar, March 4
The police today arrested a man on the charge of killing his daughter who reportedly had an affair with a driver.

Prime accused Kinda surrenders to police
Ludhiana, March 4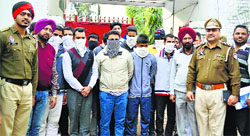 Kulwinder Kumar alias Kinda, one of the prime accused in the Sarabha Nagar shootout, and his four accomplices surrendered before Additional Deputy Commissioner of Police Satvir Atwal today.



The accused in police custody in Ludhiana on Tuesday. Tribune photo: Himanshu Mahajan