To storm SAD's Bathinda bastion, Cong, PPP banking on statistics
Bathinda, March 3
The Congress-PPP (People's Party of Punjab) pact for the Bathinda Lok Sabha seat can prove fruitful only if both parties poll the same number of votes as they did during the 2012 assembly elections.
A year on, no end to threats, says police assault victim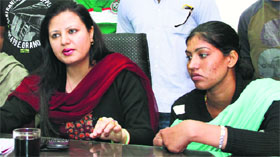 Jalandhar, March 3
Exactly a year after 20-year-old Harbarinder Kaur was thrashed by policemen in full public view in Tarn Taran, the victim today alleged that she had been continuously receiving threat calls.


Congress spokesperson Nimisha Mehta (L) with police assault victim Harbarinder Kaur in Jalandhar on Monday. Tribune photo



Now, Brar sees CM's hand behind PPP-Cong pact
Chandigarh, March 3
Senior Congress leader Jagmeet Brar today alleged his party was being fooled by political acumen of Chief Minister Parkash Singh Badal.
Bhagwant quits PPP, to join AAP
Chandigarh, March 3
Comedian-turned-politician Bhagwant Mann today quit the People's Party of Punjab (PPP). He will meet Arvind Kejriwal in New Delhi tomorrow and then formally join AAP (Aam Aadmi Party).


Fazilka hospital gets CT scan unit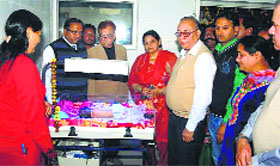 Fazilka, March 3
A CT scan unit was launched at the district hospital here today. An amount of Rs 2.25 crore was spent on the installation of the unit. However, a radiologist is yet to be appointed to carry out CT scan examinations.


State Health Department officials and Health Minister Surjit Jyani's wife Nirmala Jyani inspect a new facility at the district hospital in Fazilka on Monday. A tribune photograph

Food scheme: Questions being raised over quality of pulses
Muktsar, March 3
The state government has been distributing "expired" pulses (chana dal) among poor people under the new Atta-Dal Scheme.
Sikh youth reunites with uncle after 20 yrs
Vadodara, March 3
Joy of 21-year-old Vir Singh, abandoned by his father, knew no bounds when he reunited with his paternal uncle after a gap of about 20 years here.
PSEB engineers hold dharna

Patiala, March 3
Engineers employed with Punjab State Power Corporation Limited (PSPCL) and Punjab State Transmission Corporation Limited (PSTCL) staged a dharna outside the power authority's headquarters here today.



Members of the PSEB Engineers' Association protest in Patiala on Monday. Tribune photo: rajesh sachar

Cops thrash conductor of pvt bus
Tarn Taran, March 3
Traffic in Chabal, located on the Khemkaran-Amritsar road, came to a standstill today with bus operators protesting against the beating up of their colleague by policemen.
Cheated by Facebook friend, girl ends life
Muktsar, March 3
A 22-year-old girl today allegedly committed suicide by consuming some poisonous substance after her Facebook friend reportedly refused to marry her.
On fast for 6 days, nurse hospitalised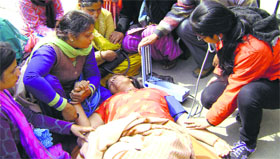 Sangrur, March 3
A protesting National Rural Health Mission (NRHM) staff nurse, Sunanda Kapil, was shifted to hospital in a critical condition today. She was on an indefinite fast near the house of Punjab Finance Minister Parminder Singh Dhindsa here for the last six days.


Nurse Sunanda Kapil before being hospitalised in Sangrur

vienna violence
More powers for relief panel
Chandigarh, March 3
Less than a year after former Chief Justice of the Kerala High Court, Justice VK Bali, was appointed Claims Commissioner in the Vienna violence case, the Punjab Government has issued a fresh notification giving more powers to the panel.
Govt extends last date to deposit house tax
Chandigarh, March 3
In a relief to the state's urban population, the Punjab Government today allowed the residents to pay house tax without any penalty till March 31.
Capt blames Badal Govt for denial of OBC status to Jats
Chandigarh, March 3
A war of words has ensued between Chief Minister Parkash Singh Badal and former CM Capt Amarinder Singh, over exclusion of Punjabi Jats in the Other Backward Classes (OBC) category for the purpose of reservation in Central Government jobs.
Body found in canal
Muktsar, March 3
The body of a 25-year-old boy, who had gone missing under mysterious circumstances a day after his wedding, last week, was found in the Rajasthan Feeder canal in Muktsar district today.
NRI police station set up in Sangrur
Sangrur, March 3
An NRI Police Station has been established at the Police Lines here.


pseb class X exams
Application after cut-off date can't be allowed: HC
Chandigarh, March 3
The Punjab and Haryana High Court has ruled that the cut-off date to appear in examination is sacrosanct. Relief to the student cannot be granted once the cut-off date has expired.
NCB submits report on its infra in HC
Chandigarh, March 3
Just about a month after the Narcotic Control Bureau (NCB) told the Punjab and Haryana High Court that it was ill-equipped to deal with drug menace in Punjab, the bureau today submitted a report on its infrastructure in the court.

4 killed, 1 hurt in accident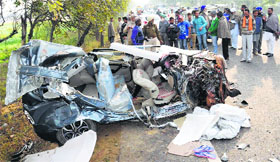 Bathinda, March 3
Four Sriganganagar residents, including a newlywed couple, who were on their way to Chandigarh, were killed and one person was injured in a road accident on the Bathinda-Malout road today.



The remains of a car after its collision with a canter near Behman Dewana village in Bathinda on Monday. Tribune photo: Pawan Sharma

Principal's body found; suicide note blames 'MLA'
Ludhiana, March 3
The body of Ranjit Singh (59), the principal of government school at Latala village who named "MLA Dakha" among others in his suicide note, was found from Sirhind Feeder Canal near Ahmedgarh village today.