Keep vigil till 9 pm, HC tells civic body
Chandigarh, March 3
Less than four months after the Chandigarh Administration was rapped on its knuckles for apparently displaying a complete lack of will "to do anything", the Punjab and Haryana High Court today ordered the municipal corporation authorities to maintain a vigil till 9 pm to check encroachments in Sector 22.
GMSH, dispensaries run short of medicines
Chandigarh, March 3
Patients visiting Government Multi-Speciality Hospital (GMSH), Sector 16, and numerous civic dispensaries in the city are being forced to purchase most of the basic medicines from the market for the past over 15 days.


Chandigarh votes 2014
AAP likely to act against 8 party workers
Chandigarh, March 3
After witnessing anti-party activities being carried out by some party volunteers, the Aam Aadmi Party (AAP) is likely to take action against eight workers.
Lok Sabha poll: HAS leaders to join BJP tomorrow
Chandigarh, March 3
Panjab University has turned into a political hub for national parties who are mobilising youth voters for the upcoming Lok Sabha elections.
Chinks in AAP come to fore
Chandigarh, March 3
Chinks in the city unit of the Aam Aadmi Party (AAP) over finalising Savita Bhatti's name as AAP candidate from the Chandigarh LS seat have now surfaced.
Congress men squabble for party ticket in Panchkula
Panchkula, March 3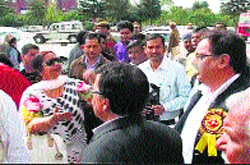 High drama was witnessed when local Congressmen squabbled with one another over party ticket during a function where Haryana Chief Minister Bhupinder Singh Hooda was the chief guest.





Supporters of Congress MLA DK Bansal argue with party men in Panchkula on Monday. A tribune photograph
Neighbour's dog attacks woman in P'kula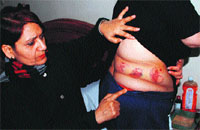 Panchkula, March 3
Calling a pet dog of her neighbour by its name landed a 50 year-old woman in hospital after the canine attacked her in Sector 2 here. The victim is a lawyer with the Punjab and Haryana High Court.


A woman shows the injuries suffered by the victim in Sector 2, Panchkula, on Monday. Tribune photo: Nitin Mittal
UT Admn to improve e-connectivity in villages
Chandigarh, March 3
The UT Department of Information Technology has inked an agreement with the Department of Telecommunications, Government of India and Bharat Broadband Network Limited (BBNL), for laying optical fiber cable to enable connectivity in Chandigarh villages under the Government of India's IT flagship project the National Optical Fiber Network (NOFN).
2 PUDA employees threaten self-immolation
Mohali, March 3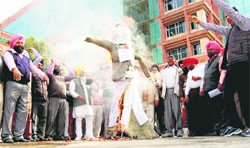 Fed up with the indifferent approach of the state government towards their long pending demands, the two office-bearers of PUDA Employees Sangharsh Committee threatened to immolate themselves tomorrow morning at PUDA Bhawan, Phase 8, here.

Members of the PUDA Employees Sangharsh Committee protest at Phase VIII in Mohali on Monday. A tribune photograph
Computer operators stage protest
Mohali, March 3
Nearly 200 computer operators, members of PHS Computer Operators Association, staged a protest in front of office of Punjab Health Corporation at Phase 6, here today.
Retired Colonel accuses hospital staff of negligence
Mohali, March 3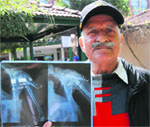 A former Army personnel alleged negligence on the part of Fortis hospital during operation of his wife, which resulted in suffering of the patient for at least two days after the operation.




Col ( retd) RS Sanyal shows an X-ray of his wife in Mohali on Monday. tribune photo: vicky gharu
Doctor to attend global summit
Mohali, March 3
Orthopaedician Dr Mohinder Kaushal will address the International Minimally Invasive Spine (MIS) Congress, to be held at Kuala Lumpur, Malaysia from March 20.
Idea of writing threat letter came from FB account of a Punjabi singer
Chandigarh, March 3
In police custody for extorting a city-based jeweller Manoj Jain, the accused, Harvir Singh, told the police that he took the idea of writing a threat letter from the Facebook account of a Punjabi singer who had also received a threat letter and had pasted it on his Facebook wall.
Sanitation a grave issue in city's Ward No. 21
Chandigarh, March 3

Sanitation is one of the major issues which residents of Sectors 32 and 46 falling under the Municipal Corporation (MC) Ward No 21 encounter with. Heaps of garbage can be seen in various parts of the ward of Senior Deputy Mayor Heera Negi, exposing the tall claims of ensuring clean city by the MC.

Garbage lies in the parking area of a market in Sector 32, Chandigarh. Tribune photo: Pradeep Tewari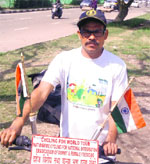 Spreading awareness against dowry
Chandigarh, March 3
Dowry sought by the groom's family at a small district, Jalna, in Maharashtra, around 25 years ago gave birth to a crusader who decided to pedal across the country to spread awareness against the social evil that still exists in the country.



Bhau Saheb Bhawar with his bicycle in Chandigarh. A Tribune photograph
Underpass proposed in Panchkula
Panchkula, March 3

The Municipal Corporation has proposed an underpass connecting Sectors 20 and 21. This decision has been taken during the House meeting of the Municipal Corporation here to check the traffic jam issue in the area.



Mayor Upinder Ahluwalia talks to councillors who boycotted the House meeting for some time on Monday. Tribune photo: Nitin Mittal
Rotarians from Pakistan visit city
Chandigarh, March 3
A delegation of 16 Rotarians from Nawabshah, Pakistan, reached here today. The delegation was led by President of the Rotary club of Nawabshah, Rtn Sadar Din Memon. The delegation had attended the Rotary Conference at Dehradun on March 1 and 2 and was in the city today on an invitation of Rotary Club, Chandigarh.
Residents suggest solutions
Panchkula, March 3
Following the parking chaos in Panchkula, the residents have come up with various solutions. Chandigarh Tribune, on Sunday, in its columns had published how the township is groping with the parking problem.
Board submits its views to UT Administrator
Chandigarh, March 3
The "Board of Inquiry and Hearing", which was constituted by UT Administrator Shivraj V Patil, to look into objections and suggestions received on the Draft Master Plan-2031, has finally submitted its recommendations to the UT Administrator.
Row over registry clerk's appointment
Chandigarh, March 3
Even as the UT vigilance is looking into the complaint on appointments of sub-registrar, the office of the sub-registrar has again quoted controversy by appointing an unqualified registry clerk.
63 units of blood collected at PU
Chandigarh, March 3
The Yuva Sankalpa Foundation, an NGO, in collaboration with the Society for Divine Reiki and Meditation organised the 9th Annual Kamlesh Sharma Memorial Blood Donation Camp at Student Centre, Panjab University, today.
CBSE, ICSE Class X exams begin
Chandigarh, March 3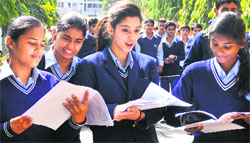 The Class X examinations of the Central Board of Secondary Education (CBSE), and the Indian Certificate of Secondary Education (ICSE), began here today.


Students discuss their question paper after appearing for the first CBSE Class X examination at DAV School, Sector 15, Chandigarh, on Monday. Tribune photo: Pradeep Tewari
Help at hand: Counsellors drive away exam blues
Chandigarh, March 3
Raman, a Class XII student, is jittery these days.
Date sheet for undergraduate classes
Chandigarh, March 3
Panjab University (PU), has notified the annual examination date sheet for all undergraduate classes.

SATKAL Award for Dev Samaj librarian
Chandigarh, March 3
Dr Jaspal Kaur, librarian at the Dev Samaj College for Women, has been conferred the Satinder Kaur Ramdev Memorial Trust for Advancement of Librarianship (SATKAL) Award for being the best woman librarian for 2013.
Dr Jaspal Kaur
Charitable body adopts rape victim, to fund her education
Chandigarh, March 3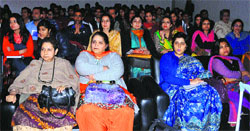 Setting a precedent for others, DAV College student-run charitable association, NavSankalp, today adopted Damini — a 16-year-old girl who was allegedly raped by the PCR staff of the Chandigarh Police in an official gypsy in Khuda Lahora last year.
Delegates attend a panel discussion "444 days after Damini — Has anything changed?" at DAV College, Sector 10, Chandigarh, on Monday. Tribune photo: Pradeep Tewari
Alumni body mourns deaths of professors
Chandigarh, March 3
The alumni of Economics Department (1970-72 batch), Panjab University, mourned the demise of Dr GK Chaddha, president of the South Asian University, New Delhi, and Dr VS Mahajan, eminent economist and retired professor of the department.