Volunteers show items recovered from Kalianwala Khuh in Ajnala on Sunday. photo: vishal kumar

Trouble for potato growers
Fatehgarh Sahib, March 2
Potato growers in the district are worried following yesterday's rain. The rainwater accumulated in fields has damaged potato seed. This will lead to a shortage of potatoes, which would further lead to high prices of the commodity.
Health workers on protest again in CM's constituency
Muktsar, March 2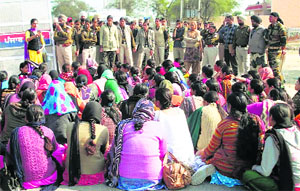 Members of the Contract Multi-Purpose Health Workers' (Female) Union today again gathered at Lambi village and blocked the Malout-Delhi National Highway, seeking regularisation of their services. They also sought a meeting with Chief Minister Parkash Singh Badal. On February 24, the union had lifted its dharna following an "assurance" from the state government that their demand would be considered in the Cabinet meeting held the same day.

Women health workers block the highway at Lambi village in Muktsar on Sunday. A Tribune photograph

Move to shift male tutors opposed
Moga, March 2
The Teachers' Association today threatened to launch a stir if the state government fails to roll back its decision to shift male teachers out of government schools for girls.
Charge sheet issued against PCS officer for misconduct
Chandigarh, March 2
The Punjab Government has issued a charge sheet against Punjab Civil Services (PCS) officer TK Goyal for misconduct during official duty.
Protesting farmers to campaign against Akali Dal, BJP in elections
Amritsar, March 2
Various farmer organisations today gave a clarion call to boycott the SAD-BJP Government during the Lok Sabha elections. They had gathered at Bandala village near here to pay homage to a farmer, Bahadur Singh, for his bhog ceremony.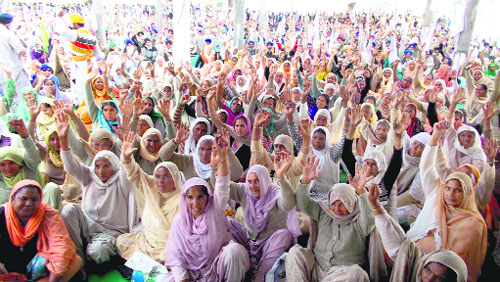 Women activists raise slogans during the bhog ceremony of farmer Bahadur Singh in Bandala village (Amritsar) on Sunday. Tribune photo
Alarming urea content found in milk
Faridkot, March 2
A study conducted by Greenpeace India, a voluntary organisation working on environmental issues, has reported an alarming rise in the concentration of harmful nitrates in drinking water in Malwa. For this, scientists blame rampant use of chemical fertilisers.
Govt to spend Rs 3,600 cr on infra development
Chandigarh, March 2
The Punjab Government has earmarked Rs 3,600 crore for strengthening infrastructure in the state over the next two years.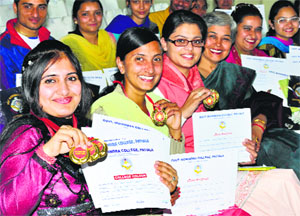 fruit of hard work: Students display their medals during the annual function of Government Mohindra College in Patiala on Sunday. Tribune Photo: rajesh Sachar
Ferozepur faces shortage of officers; work suffers
Ferozepur, March 2
Casting a shadow on the tall claims of the Punjab Government to provide effective governance, more than a dozen Sub-Divisional Magistrates (SDMs) have been transferred from Guruharsahai in this border district during the past two years.
Now, e-Prisons to keep watch on inmates
Ropar, March 2
The Punjab and Haryana High Court judge, Justice Surya Kant, inaugurated 'e-Prisons', a web-based system to monitor activities of prisoners, here today. This is the first such initiative in the state.
'Harassed', school principal ends life
Ludhiana, March 2
A school principal posted in the district's Latala village allegedly committed suicide by jumping into Sirhind Canal at Jagera village near here last evening.
State's first genetic lab opens at Faridkot varsity
Faridkot, March 2
A first of its kind genetic laboratory in government medical institutions in Punjab was opened at Baba Farid University of Health Sciences here today.
Ensure fair elections, officials told
Patiala, March 2
A divisional-level training workshop for election officials of five districts was held here today. The officials were asked to obey orders of the Election Commission (EC) to ensure smooth and fair elections.
Traders protest police inaction in murder case
Mahilpur (Hoshiarpur), March 2
Protesting police inaction, the family members of the woman, who was killed three days ago in the city, blocked the Hoshiarpur-Chandigarh road today. The agitating shopkeepers of the area demanded the accused be arrested immediately.
Dal Khalsa mentor's book released
Amritsar, March 2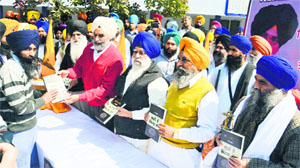 A compilation of poems by Dal Khalsa mentor Gajinder Singh, whose name figured in India's list of 20 most wanted persons, was today released by Damdami Taksal head Baba Harnam Singh Khalsa and SGPC executive member Karnail Singh Panjoli.
Damdami Taksal head Baba Harnam Singh Khalsa (right) and SGPC executive member Karnail Panjoli (second from right) release the book in Amritsar on Sunday. Tribune photo
Ferozepur to Hussainiwala rail link may be restored
Ferozepur, March 2
The Railway authorities have mooted a proposal to start a daily train between Ferozepur and Hussainiwala to facilitate the movement of thousands of people visiting the National Martyrs Memorial at Hussainiwala.
Auditors plan sit-in against power corp on March 5
Hoshiarpur, March 2
The Audit and Account Association today declared that the recent Financial Circular issued by PSPCL management to revise grade pay was against its interests. In a meeting chaired by Ashok Kumar Thakur, members unanimously decided to participate in a dharna outside the Patiala head office on March 5.
Fund-raising drive by BJP
Hoshiarpur, March 2
The BJP today began its "one note, one vote" in the town. District party leaders and activists started the campaign from the house of senior leader and adviser to CM Tikshan Sud. Those present included district unit president Shiv Sud, mandal president Vinod Parmar, and booth number 162 in charge Brij Lal Anand. All members of the Sud family contributed to the party fund.—OC
Man charged with raping teen in Oz
An Indian-origin man in Australia has been charged with raping and indecently assaulting a 13-year-old girl, according to a media report today.
Akali leader gets two-year jail in power theft case
Faridkot, March 2
A Shiromani Akali Dal (SAD) leader, Dr Manjit Singh, has been sentenced to two years in jail in a power theft case.
2,800 offenders on the run in Jalandhar
Jalandhar, March 2
In all, 2,800 criminals are on the run in Jalandhar. The number of proclaimed offenders (POs) in Kapurthala is 711 and Nawanshahr 584. Some of the POs have turned habitual offenders.
13 arrested in crackdown on sand mafia in Moga
Moga, March 2
In a major crackdown on sand mafia, the police have arrested at least 13 persons and seized six trucks laden with sand, two tippers and one JCB machine from the Sutlej basin in the district over the past 24 hours.