Industrial Area Phase II
Thieves strike twice at steel factory in a week
Chandigarh, March 2
A series of thefts at a steel factory in Industrial Area, Phase II, have spelt trouble for the factory owners. Thieves struck twice in the same factory within a week and decamped with steel and brass material worth lakhs.
The steel factory where theft took place in Industrial Area, Phase II, Chandigarh. Tribune photo: Parvesh Chauhan

Two arrested for extortion
Chandigarh, March 2
With the arrest of two persons, the UT police claimed to have solved an extortion case in which a Sector 35 based-jeweller had received a letter a week ago, seeking Rs 7 crore ransom from him. The extortionists had threatened that if he failed to do so, his son would be kidnapped.
The accused in police custody at Sector 11, Chandigarh, on Sunday. Tribune photo: S Chandan


Defacement of property
MC officials in catch-22 situation
Chandigarh, March 2
A decision of the Chandigarh Municipal Corporation to penalise the defaulters for defacement of property with retrospective effect has left many fuming, including the elected representatives of the city. Reason, the penalty running into lakhs of rupee has been levied on defaulters for a period of six months, from the date when the violation is noticed.


OPEN HOUSE RESPONSE
'Ailing' civil dispensaries: Money can buy better services
There are various loopholes in the healthcare system in Chandigarh. First of all, the patient-doctor ratio is not equal. There are very few doctors in dispensaries and more patients in the city. Waiting for their turn in the dispensaries has become quite a task for the patients.
A civil dispensary without staff in Sector 42, Chandigarh, on Saturday. Tribune photo: Parvesh Chauhan

Mayor's ward a picture of neglect
Chandigarh, March 2
Non-functional street-lights, pot-holed roads shows a picture of neglect in Ward number 13, City Mayor's ward, comprising of Sectors 49 to 51, Sector 63, and villages Nizam Pur, Burail, Birk Klin, Nizampur Kumbra.
(Clockwise) Heaps of mud lying in Sector 50, a car moves in the dark on a road dividing Sectors 50 and 51, and a potholed road in Sector 50. Tribune photos: Parvesh Chauhan



Better panchkula
Parking pangs in markets irk visitors
Panchkula, March 2
This township, known for its open spaces, has hardly any space for parking of vehicles. Lack of proper planning and inadequate space accompanied by scant efforts made by the authorities concerned form the basis of the never-ending parking problem in Panchkula.

Vehicles parked in a haphazard manner at Sector 10 market in Panchkula. Tribune photo: Nitin Mittal
3 wards termed unauthorised in P'kula
Panchkula, March 2
Councillors of three wards were left surprised as after getting Rs 4.5 crore for development they were not given approval to carry out development as they were termed as "unauthorised".


Chandigarh votes 2014
Cong Padyatra begins from Dhanas colony
Chandigarh, March 2
A large number of Congress workers and supporters took part in the padyatra that started from the Dhanas rehabilitation colony here today. The event was attended by Congress MP Pawan Kumar Bansal and Mayor HC Kalyan, besides all CTCC office-bearers, presidents of frontal organisations, conveners of all cells, councillors and block presidents.

Congress workers wait to welcome MP Pawan Kumar Bansal at Dhanas in Chandigarh on Sunday. Tribune photo: Parvesh Chauhan
LS poll: Congress leader Venod Sharma may contest on BJP ticket from city
Chandigarh, March 2
While three BJP heavyweights, including city party unit president, Sanjay Tandon, former MP Satya Pal Jain and former Union Minister Harmohan Dhawan, fighting with each other to win the race for the ticket for Chandigarh Lok Sabha seat, a senior Haryana Congress leader's name has also started doing the rounds for BJP's ticket from the City Beautiful.


Will never be a politician: Savita
Chandigarh, March 2
Riding on the legacy of her comedian-actor-director husband, Jaspal Bhatti, the Aam Admi Party (AAP) candidate, Savita Bhatti, today kicked off her campaign for the Chandigarh Lok Sabha seat from Sector 17 here. After performing a brief ceremony at the Sector 17 Plaza, where she often used to enact spoofs along with her late husband on major social issues, Savita said: "I am not a politician, I will never be a politician.


Striking emotional chord: With AAP announcing Savita Bhatti as its candidate from Chandigarh, the wife of late comedian-actor-director Jaspal Bhatti on Sunday launched her election campaign from Sector-17 Plaza where she and her husband used to enact spoofs on topical subjects under the Nonsense Club. Tribune photo: Pradeep Tewari

Experts caution against Chinese influence in PoK
Chandigarh, March 2
Stating that a major Chinese military presence in Pakistan Occupied Kashmir (PoK) in the foreseeable future was a foregone conclusion, former General Officer commanding-in-Chief of the Northern Command, Lt Gen KT Parnaik said it was crucial for Indian to adopt a holistic and synergised approach to protect its interest in the strategically important region.
Lt Gen (retd) KT Parnaik speaks at a seminar in Chandigarh. Tribune photo: Pradeep Tewari

REPORTERS' DIARY
Congress councillors, workers at loggerheads
In the recent election meeting of Congress leaders, which was called to finalise the padyatra programme, Congress councillors and party office-bearers were at loggerheads over 'chai-pakora' expenses.
An instruction board at the entry of the newly inaugurated park in Sector 44, Chandigarh. Tribune photo: Pradeep Tewari



LGBT community demands equal rights
Chandigarh, March 2
The Chandigarh Pride Committee in association with Saksham Trust and the Campaign for Diversity Inclusion organised the second annual Chandigarh Queer Pride Walk 2014 today at Sector 17.
Members of Saksham Trust and Campaign for Diversity Inclusion participate in the second annual Chandigarh Queer Pride Walk. Tribune photo: Pradeep Tewari


Now, veterinary workers atop tank to protest
Mohali, March 2
After staff nurses of director health services and then members of Unemployed Multi-Purpose Health Workers (Male) Union, now its members of Veterinary AI Workers Union, climbed on water tank at Landran village to press their demands this evening.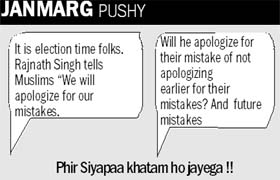 Showers to continue in coming week
Chandigarh, March 2
City residents will have no respite from cold in the coming week as well, as days are likely to remain partly-cloudy with possibility of light rain on 4th and 5th. According to officials at the Met Department, the western disturbances that affect the temperature in the North will continue to be into effect for a few more days.
Youth body begins campaign for dustbins
Chandigarh, March 2
Yuva Dharti, a youth organisation, has started a campaign for dustbins for the city. A few days ago while roaming in streets, members of the organisation noticed a shortage of dustbins in the streets and markets of the city.



Quality of research in India a cause of worry: Prof Rao
Chandigarh, March 2
"In India, the quality of research is a cause of worry," said Prof CNR Rao, a Bharat Ratna awardee, while delivering a lecture on 'Doing science in India' at the PGIMER here today.

Prof CNR Rao delivers a lecture on 'Doing science in India'at Bhargava Auditorium at the PGI, Chandigarh, on Sunday. Tribune photo: S Chandan


Unsafe buildings
Students, staff at risk
Mohali, March 2
Hundreds of students and staff of as many as 42 government schools in Mohali district virtually put their lives at risk everyday by attending their classes, here. Certain portions of these 42 buildings had been declared as unsafe by experts of civil authorities of Punjab Education Department.


School submits report to PHRC
Mohali, March 2
The authorities of Government High School at Desu Majra village claimed to have fixed the school infrastructure following the intervention of Punjab Human Rights Commission.


A view of government school building at Desu Majra village in Kharar. Tribune photo: Vicky Gharu
PSEB complains against miscreants
Mohali, March 2
Taking strict action against those, who created ruckus at Bhakana Khurd village in Amritsar during class twelfth English exam, yesterday, the Punjab School Education Board authorities filed a police complaint in this connection.
PU mourns economist Prof Chadha's demise
Chandigarh, March 2
Panjab University (PU) Vice-Chancellor (VC) Prof Arun K Grover, teachers and students expressed grief over the sudden demise of Professor GK Chadha, the president of South Asian University, New Delhi.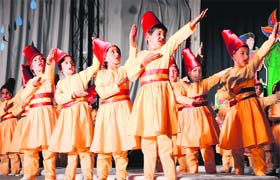 Tiny tots present an item during the annual function of the Junior wing of AKSIPS Smart School at Sector 41 in Chandigarh on Sunday. Tribune photo: Vicky Gharu
Mini-marathon promotes techno-cultural fest
Chandigarh, March 2
Dr SS Bhatnagar University Institute of Chemical Engineering and Technology, Panjab University (PU), organised 'Run for Flag', a mini-marathon, in association with the Flag Foundation of India to promote 'CYANIDE', a three-day annual techno-cultural fest to be held from March 6 to 8.
Two-day ICONSAT begins
Chandigarh, March 2
Bharat Ratna awardee and chairman of Scientific Advisory Council to the Prime Minister of India, Prof CNR Rao today inaugurated the two-day 6th International Conference on Nano Science and Technology (ICONSAT), 2014, held at the Panjab University.
Eminent economist dies
Chandigarh, March 2
Dr Vidya Sagar Mahajan, an eminent economist and teacher, passed away after prolonged illness in Chandigarh on February 28. He was 91 years old. Born in Lahore in 1923, Dr Mahajan initially joined the civil services but soon decided to return to academia.