Gul Panag, Rabbi seek votes for 'swaraj'
Chandigarh. March 23
Aam Aadmi Party (AAP) candidate Gul Panag and sufi singer Rabbi Shergill today held an interaction with residents at the Rose Garden in Sector 16. Gul and Rabbi both highlighted the new approachable, dependable and transparent alternative the people had in the Aaam Aadmi Party.
Singer Rabbi Shergill and Gul Panag canvass at the Rose Garden on Sunday. Tribune photo: Parvesh Chauhan
12 injured in clash at gurdwara
Chandigarh, March 23
Tension prevailed at Gurdwara Namdhari Sangat in Sector 30 today following a clash between two fronts of the Namdhari sect during a religious function that left at least 12 persons injured.
Woman molested at discotheque
Chandigarh, March 23
A 30 year-old woman was molested at a discotheque and was later abused and slapped by three youths after she left the discotheque in Sector 9 on Saturday night.


Open House response
Youths want honest, educated, accessible MP
We need to clear our intentions regarding what we want as a voter. All the residents need is a corruption free, communal politics free, good governance, educated and honest MP.

Young voter during a election campaign in Chandigarh on Sunday. Tribune photo: Pradeep Tewari
Chandigarh votes 2014
Resolve our issues, get vote: Traders
Chandigarh, March 23
Ahead of the Lok Sabha elections, city traders have put forward their long-pending demands before the candidates of all the political parties. This time, traders under the banner of Chandigarh Beopar Mandal (CBM) are not going to settle for assurances by political leaders and want a foolproof road map for resolving issues pertaining to businessmen.


Opposition accusing me as it lacks vision, says Bansal
Chandigarh, March 23
Lambasting the opposition for accusing him of having failed to bring any project to the city, the sitting MP and the Congress candidate Pawan Kumar Bansal said Chandigarh was a small city and hence, big projects could not be set up here.

Madhu Bansal, the wife of Congress candidate Pawan Kumar Bansal, canvasses in Sector 21, Chandigarh, on Sunday. Tribune photo: Pradeep Tewari
PU accused of violating poll code
Chandigarh, March 23
The Panjab University (PU) authorities have been accused of violating the model code of conduct. A complaint to the Chief Election Commissioner, New Delhi, and the UT Joint Chief Electoral Officer reads, the university authorities cancelled the interviews for 45 posts to be held from March 11-13 and for three posts to be held on March 14 but stated that interviews for the post of assistant professor in philosophy will be held on March 25.


Bansal failed to bring any major project: BSP
Chandigarh, March 23
BSP candidate Jannat Jahan said Congress MP Pawan Kumar Bansal has ruined the city and failed to bring any major project to the city during the last 15 years.
BSP candidate Jannat Jahan during her election campaign in Chandigarh on Sunday. A Tribune photograph
Asr my 'janam bhoomi': Rabbi
Chandigarh, March 23
Sufi singer and Aam Aadmi Party (AAP) campaigner Rabbi Shergill, whose name was considered for the Amritsar Lok Sabha seat, said Amritsar was the place he connected with, as it was his 'janam bhoomi'. Rabbi was in the city to campaign for the AAP candidate Gul Panag.
youth voice
Young voters to favour leaders having vision for development
Chandigarh, March 23
Young voters, including many first-timers, are going to play a decisive role in the forthcoming Lok Sabha elections. However, many of them in the city feel that the candidates for the Chandigarh seat have not made enough efforts to woo them, even as they have high expectations from the contenders and want them to be battle it hard with visionary plans and promises that are pragmatic.
'UPA failed to check inflation, create jobs'
Panchkula, March 23
The BJP-HJC candidate, Rattan Lal Kataria, today held canvassing at different villages in the Mullana assembly constituency. Kataria claimed that Narendra Modi was inching towards becoming the Prime Minister of India.
Political parties taking voters for granted: Former Justice
Chandigarh, March 23
While addressing a seminar to commemorate the birth anniversary of the founder father of the Indian Socialist Movement, Dr Ram Manohar Lohia, and to pay homage to the martyrs - Bhagat Singh, Rajguru and Sukhdev - at the Lajpat Rai Bhawan here today, the party members raised their pitch for the forthcoming Lok Sabha elections and alleged that the Congress and the BJP were making a mockery of the voters.
Justice Rajinder Sachar, an old socialist (left), and Roshan Lal Batta, president of the Peoples Union for Civil Liberties, Punjab, during a programme at the Lajpat Rai Bhawan in Sector 16, Chandigarh, on Sunday. Tribune photo: Parvesh Chauhan
HIV-TB co-morbidity major health concern by 2020: Kalam
Chandigarh, March 23
Despite Tuberculosis (TB) being declared as a notifiable disease and free-of-cost diagnosis and treatment is available across the country, the incidence of HIV-TB co-morbidity has not come down in past four years nationwide or in city. The national incidence of HIV-TB co-morbidity in Chandigarh has continued to vary between 1 per cent and 2 per cent since 2010.
Sons of soil remembered
Chandigarh, March 23
On the occasion of martyr day of the freedom fighters Bhagat Singh, Rajguru and Sukhdevs, the Gandhi Samark Nidhi Punjab, Haryana and Himachal Pradesh paid homage to the martyrs with floral tributes and patriotic song renditions here today.


Donors inspire Rishi Kapoor to pledge for organ donation
Chandigarh, March 23
Meeting over 300 transplant recipients and organ donors, who had come to participate in the Transplant Games at the PGIMER from far off states, film actor Rishi Kapoor was all inspired to pledge for organ donation.
Donors and recipients participate in the Transplant Games held at the PGIMER in Chandigarh on Sunday. Tribune photo: Pradeep Tewari
Mining contractors' goons charge 'gunda tax'
Mohali (Dera Bassi), March 23
After remaining active in Ropar, Nurpur Bedi and its adjoining areas, musclemen of mining contractors have started their illegal activities of charging 'gunda tax' in Mohali district too.
Poll team seizes Rs 30 lakh
Chandigarh, March 23
The Chandigarh Police and a team of the election wing today seized Rs 29.75 lakh cash from different parts of the city. A flying squad team, headed by SI Ramesh Kumar and Executive Magistrate SK Miglani, stopped the Mercedes car of Sumer Grover of Jalandhar on the road separating Sectors 14 and 25.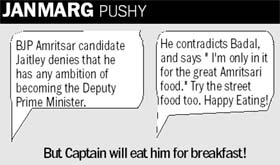 Rocking end to tech festival
Chandigarh, March 23
The third and final day of Vyom, a technology fest organised by the PEC University of Technology, Sector 12, started with the continuation of the technical and engineering-related events.
Child prodigy interacts with students
Panchkula, March 23
A cultural programme marked the annual day celebrations of The Gurukul, Sector 29, here this evening. The students presented dances from across the world. The theme of the event was, 'Reverie'.