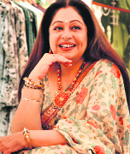 Kin trouble for Kirron
Chandigarh, March 24
It seems that the trouble for BJP candidate Kirron Kher is far from over. After facing opposition from local party leaders, now her sister-in-law has filed a complaint before the District Magistrate against her for allegedly providing wrong details of her property and its legal status.


Kirron Kher. A file photo

Golf Club row
Ball now back in the court
Chandigarh, March 24
The ball is back in the court. As the Chandigarh Golf Club controversy came up for resumed hearing, the Punjab and Haryana High Court today made it clear that the lease row will now be decided on the judicial side.
Respite from malpractices by health facilities soon
Chandigarh, March 24
City residents will soon find respite from fears of lacking authenticity in procedures and arbitrary cost estimates of treatment at private institutions as the UT Administration will begin registration of private institutions under the Clinical Establishment Act - 2010 from the next month.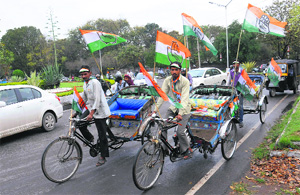 Rickshaw-pullers carrying Congress flags move about in Chandigarh. Tribune photo: Manoj Mahajan
Chandigarh votes 2014
BSP gets notice for violating poll code
Chandigarh, March 24
The Returning Officer (RO) for the Chandigarh parliamentary constituency, Mohammed Shayin, today issued a show-cause notice to the BSP for violating the model code of conduct by allegedly launching a slanderous and malicious campaign against the Congress candidate, Pawan Kumar Bansal.
BJP objects to Bansal's nomination papers
Chandigarh, March 24
High drama prevailed at the office of the returning officer (RO) when BJP leaders objected to the nomination papers of the Congress candidate, Pawan Kumar Bansal.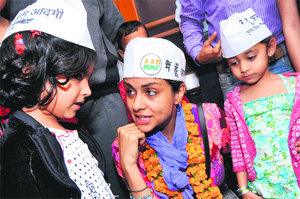 AAP candidate Gul Panag interacts with children during her campaign in Sector 22 on Monday. Tribune photo: Pradeep Tewari
19 left in fray after scrutiny of papers
Chandigarh, March 24
After scrutiny of nomination papers received from March 15 to March 22 for the Chandigarh parliamentary constituency, the Returning Officer accepted the candidature of 19 contenders.
Kirron, Panag can't vote for themselves
Chandigarh, March 24
Apart from being Bollywood stars, BJP's Kirron Kher and AAP's Gul Panag, who are making their electoral debut from the Chandigarh Lok Sabha seat, have one more thing in common. Both of them do not have their names on the electoral rolls in the city.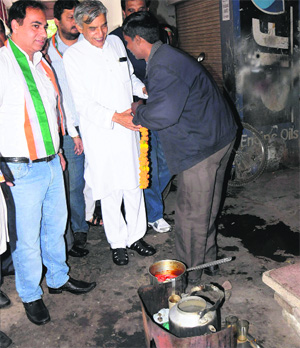 Congress candidate Pawan Bansal meets a tea vendor during his poll campaign at the Sector 7 market. Tribune photo: Manoj Mahajan
Don't declare results of interviews, PU told
Chandigarh, March 24
A day after a complaint was filed against the Panjab University (PU) authorities alleging violation of model code of conduct, Deputy Commissioner-cum-Returning Officer Mohammad Shayin directed them not to declare the result of interviews scheduled for March 25.
youth voice
Youth against quota in institutes
Chandigarh, March 24
Young voters in the city do not want reservation for any specific community in educational institutes to be part of the manifesto of any political party for the upcoming Lok Sabha elections. Time has come for top leadership of political parties to work for betterment of the country and give a fair chance to students by considering merit and not any reservation for admission to educational institutes, opined students of the Punjab Engineering College (PEC).
Cong calls off Sonia's rally on March 27
Chandigarh, March 24
The political rally of Congress president Sonia Gandhi, which was scheduled to be held in Sector 25 on March 27, has been cancelled.
Rs 5 lakh seized from NRI
Chandigarh, March 24
During checking of vehicles at the Sector 35 roundabout, a flying squad headed by Executive Magistrate Parveen Mittal stopped a vehicle of an NRI from Canada, Bharpoor Kaur, who was found carrying Rs 5.42 lakh in cash. The money was seized as she could not give a satisfactory reply about it. — TNS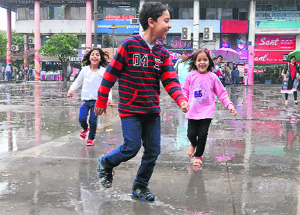 Rain to cast shadow on political rallies
Chandigarh, March 24
The Met Department has forecast rain during the weekend, which will cast a shadow on the political rallies scheduled during this period. The department has forecast thundershowers from March 27 to 30 in parts of Punjab, Haryana and Chandigarh.

Children enjoy the showers in Sector 17, Chandigarh, on Monday. Tribune photo: Manoj Mahajan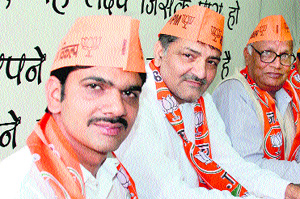 BJP reinstates three councillors
Panchkula, March 24
With the election fever on, three local councillors, who were suspended by the Bhartiya Janta Party (BJP) for giving vote in favour of Congress candidate during mayoral elections, were reinstated by the party today. Councillors Ravi Kant Swami, Sunil Talwar and CB Goel were suspended last year.
Three suspended BJP councillors who were reinstated by the party at the BJP office, Sector 2, Panchkula, on Monday. Tribune photo: nitin mittal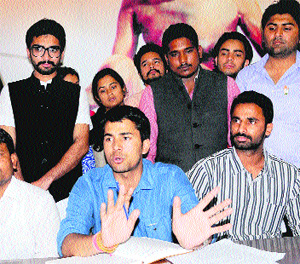 NSUI forms campaign committee for LS poll
Chandigarh, March 24
National Student Union of India (NSUI) has constituted a new body to campaign for the Congress party under the chairmanship of NSUI in-charge Nigam Bhandari.






Nigam Bhandari (centre), general secretary, NSUI, addresses mediapersons in Chandigarh. Tribune photo: S Chandan

Ratan Kataria's wife campaigns in temple; DC orders probe
Panchkula, March 24
After Jannat Jahan's incident in Chandigarh for violating the model code of conduct, former BJP minister Rattan Lal Kataria's wife is in trouble as Panchkula DC ordered probe when she was reportedly found campaigning inside a temple in Kalka, Panchkula.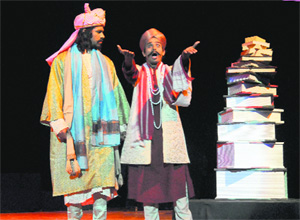 in sync:

Artistes stage a play, 'Tota Kahan', at Tagore Theatre in Chandigarh on Monday. Tribune Photo: vicky gharu
INLD leader shares dais with Cong workers
Panchkula, March 24
Ahead of elections, the photographs of INLD leader Praveen Attrey with the Congress workers at a function in Barwala raised many an eyebrow.
Seek permission for hoardings: DC
Panchkula, March 24
Following guidelines of the Election Commission of India, the District Electoral Officer (DEO), Dr SS Phulia, has directed political parties and individuals contesting elections to seek permission before erecting poll-related hoardings and banners in the district.
Man accuses cops of assault
Chandigarh, March 24
A city resident alleged that he was assaulted by some Punjab Police personnel, in full public view, after he confronted them for hitting his car. Prashant Khurana, a resident of Sector 49, has submitted a complaint at the Sector 36 police station against the cops for allegedly manhandling him.
tribune impact
P'kula police remove 'kundi' connection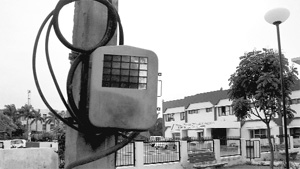 Panchkula, March 24
The Panchkula police removed its 'kundi connection' at the Sector 14 police station here today. The non-functional meter was made operational and power supply was now being taken through the same instead of the direct supply.


A meter installed outside the Sector 14 police station in Panchkula. Tribune Photo: Nitin Mittal

encroachments on govt land
Defaulters to face strict action: DC
Mohali, March 24
Encroachments on any land belonging to the government will not be permitted in SAS Nagar district and strict action will be taken against the offenders. This was stated by Deputy Commissioner Tejinder Pal Singh Sidhu at a meeting with the executive officers concerned in the District Administrative Complex here.
BUSINESS NEWS
Hind Motors launches first hatchback car in city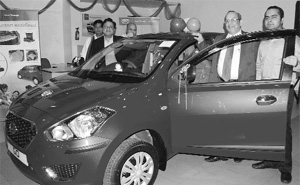 Chandigarh: Hind Motors announced the launch of Datsun GO hatchback in Chandigarh on Monday. It is available in three variants and four colour options. Ashish Gupta, director of Hind Motors, said, "We are very excited to be a part of the history in India with the introduction of Datsun GO. Datsun is the first car with a hatchback and an extended warranty for additional two years covering unlimited kilometers as an option."
Hind Motors launches Datsun GO, a hatchback car, in Chandigarh. A Tribune Photograph

tricity scan
CSI introduces new initiatives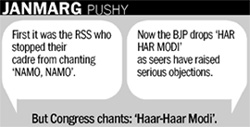 Chandigarh: The Institute of Company Secretaries of India (ICSI), today announced the forthcoming syllabus revision and its plan to introduce the ICSI Computer-Based Examination for its foundation-level course for Class XII pass outs and appearing students. It also announced an Open Book Examination system in elective subjects in module III of the Company Secretary (CS) professional programme from June. Top ICSI office-bearers, including newly-elected president of ICSI, CS R Sridharan and vice-president of ICSI, CS Vikas Y Khare, were in the city.



All-India Pre-Medical Entrance Test
Medical aspirants in a fix
Chandigarh, March 24
The recent notification issued by the Department of Medical Education and Research — making it mandatory for students taking the MBBS and BDS entrance exam to have passed their matriculation, Classes XI and XII from Punjab-based schools to be eligible to avail 85% state quota seats — have put students in a quandary.
A tribute to the freedom fighters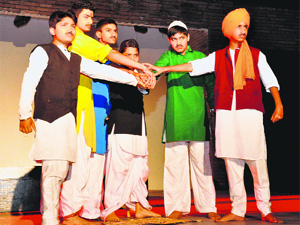 Panchkula, March 24
The students of Hallmark Public School, Sector 15, left the audience spellbound with their play on freedom fighters today. The play — based on the British era when Shaheed Bhagat Singh became a martyr at Lahore — was staged at the Yavanika Open Air Theatre at Sector 5 here.



Students of Hallmark Public School enact a play on Shaheed Bhagat Singh at the Yavanika Open Air Theatre in Panchkula on Monday. A Tribune Photograph

pu & college notes
Two-day seminar on SAARC begins
A two-day national seminar on 'South Asian Association for Regional Cooperation (SAARC), challenges and prospects' — organised by the University School of Open Learning (USOL) Department of Political Science — was inaugurated today. Panjab University Dean University Instruction Prof AK Bhandari was the chief guest at the inaugural session.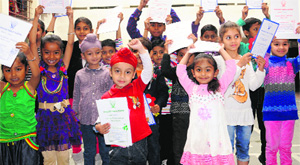 Students in a jubilant mood after the declaration of their results at Shivalik Public School in Mohali on Monday. Tribune Photo: Vicky Gharu
from schools
Graduation ceremony
Chandigarh: The kindergarten wing and Class 5 of Banyan Tree School celebrated their graduation ceremony today. The tiny tots enthralled the audience with their performance. The coordinator of the pre-primary and primary wing Lovlin Sharma was present on the occasion. The event commenced with a thank you speech by the students and class teachers of KG and Class 5. The tiny tots recited the poems and performed various dances.