Kundi connections run PA systems

Amritsar, March 26
The city police has initiated a programme to sensitise residents about traffic norms using audio public address (PA) systems at key intersections of the city. But the police itself are on the wrong side of law as it is using "kundi" connections (drawing power illegally) to run these public address systems. It is a sheer case of moral turpitude on the part of the police administration under the government norms. The Tribune team went to the police picket located on the Novelty Chowk only to find that the public address system as well as the recorder, which played the traffic norms information repeatedly, was attached to the wires, used to draw electricity from a nearby pole.
A public address system installed at the Novelty Chowk picket in Amritsar draws electricity through a kundi connection. Photo: Vishal Kumar

Three more held for murder of migrant labourers
Amritsar, March 26
With the arrest of three more persons, the Amritsar rural police have arrested seven persons for allegedly killing two migrant labourers. Later, the bodies of the labourers were set on fire, along with a car, to claim insurance amount worth crores. However, the alleged mastermind of the conspiracy, Surinder Singh, is still at large.
Passport mela on March 29
Amritsar, March 26
The regional passport office will organise a passport mela from 9:30 am to 4:30 pm on March 29 at the Passport Seva Kendra (PSK) on Mall Road near Custom Chowk in Amritsar.
BSF confiscates heroin worth Rs 35 cr
Amritsar, March 26

The Border Security Force foiled another smuggling attempt and recovered seven kg of heroin, worth Rs 35 crore, and a pistol from the Rajatal border outpost area today. MF Farooqui, DIG, BSF, Amritsar, said four smugglers from the Pakistan side were trying to sneak into the Indian territory.


BSF officers show the recovered heroin and a pistol in Amritsar on Wednesday. A Tribune photograph

One killed, 7 injured in mishap
Amritsar, March 26
Sandeep Kaur, a resident of Athwal, died while seven persons were injured in a road mishap after the driver of the bus they were travelling in lost control and the bus fell into a roadside drain.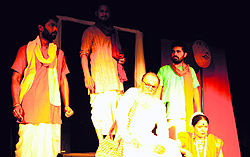 Artistes stage the play, 'Nati Binodani', during the seventh Punjab Theatre Festival at Virsa Vihar in Amritsar on Wednesday. Photo: Vishal Kumar

Drive to encourage people to vote
Amritsar, March 26
Deputy Commissioner Ravi Bhagat today initiated Systematic Voters Education and Electoral Participation (SVEEP) campaign under which a van complete with paraphernalia to encourage electorates to vote in the upcoming elections was flagged off from the historic Ram Bagh.
SpiceJet increases frequency of flights
Amritsar, March 26
After getting a massive response from passengers to SpiceJet flights operating between Amritsar and Srinagar and Amritsar and Mumbai, SpiceJet Airline has increased its number of flights to all seven days a week to respective destinations.
No plan for conserving heritage zones: Expert
Amritsar, March 26
Many projects for conservation of heritage Gobindgarh Fort, Rambagh Garden, Ramgaria Bungas, fresco work in Harmandar Sahib were initiated, but the holy city's master plan has no concrete proposal regarding heritage zones.
Principals to conduct school examinations
Amritsar, March 26
Principal of Government Senior Secondary School, Jhita Kalan, Harbhagwant Singh, who also has additional charge of the principal of the government-aided Gyan Ashram Higher Secondary School, said four government school principals had been deputed to conduct final examinations of Class VI to IX and X+I.
City lad bags Mr India Melbourne title
Amritsar, March 26
Simran Sethi, an Australian-based model of Indian origin, based at Amritsar, grabbed the title of Mr India in Mr India Quest (MIQ) 2014, held in Melbourne, recently.
Awareness programme on epilepsy
Amritsar, March 26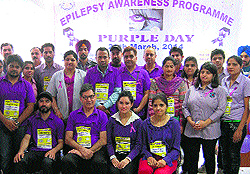 A local hospital today organised an awareness programme to mark World Purple Day dedicated to spreading awareness about epilepsy, which affected one per cent of the people around the globe. Dr Ashok Uppal, a noted neurologist, said despite the medical advancement in the area of epilepsy, there was a substantial gap in number of patients getting treatment due to lack of awareness and myths associated with the disease.

Participants at programme organised to spread awareness about epilepsy in Amritsar on Wednesday. A Tribune photograph