M A I N N E W S
Captain arrives to rousing reception in Amristar
Perneet Singh
Tribune News Service
Amritsar, March 28
Former Chief Minister and Congress candidate from Amristar Capt Amarinder Singh got a rousing reception from party workers on his arrival in the city today. He led a road show in which party leaders cutting across regional lines rallied behind him.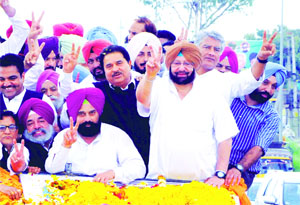 Congress candidate Capt Amarinder Singh with his supporters during a road show in Amritsar on Friday. Photo: Vishal Kumar
Capt Amarinder, who was received on the city's outskirts, was accompanied by CLP leader Sunil Jakhar and local leaders, including OP Soni, Sukh Sarkaria, Rajkumar Verka, Gurjeet Aujla, Rajeev Bhagat, Darbari Lal, Jugal Kishore Sharma, Lalli Majithia and others. His cavalcade traversed through key areas for over three hours before reaching the Golden Temple around 4 pm. He was joined by party workers and supporters along the route. The organisers and security personnel had a tough time controlling the crowds.
People offered him sweets and flowers as the cavalcade stopped at around two dozen places amid bursting of firecrackers by supporters.
The former Chief Minister told mediapersons that he did not take BJP's Arun Jaitley as a strong candidate. "He is just any other BJP candidate to me and that is the way we are going to fight it out."
"You can see the spirit of Amritsar. I don't think Jaitley knows anything about Amritsar or its spirit. It is a big advantage for me. In the past 47 years of my political career, I must have been to Amritsar over 500 times, while Jaitley has never come here."
On the possibility of rigging during elections, he said the Akalis were masters in the art, but people would not allow it to happen.
The Congress leader said party chief Sonia Gandhi and Prime Minister Manmohan Singh had already apologised for Operation Bluestar. He instead targeted BJP leader LK Advani and Chief Minister Parkash Singh Badal - who he claimed were also responsible for the operation - saying they were yet to tender an apology.