Sidhu's wife says he won't campaign for Jaitley
Amritsar, March 28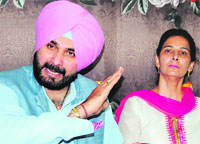 Contrary to BJP candidate Arun Jaitley's claims, sitting MP Navjot Singh Sidhu's wife and Chief Parliamentary Secretary Dr Navjot Kaur Sidhu today said he will not be campaigning in Amritsar.






Amritsar MP Navjot Sidhu and his wife Navjot Kaur. file photo
Jaitley: Cong to be reduced to 'Club-75', Capt won't be in it


Amritsar, March 28
BJP candidate Arun Jaitley today said the entry of Congress candidate Capt Amarinder Singh into the electoral arena in Amritsar will not change any equation and the BJP continued to enjoy a comfortable position. Talking to mediapersons here today, Jaitley took a dig at his rival, saying, "Everybody has a right to bring along his leadership to the election campaign. Wherever they are weak, they also have a right to bring the people from outside."
SAD's 'Plan D' to rout Congress: Defect, demoralise and defeat
Chandigarh, March 28
In any election, strategy to attack political opponents is always more important than issues or political rhetoric, says analysts. This time round, the Congress seems to have cleverly managed to upstage the Akalis.
Bhagwant wanted to join Akali Dal, claims Sukhbir
Sunam (Sangrur), March 28
SAD president and Deputy Chief Minister Sukhbir Badal here today claimed that Aam Aadmi Party (AAP) leader Bhagwant Mann had approached him and wanted to join the Akali Dal.
Amarinder's road show damp squib: SAD, BJP
Amritsar, March 28
Both the SAD as well as the BJP today termed Congress candidate Capt Amarinder Singh's road show as "damp squib" and "jamboree of hired outsiders".
Bir Devinder returns to Cong, will canvass for Amarinder

New Delhi, March 28
The poll scene in Punjab is set to heat up further with the re-entry of former Congress man Bir Devinder Singh into the party today. Congress president Sonia Gandhi approved the return of Bir Devinder, former Deputy Speaker in Punjab Assembly, to the party fold even as the Lok Sabha elections are about to begin on April 30 in the state.
Cong couldn't tolerate a Dalit leader: Chaudhary
Phagwara, March 28
Union Minister of State for Health and Family Welfare Santosh Chaudhary has said despite denial of party ticket from the Hoshiarpur Lok Sabha seat, she would continue to work for the Congress, which she joined in 1964, being a loyal worker.
Want to know AAP's agenda? Log on to Google today
Chandigarh, March 28
The Punjab unit of the Aam Admi Party (AAP) is launching an interactive web portal tomorrow on the Google web hangouts.
No child found working at Sangha Farms during raid
Jalandhar, March 28
On the Deputy Commissioner's (DC) direction, the District Task Force (DTF) today raided the farms of Shiromani Akali Dal (SAD) leader Gurdev Kaur Sangha at Quadian Waali village in the district.
Incorrect info on Bhagat Singh in Punjabi book kicks up row
Doraha, March 28
Social activists are irked over the 'wrong information' mentioned in a Punjabi book on martyr Bhagat Singh. The fourth part of the book titled 'Navi Udaan' (edition 2013) that is prescribed to students of Class IV is allegedly misleading. In chapter no 5 called 'Maa Puttar Da Milaap' (the meeting of mother and son), the first line reads: "Bhagat Singh jail di barak vich baitha Japuji Sahib da path kar riha se" (Bhagat Singh was reciting Japuji Sahib in the prison cell). This is contrary to the facts, Bhagat Singh was in fact reading a book on the Russian revolutionary leader Lenin.
Got Rs 102 crore sanctioned for Anandpur Sahib: Soni
Morinda, March 28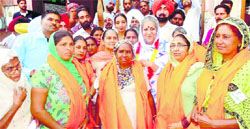 Ambika Soni, Congress candidate from Anandpur Sahib constituency, started her campaign today and held public meetings at five different parts of the town. Soni said she would ask the people to vote for her in the name of development as she had got Rs 102 crore sanctioned for the development of the constituency.
Congress candidate Ambika Soni with her supporters in Morinda on Friday. A Tribune photograph
MP seeks girdawari to assess crop damage
Sangrur, March 28
Sitting MP from Sangrur Vijay Inder Singla today asked the state government to conduct a special "girdawari" for assessing the recent damage to crops in Sangrur and Barnala districts. He also demanded announcement of interim relief for farmers immediately.
Cleaners protest, want their demands in poll manifestos
Kotkapura (Faridkot), March 28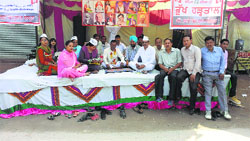 Sweepers of the Kotkapura municipality have started a chain hunger strike to seek support from political parties for their demand. They are demanding timely payment of salaries and said they wanted political parties to include their demand in their election manifesto.


Sweepers on a chain hunger strike in Kotkapura on Friday. A Tribune photograph
Survey for cancer centre begins
Fazilka, March 28
A survey for setting up a tertiary care cancer centre at Fazilka has been initiated. Health Department Deputy Director and State Programme Officer, (Non-Communicable Diseases) Dr TS Behl visited the local Civil Surgeon's office and the Civil Hospital today to complete the formalities in this regard. The proposed cost of the project is Rs 45 crore. The second such unit is being planned to be set up in Hoshiarpur.
Historic Gurdwara Buddha Johad to get a facelift
Abohar, March 28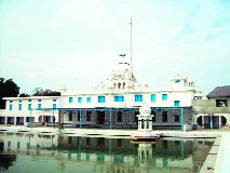 The Rajasthan government has released Rs 51 lakh to the Department of Tourism for giving Gurdwara Buddha Johad in Raisinghnagar segment of Sriganganagar a facelift even as the row over the management of the gurdwara remains unresolved.




Gurdwara Buddha Johad in Raisinghnagar segment of Sriganganagar district in Rajasthan. Tribune photo
Delhi gurdwara panel seeks apology from UK govt
Chandigarh, March 28
Delhi Sikh Gurdwara Management Committee chief Manjit GK today said that the UK Government must tender an apology to the Sikhs for allegedly colluding with the Indian Government to provide assistance on conducting the Operation Bluestar in the Golden Temple in 1984.


SC contempt notice to state on plea by SPOs of terror days
New Delhi, March 28
The Supreme Court today issued notice to Punjab on a contempt petition filed by eight daily wage special police officers (SPOs) for non-regularisation of their services despite the court's order.
Gobindpura acquisition-hit may get govt jobs, HC told
Chandigarh, March 28
The State of Punjab has assured the Punjab and Haryana High Court that persons, whose land has been acquired for Gobindpura Thermal Power Plant, will be considered for jobs in accordance with the government policy after the parliamentary elections are over. For the purpose, the government has set July 31 as the deadline.
Central official in dock over filing 'misleading affidavit'
Chandigarh, March 28
The Under Secretary (Foreigners), Union Ministry of Home Affairs, Vikas Srivastava, has virtually landed himself in the dock.
Rapist gets 10-yr imprisonment
Abohar, March 28
A court has sentenced Gurmeet Singh of the border town, Satta Colony, in Anoopgarh to 10 years of rigorous imprisonment for kidnapping and raping a 16-year-old girl.
Woman, son get life term for murder
Abohar, March 28
Pradeep Kumar and his mother Santro Devi of Jhumianwali village in this sub-division have been awarded life sentence by a court under Sections 302, 316 of the IPC for poisoning Pradeep's pregnant wife Nirmala to death in October 2011.


Tarn Taran MLA's missing PA found dead
Amritsar, March 28
Sukhdeep Singh (35), personal assistant of Tarn Taran MLA and Chief Parliamentary Secretary Harmeet Singh Sandhu, was found dead under mysterious circumstances in Maqboolpura area here today.
Ex-DSP, his associate sent to four-day remand
Mohali, March 28
Gurbans Singh Bains, Mohali DSP, who was arrested yesterday and dismissed from service on corruption charges, was remanded in police custody for four days by a court here today.
Security a concern as former cop to share jail with criminals he nabbed
Ludhiana, March 28
The police face an uphill task of providing security in jail to former Deputy Superintendent of Police (DSP) Gurbans Singh Bains, who was arrested yesterday on corruption charges. Bains, who was the CIA - in charge, will be in jail with several criminals whom he once nabbed.
Man commits suicide
Abohar, March 28
A resident of Dhaani Mauji in the neighbouring Rajasthan, Somveer, allegedly committed suicide after hanging himself on a tree last evening. Hamirvas police station in charge Balraj Singh Mann said Krishan Meghwal of Keru village had married off both his daughters in the same family on December 13, 2013.