At Hola Mohalla, Akalis, AAP flay EC ban
Anandpur Sahib, March 16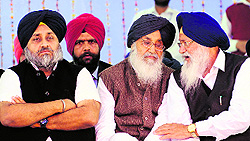 The SAD and the Aam Aadmi Party (AAP) today criticised the Election Commission (EC) for banning parties from holding political conferences at Hola Mohalla. While Chief Minister Parkash Singh Badal condemned the ban, alleging the EC had violated the rights of the Sikhs, Sumail Singh Sidhu, AAP state convener of the campaign committee, said there was no such rule in the Constitution.
(From left) Deputy Chief Minister Sukhbir Badal, Chief Minister Parkash Singh Badal and SGPC chief Avtar Singh Makkar at the SAD conference. Tribune photos: Vicky Gharu

BJP still undecided on Gurdaspur seat
Gurdaspur, March 16
The BJP high command has announced candidates for the Amritsar and Hoshiapur Lok Sabha seats, but has left the Gurdaspur hanging in the balance as the party announced its fourth list of 55 candidates for elections. The party has named senior leader Arun Jaitley and Vijay Sampla as its candidates from the Amritsar and Hoshiarpur seats, respectively.

Vinod Khanna


Swaran Salaria

Labourers killed, bodies burnt inside car to claim insurance money
Amritsar, March 16
In a shocking development, a car mishap in which two persons were charred to death turned out to be a conspiracy. The car owner along with his family members hatched the ploy in order to claim insurance cover worth crores.
Seven killed, 12 hurt in accidents
Patiala/Hoshiarpur, March 16
Seven persons were killed in two different accidents in Patiala and Hoshiarpur over the last 24 hours. Four occupants of a car, including three women, were killed on the spot following a head-on collision between their car and a Punjab Roadways Transport Corporation bus on the Landran-Banur road near Patiala today.
The mangled remains of a car and a bus that collided in Banur near Patiala on Sunday. Tribune photograph

Three dry days set to dampen marriage revelry
Patiala, March 16
The Election Commission's move to observe April 28, 29 and 30 as dry days in the state has dampened the spirits of those who have wedding of their close relatives scheduled for these days.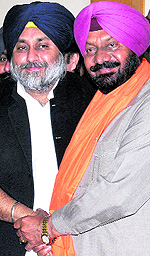 More Congress leaders rebel, join Akali Dal
Chandigarh, March 16
The going has never been as tough for Punjab Pradesh Congress Committee president Partap Singh Bajwa. With senior Congress leaders continuing to quit the party to join the Akali Dal, Bajwa's ability to lead is being questioned. The state Congress has seen the flight of many senior leaders in the past one year. With two-time former Congress MLA Ishar Singh Meharban and senior leader Rajbir Padiala switching loyalties to the rival SAD today, the state Congress leadership has come under sharp criticism. All the leaders who have quit the party in the last one year have accused Bajwa of failing to lead from the front.



Deputy CM Sukhbir Badal with IS Meharban in Chandigarh on Sunday. A Tribune photograph

Meharban has cheated Cong: Ex-MLA
Jagraon, March 16
Former Congress MLA from Jagraon Gurdeep Singh Bhaini said Isher Singh Meharban, who has joined the SAD today, had "back-stabbed" the Congress.
Tewari in hospital, nomination delayed
Ludhiana, March 16
There is speculation that Congress leader and Ludhiana MP Manish Tewari may not contest the election. However, sources close to him deny it.

Kejri to leave for Varanasi on martyrdom day
Chandigarh. March 16
Aam Aadmi Party (AAP) chief Arvind Kejriwal will visit Varanasi to challenge BJP prime ministerial candidate Narendra Modi on March 23, the martyrdom day of Bhagat Singh. Kejriwal spoke about the martyr while addressing a public rally at Bangaluru today. He urged party activists all over the country to reach Varnasi on March 23.

Akali Dal to support INLD in Haryana
Anandpur Sahib, March 16
The SAD which is in alliance with the BJP in Punjab and Delhi is to create trouble for the latter in Haryana by supporting the Indian National Lok Dal (INLD) in the coming Lok Sabha elections. SAD supremo Parkash Singh Badal while talking to mediapersons said he would support INLD in the elections on the occasion of Hola Mohalla.

Workers resentful as Ghubaya kicks off campaign
Abohar, March 16
None of the SAD and BJP halqa in charges turned up at a district meeting of the saffron party organised to launch election campaign of sitting MP and SAD candidate Sher Singh Ghubaya.

DCC posers to Rahul during video conference
Amritsar, March 16
Congress vice-president Rahul Gandhi has assured the District Congress Committee (DCC), Rural, that the tickets for the ensuing Lok Sabha elections would be distributed after taking inputs from Congress workers.

BJP's Hoshiarpur nominee faces challenge within
Hoshiarpur, March 16
The BJP candidate from the Hoshiarpur Lok Sabha seat, Vijay Sampla, faces tough challenge, not from other contestants, but from within the party.

Cong MLA takes on spokesman for remark on PM
Chandigarh, March 16
Congress MLA from Ferozepur, Parminder Singh Pinki, has objected to party leader PC Chacko's remarks on the functioning of Prime Minister Manmohan Singh, saying the observation could affect the party campaign in the run-up to the Lok Sabha elections.




EC: Polling hours from 7 am to 6 pm
Chandigarh, March 16
The Election Commission has decided to increase polling hours during the General Election.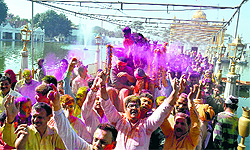 in religious hue: (Top) Devotees celebrate Holi at Durgiana Temple in Amritsar on Sunday; while women (below) perform rituals in Abohar. Pti and Tribune photographs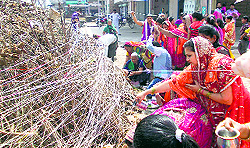 Poll expenditure: Even tea, samosa & kachori to count
Patiala, March 16
For computing spending by candidates on poll campaign, the Election Commission (EC) will go into minute details like expenses on tea, snacks etc.
Poll purse: Tewari spent highest in '09
Muktsar, March 16
The data available with the Chief Electoral Office, Punjab, shows that Union Minister for Information and Broadcasting Manish Tewari, had spent the highest (Rs 18.47 lakh) durig the 2009 Lok Sabha elections in the state.
NGOs give lessons on clean Holi
Abohar, March 16
Various non-government organisations (NGOs) in the city started two-day Holi celebrations in a unique way today.
Kandi belt residents have nothing to cheer about
Janauri (Hoshiarpur), March 16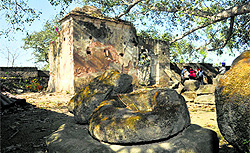 With successive governments turning a blind eye to the problems of the people residing in the Kandi belt, this sub-mountainous region depicts a picture of neglect. People complain about the poor medical facilities, poor roads, long power cuts and wild animals destroying their crops.



The dilapidated Dholbaha Museum. Tribune photos: Malkiat Singh

Youth may tilt the scales in Sangrur
Sangrur, March 16
The youth may play a big role in deciding the fate of candidates contesting from the Sangrur Lok Sabha constituency. Around 27 per cent of the electorate is young as 3,81,816 voters of the total 14,02,307 voters in the constituency are up to 29 years' old.Differently challenged protest in Jyani's village
Fazilka, March 16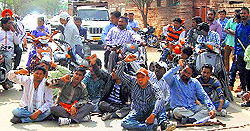 The members of the Union for the Handicapped People, Punjab, protested in the Health Minister Surjit Kumar Jyani's native village of Kathera today.


Members of Union for the Handicapped People, Punjab, protest in Health Minister Surjeet Kumar Jyani's native village of Kathera in Fazilka district on Sunday. A Tribune photograph


Cancer patients in Malwa show traces of metal, says study
Faridkot, March 16
A latest study of Punjab Technical University (PTU) in collaboration with US and German scientists has showed that the breast cancer patients have a higher concentration of metals in their bodies.



Undertrial planning to contest against Harsimrat attacked in jail
Faridkot, March 16
An undertrial lodged at the Central Jail here, Naresh Seghal, was allegedly attacked yesterday. He had recently moved an application in the court seeking permission to contest the parliamentary elections from Bathinda.



Elderly couple found dead in Sangrur
Sangrur, March 16
The bodies of an elderly couple, about 65 years' old, were found in a closed room of their house, situated in Sunder Basti here, this evening.