PSEB fined for delaying payment to firm
Chandigarh, March 9
Nearly six months before Independence, the rulers of erstwhile Malerkotla state granted licence to Bhagwan Dass and Sons for supply of electricity to Malerkotla town.


Unite for poll, Shahi Imam to minorities
Ludhiana, March 9
Habib-ur-Rehman, Shahi Imam of Punjab and national president of Majlis Ahrar Islam Hind, has urged all political parties as well as social groups representing the Muslim community to chalk out a strategy for the coming Lok Sabha elections.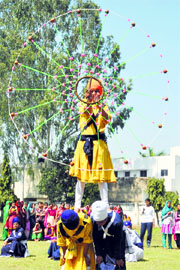 young warrior: Girls perform 'gatka' at the Government College in Patiala on Sunday. Tribune photo: Rajesh Sachar
State BJP chooses to keep cards close to its chest
Amritsar, March 9
Even as the SAD has announced all its candidates for the Lok Sabha elections, its partner, BJP, is yet to declare its candidates for the three constituencies of Hoshiarpur, Gurdaspur and Amritsar. Sources say the party is expected to announce the names on March 13.
Bajwa must re-contest seat, says Ashwani
Gurdaspur, March 9
The pleas that PPCC chief and sitting Gurdaspur Member of Parliament (MP) Partap Singh Bajwa must re-contest the seat are getting louder each passing day. Former Union Minister and Rajya Sabha MP Ashwani Kumar today said that Bajwa must not "run away" from the field.
BKU (Ekta) to boycott SAD-BJP candidates
Moga, March 9
The Bhartiya Kisan Union (Ekta) has announced that it will boycott the candidates of ruling SAD-BJP alliance in the upcoming General Elections as the government had not allotted five-marla plots to landless farm labourers.
AAP list by March 15
Amritsar: The Aam Aadmi Party (AAP) will declare its candidates for all 13 constituencies in Punjab by March 15, said Harinder Singh, AAP state screening committee member, at a press meet here. He claimed a survey by senior party leaders had indicated that the party could get 18 per cent of the total votes polled in the elections.

Supply code can help empower consumers
Chandigarh, March 9
A little known fact is that the Punjab State Power Corporation Limited (PSPCL) is liable to compensate power consumers in case of a delay in repairing overhead line breakdowns, underground cable breakdowns, transformer failure, streetlight faults, voltage fluctuations, replacement of burnt and faulty meters, release of new connection etc.
Crowds gather for BJP 'chai', not Modi 'charcha'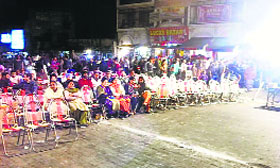 Hoshiarpur, March 9
The BJP's "Chai pe Charcha" programme in the city last evening saw people gathering in large numbers for tea with but few staying back for any "charcha".





The BJP pandal with vacant chairs at Valmiki Chowk in Hoshiarpur on Saturday. A Tribune photograph

Ahead of poll, police told to collect firearms
Patiala, March 9
With the Lok Sabha elections barely a month away, the Election Commission (EC) has asked the Punjab Police to collect all firearms.
EC registers 20,000 new voters at special camps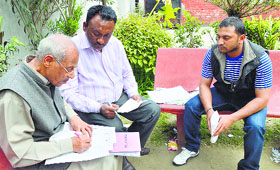 Chandigarh, March 9
Over 20,000 fresh voters registered themselves with the Election Commission today at more than 22,000 special camps set up across the state. The number of visitors who had come with various election-related queries, though, was more than 1.5 lakh, said election officials.



Poll officers make corrections in the voter list at a school in Ludhiana on Sunday. photo: inderjeet verma

Sangrur has 154 hypersensitive polling stations
Sangrur, March 9
More than 49 per cent of the polling stations have been declared sensitive or hypersensitive in Sangrur parliamentary constituency.
Poll on mind, canal repair work put off
Abohar, March 9
In view of the Lok Sabha elections in Punjab and Rajasthan next month, the state governments have decided to defer for a year the annual repair work on the Sirhind Feeder, the Abohar branch canal and the Indira Gandhi canal.
Association to oppose GM field trials
Faridkot, March 9
The coalition for a gene modification (GM) Free India in the state has begun holding a series of public meetings to oppose GM field trials. The Environment Ministry had allowed gene modification (GM) trials of more than 200 varieties of rice, wheat, maize, castor and cotton, among other crops last week. Punjab is one of the states that agreed to these field trials.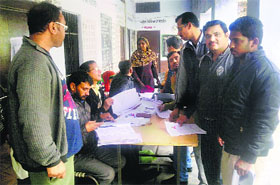 Second chance: New voters register themselves with poll officials at Talwara in Hoshiarpur district on Sunday. A Tribune photograph
UPA Govt has failed on economic front: BJP leader
Pathankot, March 9 Rajya Sabha MP Tarun Vijay has criticised the UPA Government for its "failure" to protect the interests of the common man.
Ignored, Malwa bachelors have resigned to their fate
Bathinda, March 9
Supporting a disheveled look, Jagmeet Singh of Mehraj village sighs helplessly whenever he witnesses a wedding. A bachelor in his late 40s, he lost hope of getting married long ago.
British Sikh school head in job row
London, March 9
A British Sikh head of a school has alleged that he was pushed out of his post by the school's Muslim governors for opposing their move to ban sex education classes and allow only "halal" food.
Train runs over school guard
Abohar, March 9
A guard employed with a private school was run over by a train near Bahawalbasi village in Fazilka district today.


Casual filing of cases draws High Court wrath
Chandigarh, March 9
In a clear-cut departure from the standard procedure of allowing the petitioners to withdraw their pleas, the Punjab and Haryana High Court has made it clear that the maxim "he who fights and runs away, lives to fight another day" cannot be applied to proceedings before it.
Man denied lottery money, gets HC relief
Chandigarh, March 9
Gurdial Singh's dreams of making big money were torn to shreds by his own children, literally. A labourer, he had bought a lottery ticket with his hard-earned money.

College girl abducted at gunpoint
Ferozepur, March 9
A 20-year-old college student was allegedly kidnapped at gunpoint outside her house in Karia Pehalwan village.
Poacher killed in accidental fire, 3 held
Ropar, March 9
A poacher was killed when his aide's gun went off accidentally in the forests of Palasi village here last night. The deceased has been identified as Jaswinder Singh (30), a resident of Barhi village near Purkhali in the district.
Hearing impaired duped of Rs 9 lakh by brothers, sister
Gurdaspur, March 9
The police have arrested three members of a family on the charge of cheating their deaf and dumb brother of Rs 9 lakh.