Caste plays role in post-poll scenario
Dharamsala, March 9
Caste has been a consideration in Himachal politics, especially in the power struggle for top posts, including those of ministers and the Chief Minister. Be it the Congress or the BJP, the incumbents have been Rajputs and Brahmins. They have gone for the Chief Minister's post in the state right from the time of the formation of Himachal after the merger of hill states and hilly areas of Punjab.
VIGNETTES
Talented woman from Hamirpur
I heard her singing a ghazal at a kavi goshthi at Hamirpur and I liked it. Nalini Vibha was born to parents Chand and Sheela Dharmani at Nangal on December 5, 1954. She got married and settled at Hamirpur. She did PhD in vocal music and worked at the Hamirpur Government College for more than 33 years as lecturer.

PM, Sonia pics on ration card riles BJP
Shimla, March 9
Former Chief Minister PK Dhumal has taken exception to the photographs of Prime Minister Manmohan Singh, UPA chairperson Sonia Gandhi, Chief Minister Virbhadra Singha and Food and Supplies Minister GS Bali in the ration card. He alleged that it was an attempt to woo voters and violation of the model code of conduct.
Flights between Kullu, Chd from April 1
Shimla, March 9
Himalayan Bulls, a Manali-based private company, in association with Deccan Charter, is set to start eight-seater chartered flights between Kullu-Manali and Chandigarh from April 1. This is expected to boost high-end tourism in the state. If the company gets enough number of passengers, the airliner will also be starting flights between Chandigarh and Shimla, Shimla and Kullu and Shimla and Dharamsala, say company sources.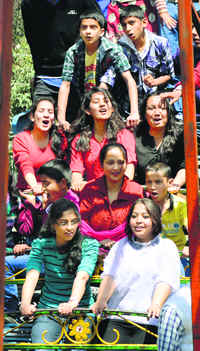 Youth enjoy a roller-coaster ride during the Shivratri fair in Mandi on Sunday. Photo: Jai Kumar
GND varsity tops sailing event
Nurpur, March 9
Guru Nanak Dev University (GND University), Amritsar, was declared the overall champion among men and Punjabi University, Patiala, was declared the winner in the women's category in the three-day All-India Inter-University Championship that concluded at the Regional Water Sports Centre (RWSC) of the Pong Dam lake last evening.
Study disputes Census data on disability
Shimla, March 9
The prevalence of disability is more among males in Himachal as compared to females, but a special Census of the disabled is required to have authenticated data, a study conducted by the Institute of Integrated Himalayan Studies (IIHS) said.
Rs 620-crore Clean Tech Fund loan for state
Shimla, March 9
A final agreement of the second development policy loan under the Clean Technology Fund (CTF) will be signed with the World Bank this week. The second policy development loan of Rs 620 crore is likely to be received by the end of March.
Voluntary body takes up teaching in understaffed govt schools
Una, March 9
Complimenting and supplementing the efforts of the state Education Department in schools having shortage of teaching staff is on the mind of the Shiksha Sudhar Samiti, a voluntary organisation. It has its registered office at Ispur village of Haroli block and has been rendering selfless service for the last many years.
Vacate premises within 30 days, temple authorities told
Kullu, March 9
The Forest Department here has given eviction orders to the management of Mahadevi Teerth, also called the Vaishno Mata temple, in Kullu and the sarai adjoining it. District Forest Officer, Kullu, BL Negi said the Forest Department had taken cognisance of increasing illegal construction and encroachment on the forestland by the temple authorities. The demarcation report also proved the violation of forest rules.
Eco Dept takes note of MMU's violations
Shimla, March 9
The Himachal Environment and Scientific Technology Department has taken note of alleged violation of the Environment Protection Act by promoters of Maharshi Markendeshwar University (MMU) near Kumarhatti (Solan) and asked them to stop work.
Rebel BJP leader returns


Shimla, March 9
Former bureaucrat and expelled BJP leader HN Kashyap rejoined the party today with his supporters. Kashyap had resigned from the Himachal Administrative Services to contest the 2004 Lok Sabha elections from Shimla (Reserved) constituency as a BJP candidate. Kashyap was expelled from the party after he contested the 2012 Assembly elections as an Independent from Solan (Reserved) Assembly constituency.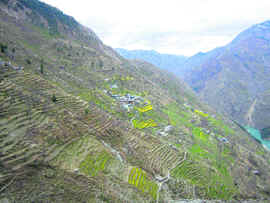 Remote villages cry for amenities
Chamba, March 9
Residents are facing hardships in the absence of basic amenities in remote villages in Chamba district. According to Lalit Thakur, president of the Akhil Bharatiya Gaddi Janjatiya Vikas Samiti, several villages are without link roads. They have to cover long distances to reach the only link road which connects the main road.

Villages on the hill slopes near Bagga in Chamba district.
Villagers lay siege to work at hydro project in Kangra
Palampur, March 9
The construction work on the 25-MW Keiu Hydro Project being executed on the Lamba Dug river in the Chhota Bhangal area of the Palampur region came to a standstill today following a massive protest by local residents.
AAP faces tough task in Shimla, Mandi
Shimla, March 9
The Aam Aadmi Party (AAP) faces a tough task to field its candidates from Shimla (Reserved) and Mandi. AAP has already declared Rajan Sushant, a former MP from Kangra, who supported the Anna Hazare movement in Delhi last year, as the party candidate from Kangra. Kargil war hero's mother Kamal Kanta's candidature had been finalised, said party sources.
Panel formed to monitor paid news
Chamba, March 9
A district-level Media Certification and Monitoring Committee (MCMC) has been re-constituted under the chairpersonship of Chamba Deputy Commissioner (DC) Kadam Sandeep Vasant, who is also the District Election Officer (DEO).
Cong a spent force: Kishan
Una, March 9
The Congress leadership in the Kangra parliamentary segment is a spent force, said former minister Kishan Kapoor while addressing mediapersons at the Circuit House here yesterday.
BJYM ends relay fast
Kullu, March 9
The eight-day chain-hunger strike of the Lahaul unit of the Bharatiya Janata Yuva Morcha (BJYM) and the BJP ended yesterday after Kullu Deputy Commissioner Rakesh Kanwar assured protesters to regularise helicopter flights to the remote areas of Lahaul district.
Rain lashes Kangra valley as snowfall greets Dhauladhars
Kangra, March 9
Rain lashed the Kangra valley today since afternoon. There was fresh snowfall on the Dhauladhar mountain range that overlooks the lush green Kangra valley. The mercury thus plummeted considerably, adding to the severe cold wave. The sky was overcast with dark clouds since morning and the valley experienced cold-wave conditions, throwing life out of gear. While the sky was overcast with dark clouds, air connectivity was not disrupted. Tibetan spiritual leader the Dalai Lama landed at the Gaggal airport today. It was raining in the valley this evening too and icy cold winds were blowing throughout the day. Power supply was disrupted in Kangra. Reports of rain were received from Shahpur, Mallan, Palampur, Nagrota Bagwan, Icchhi, Gaggal, Ranital, Dhraman, Jwaalamukhi, Dehra, McLeodganj, Bagsu Nag, Naddi and Dharamsala. OC
New medical colleges hailed
Kangra, March 9
Dr Jai Kumar Azad, member, state HPCC Executive Committee, today hailed Union Health Minister Ghulam Nabi Azad's recent announcement of opening medical colleges in remote areas of this hill state at Chamba, Sirmour and Hamirpur. Jai Kumar said the UPA government had sanctioned Rs 175 crore for each of the new medical colleges for providing better health care to people at their doorsteps. He also hailed its decision of extending a special grant to this hill state in the health sector, along with other hill states like Jammu and Kashmir and Uttarakhand. He said health was a priority for the UPA government and sanctioning of two cancer hospitals in HP and the opening of the Mother and Child Hospital at Mandi and the inauguration of the Rs 150-crore super-speciality hospital at the Tanda Medical College were mile stones in this direction. OC
AAP welcomes HLP's support
Hamirpur, March 9
The Nadaun unit of the Aam Aadmi Party (AAP) has welcomed the Himachal Lokhit Party's (HLP) decision to support Aam Aadmi Party candidates for the forthcoming parliamentary elections in the state. In a statement issued here today, Charan Jeet Singh Parmar, president of Aam Aadmi Party, said: "The tie-up between Aam Aadmi Party and the Himachal Lokhit Party will help in the consolidation of anti- Congress and anti-BJP votes in the state." He said the defeat of the Congress and the Bhartiya Janta Party would pave the way for the formation of a strong alternative in the state. TNS
Heavy snowfall in Chamba hills
Chamba, March 9
The high hills of Chamba district, including the Vales, Bharmour and Pangi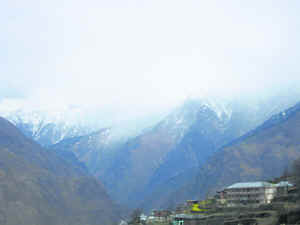 mountainous ranges, have been experiencing fresh heavy snowfall since this morning. As a sequel to this, chilly winds continued sweeping low-lying areas of the district. Residents in the higher reaches remained confined to their houses, reports said. The weather reportedly went dry in lower areas. Since the Ravi is a snow-fed river, the water volume had substantially receded due to huge snow deposit during the winter, thereby affecting power production of hydropower projects on the river downstream, reports said. OC

A view of snowfall on the mountainous ranges of the Vales ravine in Chamba district on Sunday
Field Brig Thakur from Mandi, say ex-servicemen
Mandi, March 9
The district unit of the Ex-servicemen Movement has urged the Bharatiya Janata Party leadership to field Brig Khushal Thakur (retd) from the Mandi seat in the forthcoming parliamentary election. In a statement issued here today, district convener Capt Het Ram Sharma (retd) said: "Brigadier Thakur is a Kargil war hero and thousands of ex-servicemen will work for him in making the BJP victorious." TNS