Venod unsure, but hails Modi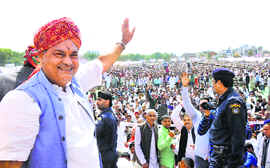 Kurukshetra, March 9
Keeping options open and cards close to his chest, former Union minister and Ambala MLA Venod Sharma today showered lavish praise on BJP prime ministerial candidate Narendra Modi, calling him a "man with a vision" while admitting his "close association" with former Chief Minister Bhajan Lal's family.

MLA from Ambala City Venod Sharma waves to the crowd at a rally in Kurukshetra on Sunday. A Tribune photograph

17 police teams to deal with arms, money, liquor in Faridabad
Faridabad, March 9
The police have set up 17 special teams to deal with the menace of infiltration and use of illicit arms, money and liquor in the Faridabad Lok Sabha constituency in view of the upcoming poll. The police have already seized a cache of illicit arms and liquor since the announcement of the poll schedule on March 5.
Gorakhpur nuclear plant
Intellectuals, scientists, rekindle protest movement
Rohtak, March 9
A group of scientists, intellectuals and aware residents today launched a movement against the proposed nuclear power plant at Gorakhpur village of the district here. Campaigners associated with the 'parmanu virodhi yatra' maintained that advanced countries like the USA, Germany, Italy, Japan and France had started reconsidering the option of generating power through nuclear plants in view of the high risks involved in the process.
Sonepat AAP candidate leads in constituency visits
Jind, March 9
Taking lead over candidates of other parties who are yet to start their campaigning, AAP Sonepat candidate Jai Singh Thekedar has already covered all cities and 110 villages falling under his constituency. "On an average, we have been conducting 8-10 street meetings and visiting the same number of villages. The response is very good as people are fed up of both INLD and Congress," said Jai Singh, after attending a meeting in Jind today.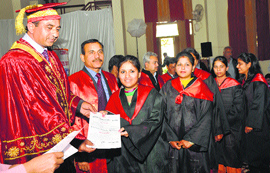 Principal RK Bhardwaj confers degrees on students at the 52nd convocation of Dyal Singh College in Karnal. A Tribune photograph


In high spirits: An obstacle race to promote healthy living under way in Gurgaon on Sunday. Tribune photo: Sayeed Ahmed

State Lokayukta pleads for more powers
Kaithal, March 9
Haryana Lokayukta Justice (retd) Pritam Pal today said he had written three letters to the state government for providing more powers to the office to deal with corruption and improve governance but he was yet to get any response from the government.
No woman candidate from Karnal since 1967
Karnal, March 9
Known as the city of Kalpana Chawla, the Karnal parliamentary constituency has a unique record of not electing women in the 13 elections held since 1967. This despite the fact that many prominent women leaders, including Sushma Swaraj, have tried their fate to get elected from Karnal.
Khaps, Jat leaders to honour politicians, but separately
Jind, March 9
The political compulsions of various khaps and Jat leaders have divided the community to such an extent that they have decided to honour politicians for their support to the Jat reservation agitation separately. The Sarv Jat Khap Panchayat (SJKP) have decided to organise a function in Danonda village near Narwana in the district on March 15 to honour Chief Minister Bhupinder Singh Hooda and other politicians for their help during agitation.
After Rahul, Jind farmers meet Murli Manohar Joshi
Jind, March 9
After Congress leader Rahul Gandhi, the opposition BJP has reached out to farmers in this district, who have launched an anti-pesticides movement in many villages. National manifesto committee chairman Murli Manohar Joshi met Jind farmers in New Delhi today and assured them of including their demands in the BJP national manifesto. The senior BJP leader also pledged full support to the anti-pesticides campaign.
Clash at wedding sparks caste tension
Rewari, March 9
Caste tension erupted in Gothda Tappa Dahina village here after a clash between people of two castes during a wedding here yesterday. The incident kept the police on their toes throughout the day and they later took out flag march in the village to maintain law and order.
Child sex ratio shows improvement in Karnal
Karnal, March 9
The child sex ratio has improved by 33 points in Karnal district. It now stands at 880 in comparison to 847 in 2012. However, it is still below the 1,000 mark set by the district administration. As many as 29,568 children were born, including 15,731 boys and 13,837 girls, in Karnal in 2013. The ratio in rural areas of the district stands at 927 while in urban areas it was recorded at 863.
INLD unlikely in NDA fold
New Delhi, March 9
Despite best efforts by a section within the BJP and its ally, the Shiromani Akali Dal, the INLD in unlikely to find a place in the NDA fold. Senior leaders have said the party is likely to release its list of eight candidates for Haryana on March 11 or 13. "Eight BJP candidates have been finalised and it has been decided to give Kuldeep Bishnoi-led HJC two seats, Karnal and Hisar," they said.
NH-73 four-laning set to get delayed
Yamunanagar, March 9
The four-laning of National Highway-73 is set to get delayed. Since the National Highways Authority of India (NHAI) has accepted the closer notice of Yamunanagar Panchkula Highway Private Limited (YPHPL), a sister concern of Gamman Infrastructure Private Limited, which was assigned the tender on July 30, 2012, the tender for the 105-km-long project (km 71.640 to km 179.249) will be floated again and the process may take at least one year, said OC Mathur, project director, NH-73.
3.5 kg opium, pistol seized from 3 youths
Sonepat, March 9
The police today arrested three jeep-borne drug traffickers and seized 3.5 -kg opium, a country-made pistol, four live cartridges and Rs 80,000 cash from their possession near Sector-7 on GT road. The drug was valued at around Rs 3 lakh in market. While talking to mediapersons here, Deputy Superintendent of Police (DSP) Ajit Singh said the alleged accused were identified as Ajai of Mathurai in Jhansi district of Uttar Pradesh and Subeg Singh and Dilbag Singh of Deras in Nissing area of Karnal district.
Sensitive booths identified in Jind
Jind, March 9
The Jind administration has prepared a list of hypersensitive and sensitive polling booths of the district. It has also made elaborate security arrangements at these booths to prevent any untoward incident on the polling day.
80 Rewari villages see decline in gender ratio
Rewari, March 9
Despite efforts of the Health Department, as many as 80 villages in Rewari district have witnessed a sharp decline in the child sex ratio in 2013. As per the figures collected by the department, the sex ratio in the under-six age group stands in the range of 615 to 740 in these villages. In 2012, the ratio stood at 796 in the district.
Punjabi youth urged to work for society welfare
Kaithal, March 9
A state-level function of the Punjabi Yuva Sabha was held here today. Office-bearers and members of various district units participated in the function. Des Raj Sapra, Director of the Haryana Urdu Akademi, was the chief guest. Adarsh Bali, martyr Major Nitin Bali's mother, presided over the function.
Parents, groom booked under child marriage Act
Fatehabad, March 9
A couple has been booked under the Prohibition of Child Marriage Act, 2006, for allegedly marrying off their 14-year-old daughter. The bridegroom, his parents, and a mediator have also been booked in the case.
Man slapped in panchayat ends life
Palwal, March 9
The police have booked two persons in connection with the death of a 58-year-old Aurangabad village resident, who "consumed" poison after being allegedly slapped by the accused in a panchayat meeting on Friday. No arrest has been made so far. Bir Singh, son of the victim, claimed that his father felt insulted after the slapping incident and consumed celphos tablet. The police have registered a case under Section 306 of the IPC against the accused. — OC
Jhajjar Cong chief's brother joins BJP
Jhajjar, March 9
Ratan Sagar, sarpanch of Chhudani village, joined the BJP in presence of party district president Dinesh Goyal here today. He is the younger brother of Anand Sagar, district chief of Congress in Jhajjar. Later interacting with mediapersons, Ratan said Narender Modi was an appropriate candidate for the post of Prime Minister, hence he, along with other villagers, would work for him in the coming poll. — TNS
2 poll observers for state
Chandigarh, March 9
The Election Commission has deployed two observers for the Lok Sabha elections for six parliamentary constituencies from March 9 to March 15 and March 30 to April 5. Chief Electoral Officer Shrikant Walgad said here today that Pallavi Chinya had been deployed for Faridabad, Gurgaon and Sonipat and her contact number is 9449039769. Similarly, JRM Pawar had been posted as an observer for Rohtak, Karnal and Ambala. His contact number was 9860623142. — TNS
Man crushed to death
Jhajjar, March 9
Sahiram (40), an employee of a private hospital, was crushed to death by a dumper on the Pataudi road near Mundaliya village here today. The driver sped away after the accident. The incident took place this morning when Sahiram was crossing the road. He reportedly died on the spot after being hit by the dumper. Police rushed to the spot and sent the body to civil hospital for post-mortem examination. A case has been booked against the unknown driver. — TNS
Students win laurels
Kurukshetra, March 9
Students of DAV Public School brought laurels for the school in the National Science Talent Search Examination (NSTSE) 2013-14, conducted by the Unified Council. Ishan Gupta, a student of class XI (medical), became the national topper while Agam Garg and Saksham Dhull of class IX scored 73rd and 82nd rank, respectively, at the national level. Ishan Gupta has been awarded Rs 2 lakh by the council. — TNS
Youth arrested for killing mother
Kurukshetra, March 9
A youth killed his mother in Kohlapur village yestreday. Sources said Kuldeep (20) had a heated argument with his mother when she refused to give him money. Infuriated at the refusal, Kuldeep hit his mother with an iron rod. She died on the spot. The body of the deceased was handed over to the family after the post-mortem . The accused has been arrested. — TNS