Battlelines drawn for Bathinda, Harsimrat launches campaign
Bathinda, March 11
Sitting MP Harsimrat Kaur Badal today formally started her election campaign by paying obeisance at the Golden Temple in Amritsar in the morning and at Takht Damdama Sahib, Talwandi Sabo, and the historic Maesar Khanna Temple in the afternoon. She will find a tough opponent in Manpreet Badal of the People's Party of Punjab (PPP). Manpreet has aligned with the Congress for the Bathinda seat.
Bathinda seat 'super sensitive'
Bathinda, March 11
The Bathinda parliamentary constituency is among the 15 "super sensitive" constituencies in the country. It is among the five "expenditure sensitive" constituencies in the state where four observers and a senior police officer from outside Punjab will be deputed to ensure a fair and free poll.
Local CPI to back Manpreet
Bathinda, March 11
The local CPI leadership has decided to support Congress-PPP candidate Manpreet Badal against sitting Akali MP Harsimrat Kaur. An announcement in this regard is expected on Wednesday. The CPI has secured 70,000 -1,70,000 votes in previous parliamentary elections. The CPI (M-L) has fielded Bhagwant Singh Samayo from Bathinda.
Voters will reject unprincipled politics: SAD gen secy
Chandigarh March 11
The SAD today described the Congress-Manpreet Badal poll alliance as "an act of two drowning opportunists clutching at each other to save their lives, but actually ensuring that neither will survive."

Maheshinder hangs up boots
Badal (Muktsar), March 11
Maheshinder Singh Badal (Cong), estranged cousin of Chief Minister Parkash Singh Badal, has decided to hang up his boots. He will not contest the Lambi assembly seat anymore. Lambi is among the nine constituencies that comprise the Bathinda parliamentary seat. "I have made up my mind not to contest in future, but will continue supporting the Congress in all elections," he said. He said his decision had nothing to do with the Congress pact with Manpreet Badal. "I will support him and abide by the high command's decision."
BJP disapproves of Anil Joshi's move
Amritsar, March 11
The BJP top brass is reportedly upset with Punjab Local Bodies Minister Anil Joshi for demanding that senior BJP leader Arun Jaitley be fielded from the Amritsar Lok Sabha constituency instead of sitting MP Navjot Singh Sidhu.
Manpreet leaves Morcha in disarray
Chandigarh, March 11
The Sanjha Morcha, a political front of four parties in Punjab, is in disarray. Its chairman and People's Party of Punjab president Manpreet Singh Badal today formally entered into an electoral alliance with the Congress. He will contest from Bathinda against his sister-in-law and sitting MP Harsimrat Kaur Badal.
Bajwa, Bhatti worked hard to seal Congress-PPP deal
Chandigarh, March 11
The People's Party of Punjab (PPP) and the Congress alliance was finally sealed because of the unflinching stand taken by Punjab Pradesh Congress Committee president Partap Singh Bajwa and the behind-the-scene efforts of Gupreet Singh Bhatti, second in command in the PPP.
Bhagwant dares rivals to an open debate on issues
Sangrur, March 11 Aam Aadmi Party (AAP) candidate from Sangrur Bhagwant Mann today dared sitting MP Vijay Inder Singla and SAD nominee Sukhdev Singh Dhindsa for a debate with him. Mann, who was in the town today, said both the leaders (Singla and Dhindsa) had been making tall claims of development in the constituency.
Two Padiala aides to join SAD
Mohali, March 11
Following in the footsteps of Rajbir Singh Padiala, two other Taksali leaders, Man Singh Sohana and Baldev Singh Kumbhra, who had joined the Congress five years ago, will join the Shiromani Akali Dal (SAD) this week. Sources said the leaders would announce their decision to join the SAD at a function of SAD candidate Prem Singh Chandumajra on March 14. Along with Padiala, they had left the SAD to join the Congress on April 4 in 2009, alleging they had been ignored by the party leadership.
Ashutosh Maharaj's former driver moves High Court for CBI probe
Chandigarh, March 11
The issues stemming from Ashutosh Maharaj's death continue. The spiritual guru's former driver, Puran Singh, today moved the Punjab and Haryana High Court again, this time for a CBI probe.
Takht chief releases calendar
Amritsar, March 11
Akal Takht Jathedar Giani Gurbachan Singh today said they were still getting suggestions on the Nanakshahi Calendar and the amended calendar would remain in force till a final decision on the matter.
Anganwari workers end relay fast
Sangrur, March 11
Under the banner of Anganwari Mulazam Union Punjab (CITU), anganwari workers ended their relay fast outside the residence of Finance Minister Parminder Singh Dhindsa today. They had been protesting here for the past nine days. Member of Rajya Sabha Sukhdev Singh Dhindsa offered juice to five anganwari workers.
Squall flattens wheat crop in parts of Doaba belt
Jalandhar, March 11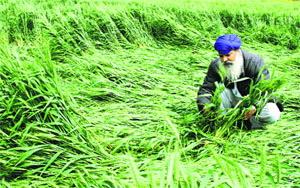 A squall that hit several parts of the Doaba region over the past 24 hours has flattened the wheat crop in many places, causing anxiety among the farmers. Among the areas that have been affected the most are Jamsher, Jandiala, Nurmahal, Nakodar, Shahpur, Malsian, Kartarpur and Adampur Bhogpur.
A farmer inspects the damaged wheat crop after heavy rain in Jalandhar on Tuesday. Tribune photo: Malkiat Singh

Ferozepur-Chandigarh train chugs off
Ferozepur, March 11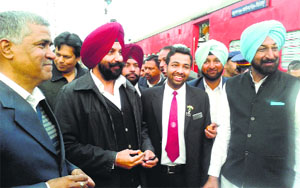 The much-awaited

Ferozepur-Chandigarh Superfast Express (04508) was inaugurated today. As many as 122 passengers boarded the train from Ferozepur and another 40 and 52 boarded from Moga and Ludhiana respectively. Though no formal flag-off ceremony took place due to the model code of conduct, senior railway officials, including NC Goyal, Divisional Railway Manager, Ferozepur, were present during the departure of the train.

MLA Parminder Pinki (in red turban) and his supporters board the train in Ferozepur on Tuesday. Tribune photograph


Kalianwala Khu: State names panel members
Amritsar, March 11
The state government today announced the names of the members of the concept committee that has been set up to arrive at a considered view regarding the construction of a memorial for the soldiers killed at 'Kalianwala Khu' in Ajnala in 1857. Their mortal remains were recovered from the well recently.

'Faulty' industrial policy affecting Bathinda units
Bathinda, March 11
The industrial sector in Punjab is on a downslide and this is evident from the number of power connections snapped during the past five years.

3 Abohar minors breached, crops damaged
Abohar, March 11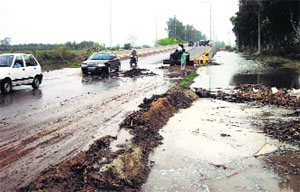 Breaches in three minors today inundated standing crops over hundreds of acres, partially damaged the Abohar-Fazilka road near Military Station and endangered the railway overbridge (ROB) near Dangarkhera village on NH-10. Farmers Balkaran Singh, Buta Singh and Lakhwinder Singh said the Irrigation Department had not removed hyacinth in the Panjawa minor (sub-canal), Bazidpur minor and Defence Road minor along the Abohar-Hindumalkot road.

Overflowing canal water on the national highway 10 near Abohar's Dangarkhera village. Tribune photo

'Poor quality' gunny bags being used
Moga, March 11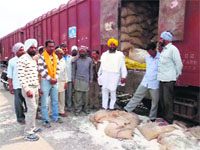 Labour unions engaged in loading special trains with foodgrain have alleged that the gunny bags containing rice are of poor quality. They said the poor quality bags not only affected the quality of foodgrain, but also made it difficult for them to load them in trains. When this correspondent visited the anaj mandi today, several gunny bags were found torn to shreds with rice scattered on the platform.
Rice sc

attered at the Moga railway station, due to poor quality of gunny bags. Tribune photo


HC: Can't use bedroom talk against wife
Chandigarh, March 11
Whispers behind the protective seclusion of curtains in the confines of a bedroom cannot be used by a husband against his wife, the Punjab and Haryana High Court has ruled.

3 youths get life term for murder
Ropar, March 11
The District and Sessions Court today sentenced three youths to life imprisonment for murdering a local college student. The convicts are brothers. They are identified as Pavittar Singh and Sukhjinder Singh of Bhaowal village and Jatinder Singh of Chhota Suratpur village.

Acid attack: Seven chargesheeted
Ludhiana, March 11
The court of Additional Sessions Judge HS Grewal today framed charges against seven persons in the Harpreet Kaur acid attack case.

Heroin worth Rs 205 cr seized
Amritsar, March 11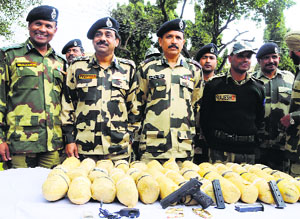 The BSF today seized 41 packets of heroin, besides arms and ammunition and a Pakistani mobile phone from the India-Pakistan border in two separate incidents. In first such incident, troops at Rattan Khurd border outpost observed suspicious movement in the early hours. As they challenged the suspects coming from across the border, the latter opened fire.

BSF officials with the heroin seized at Khasa near Amritsar on Tuesday. Photo: Vishal Kumar

YAD leader booked
Abohar, March 11
Youth Akali Dal (YAD) leader Aman Kamboj of Ladhuka village in Jalalabad has been booked for trying to "sabotage" the interrogation of two hardcore criminals brought here on production warrants from Sikar (Rajasthan).
Khanna shootout: 3 more held
Khanna March 11
The local police today claimed to have arrested three persons, who had allegedly killed a youth and injured another in a shootout near Hotel Daawat near Malerkotla Chowk on February 2. In the shootout, Kulwinder Singh Kala of Goslan village was killed and Amrinder Singh of the same village seriously hurt.
Jilted lover kills newlywed, her mother
Fazilka, March 11
A spurned 20-year-old youth allegedly killed a newlywed girl and her mother in his neighbourhood at Chack Budhoki village in the district here.
Police rescue kidnapped boy, two held
Hoshiarpur, March 11
The police have rescued a 17-year-old boy within two hours of his kidnapping. The motive behind the kidnapping was to get ~22,000 that the boy's father owed to the accused.