Act against MLA Jagir Kaur for using MPLAD fund: Khaira
Chandigarh, March 10
Punjab Congress spokesperson Sukhpal Singh Khaira has written to the Election Commission (EC), seeking legal action against Bholath legislator Bibi Jagir Kaur and others for laying foundation stones of community centres in Kapurthala district using MPLAD funds of Hoshiarpur MP Santosh Chowdhary.
Anganwari workers protest outside minister's house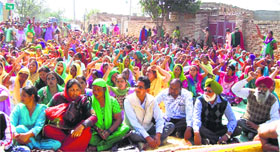 Fazilka, March 10
A large number of anganwari and ASHA workers staged a state-level protest, under the banner of the Punjab Subordinate Services Federation, outside the residence of Health, Family Welfare and Social Security Minister Surjit Kumar Jyani at his native village Katehra in Fazilka district today.
Anganwari and ASHA workers protest outside the residence of Health Minister Surjit Kumar Jyani at his native Katehra village in Fazilka district on Monday. Tribune photo


Bhagwant Mann, Chhotepur on AAP list
Chandigarh, March 10
The Aam Aadmi Party (AAP) today announced three more party candidates for the Lok Sabha elections. These are Sadhu Singh, a retired college principal, Bhagwant Mann, TV and film artiste, and Sucha Singh Chhotepur, former MLA.
Badals in a fix over campaigning for INLD
New Delhi, March 10
As Chief Minister Parkash Singh Badal has not been able to convince the BJP for an alliance with the INLD, the SAD is in a fix over campaigning for the nominees that would be fielded by Om Prakash Chautala's outfit in Haryana.
In Jalandhar, BSP's Kotli may eat into Cong votes
Jalandhar, March 10
With the BSP fielding its state general secretary, Sukhwinder Kotli, the Jalandhar (reserved) parliamentary constituency is likely to see a fierce triangular contest among the Congress, SAD-BJP and BSP candidates. During the 2009 Lok Sabha elections, the fight was mainly between Mohinder Singh Kaypee of the Congress and Hans Raj Hans of the SAD. Kotli is a heavyweight. He unsuccessfully contested the Adampur (SC) seat last time. In 2009, Kaypee had defeated Hans by a margin of 36,445 votes.
Meet demands, get votes: Farmers to parties
Chandigarh, March 10
Political parties are approaching the farming community and those engaged in related trades to seek their support ahead of the Lok Sabha elections.
BJP gets going in Gurdaspur
Gurdaspur, March 10
The BJP and the Congress are yet to announce candidates for the Gurdaspur parliamentary seat. But the BJP has begun to prepare the ground by setting up shakti kendras to oversee booth management.
Akalis collecting 'gunda' tax to fund poll: Bittu
Ropar, March 10
Congress candidate for Anandpur Sahib seat Ravneet Singh Bittu today alleged that sand mafia supported by the SAD-BJP alliance had been charging "gunda tax" near quarries in Ropar district.
Ghubaya keeps BJP workers waiting for poll meeting
Abohar, March 10 BJP workers who had gathered to meet SAD nominee for the Ferozepur Lok Sabha seat and sitting MP Sher Singh Ghubaya had to disperse after a three-hour wait. The maiden meeting was organised after his selection by the party high command.
Patiala school caught stocking 150 expired juice cartons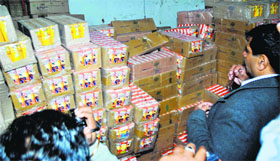 Patiala, March 10
A team of the District Health Department conducted a surprise raid at the Navjivani School for Special Children here today and seized expired packets of fruit juice from their stores.




Health Department officials inspecting the cartons of juice at a school in Patiala on Monday. Tribune photos: Rajesh Sachar

US lawmakers want leeway for Sikhs in military attire
Washington, March 10
Lawmakers urged the Pentagon on Monday to lift a ban on Sikhs serving in the US armed forces by easing the military uniform policy to enable Sikhs to wear beards, long hair and turbans in accordance with the customs of their religion.
US researcher out to find Ghadar Party's origin
Jalandhar, March 10
A US-based research scholar, Johanna Ogden, is undertaking a self-funded research project to find the origin of the Ghadar Party in the US.
Heavy police to be deployed for fest
Anandpur Sahib, March 10
More than 4,000 police personnel, including 13 Superintendents of Police (SPs) and 42 Deputy Superintendents of Police (DSPs), will be deployed during a six-day national festival to be held in Kiratpur Sahib and Anandpur Sahib starting from March 12.
Code of conduct goes for a toss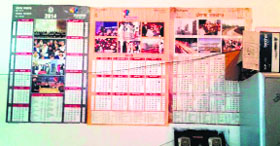 Fatehgarh Sahib, March 10
Though the district administration has removed hoardings of political leaders in view of the model code of conduct, a few government offices in the District Administrative Complex continue to hang calendars depicting pictures of political leaders, including Punjab Chief Minister Parkash Singh Badal and his Cabinet ministers.

Calendars depicting photographs of the Chief Minister and Cabinet ministers in Fatehgarh Sahib's government office. Tribune photo

Year after panchayat poll duty, employees yet to receive dues
Muktsar, March 10
A year after the panchayat elections, the state government employees deployed during the electoral process are yet to receive various dues, including tour and dearness allowance (TA/DA).
Sikhs celebrate Fateh Diwas at Red Fort
New Delhi, March 10
Thousands of Sikhs celebrated Delhi Fateh Diwas, the anniversary of a historic event when the Nishaan Sahib — the holy symbol of the Khalsa Panth — was unfurled at the Red Fort.
Kalianwala Khu
State sets up committee to establish facts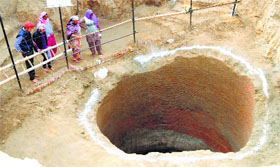 Amritsar, March 10
The state government has decided to set up a committee of historians and scholars headed by Punjabi University Vice Chancellor Dr Jaspal Singh to establish facts related to 'Kalianwala Khu'.



The historic well at Gurdwara Shaheed Ganj in Ajnala village. Tribune photo: Vishal Kumar

PTU rolls out new admission policy
Jalandhar, March 10
Punjab Technical University (PTU) has announced a new admission policy empowering its affiliated colleges to directly enrol students in all courses as per the guidelines.
State battles addiction as poppy husk trade booms in Rajasthan
Abohar, March 10
As youths from Punjab make a beeline for poppy husk at the neighbouring state of Rajasthan, it has become difficult for the state authorities to curb addiction.


Marching ahead: Girls take out an awareness rally against dowry and female foeticide in Patiala on Monday. Tribune photo: Rajesh Sachar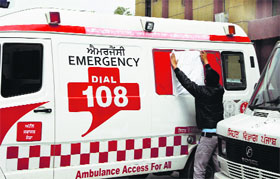 A health worker covers the picture of Chief Minister Parkash Singh Badal on an 108 ambulance in Jalandhar on Monday. Tribune photo: sarabjit singh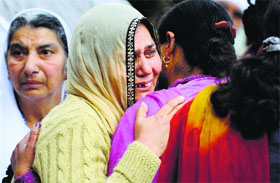 in shock: The grieving relatives of Judicial Magistrate Sukhvir Kaur who was killed in an accident in Phillaur on Monday. tribune photo: himanhsu mahajan
Women voters outnumber men in Muktsar district
Muktsar, March 10
The number of new women voters surpassed the men voters at a special enrolment drive in Muktsar district yesterday. Of the total 7,518 new voters registered across the district for the upcoming elections, 4,157 are women and 3,361 men.
Flying Sikh confers degrees on Ferozepur college students
Ferozepur, March 10
"If you are determined, nothing can deter you from reaching the pinnacle of glory." This was stated by Flying Sikh Milkha Singh while addressing graduates of RSD College during their annual convocation function here today.
Engineering student drowns
Abohar, March 10
Raghav Mundra (18) of Raisinghnagar in Sriganganagar district of Rajasthan drowned in the Ganga in Rishikesh today. The Uttarakhand police said Raghav, grandson of former Raisinghnagar Municipal Council president Ramesh Mundra, had gone to Laxman Jhoola for a picnic with other students of Dehradun Engineering College.
Students fall ill after consuming midday meal
Amritsar, March 10
Fifty-five students of Government Elementary School at Rasulpura village, near Jhabal, in Tarn Taran district today fell sick after reportedly consuming midday meal.
EC bars 10 leaders from contest
Chandigarh, March 10
The office of the Chief Electoral Office today released a list of nine persons who have been disqualified under Section 10-A of the Representation of the People's Act, 1951, from contesting elections.
EC won't seek forgery case against Minister
Chandigarh, March 10
The Election Commission (EC) will not seek a forgery case against Punjab Local Bodies Minister Anil Joshi in the dual vote case. It is reportedly satisfied with the complaint filed against him in an Amritsar court.
EC yet to hear of MLA's resignation
Chandigarh, March 10
The Election Commission has not received any report from the state government with regard to the resignation of Talwandi Sabo MLA Jeet Mohinder Singh, say sources.
Brahmpura holds meet in gurdwara, 'violates' code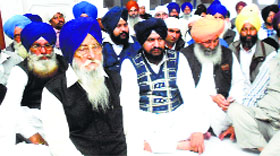 Amritsar, March 10
SAD candidate from Khadoor Sahib Ranjit Singh Brahmpura reportedly violated the model code of conduct by holding a meeting of party workers at a gurdwara at Baba Bakala yesterday.



SAD leader Ranjit Singh Brahmpura (centre) at a meeting at a gurdwara in Baba Bakala on Monday. A Tribune photograph

Govt gets police panel members, violates SC orders
Chandigarh, March 10
The Punjab Government has appointed chairman and members of the newly constituted Police Complaints Authority (PCA) by keeping in abeyance the selection process as laid down by the Supreme Court.
SI, wife found dead in Bhikhiwind
Tarn Taran, March 10
Sub-Inspector Jaswant Singh (48) with the Criminal Investigation Department posted at Bhikhiwind, and his wife Baljinder Kaur (45) were found dead under mysterious circumstances in their house here this evening.
Officer quits, to contest poll
Chandigarh, March 10
Arun Kumar Oraon, a 1992 batch Punjab cadre IPS officer, today took premature retirement.


HC pulls up Punjab for poor record on parole-jumpers
Chandigarh, March 10
The Punjab and Haryana High Court today observed that the situation of murder convicts jumping parole in Punjab was worse than Haryana.
Hardcore criminal sent to police custody
Abohar, March 10
Wanted in over 10 cases registered at Chandigarh, Mohali and Abohar, Lawrence Bishnoi of Dutaranwali village was today sent to two-day police custody.

Police acting under pressure: Assault victim
Jalandhar, March 10
A farmer of Kanon village in Nawanshahr, who along with his family was injured in an assault, has alleged that the police were favouring the accused, including his brother.
Couple killed in mishap
Abohar, March 10
A couple died was killed in an accident on the Rawatsar mega highway in Hanumangarh district in Rajasthan last night. The deceased have been identified as Manoj Kumar and his Polish wife Salvia Polino.
Teacher found killed in tube well room, suspect booked
Hoshiarpur, March 10
The body of a physical education teacher was found hanging at a tube well room near Focal Point, Tanda, last night. His hands were tied behind his back.