Better Ludhiana/Rising pollution levels-II
Onus on us too, say residents
Ludhiana, March 10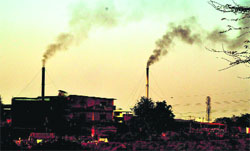 Ludhiana has the notorious distinction of being one of the most polluted cities in the country. The authorities concerned seem to be least bothered about the depleting green cover and increasing pollution levels. City residents, however, feel that instead of just blaming the authorities, they, too, should come together to address the problem.
Residents want the Municipal Corporation to take action against industrial units spreading pollution in Ludhiana. A Tribune Photograph
ludhiana votes 2014
CMís pictures on ambulances covered

Ludhiana, March 10
With the Model Code of Conduct being enforced in view of the forthcoming Lok Sabha elections, pictures of Chief Minister Parkash Singh Badal on the vehicles running under the 108 ambulance scheme have been covered by the state government.

With the code of conduct being imposed, a 108 Ambulance sans Chief Ministerís picture in Ludhiana. Photo: Inderjeet Verma

Units discharge effluents in sewerage
Ludhiana, March 10
Shutting their eyes to the problems of the city residents, certain industrialists of dyeing industry at Rahon Road have conveniently joined their dyeing-discharge pipes (industrial waste) with the sewerage of the MC in an illegal manner.
Arrange another blood donation camp: Donors
Mandi Ahmedgarh, March 10
Regular blood donors, who had to return disappointed without donating blood during a camp organised by the Social Welfare Organisation at the local Grain Market on Sunday, have urged the organiser to arrange a supplementary camp.
Schools in a fix over delay
Ludhiana, March 10
The Punjab School Education Board (PSEB) had issued orders to shut down schools running in less than 200 square yards, a few months back.
Medical colleges to have grading system soon
Ludhiana, March 10
The Medical Council of India (MCI) is planning to set up a grading system for as many as 381 medical colleges across the country.
Mid-day meal: Education Department gives grants for maintenance work
Ludhiana, March 10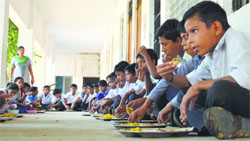 For the safety of the midday meal workers, school students and staff, the Education Department has issued grants to schools to get the fire extinguishers refilled and the cooking equipment repaired. An accreditation council for medical colleges will also be set up if the grading system comes into force. At present, only engineering colleges and other such institutes are graded by the National Assessment and Accreditation Council (NAAC), established by the University Grants Commission of India.
DC for better communication between police, civil officers
Ludhiana, March 10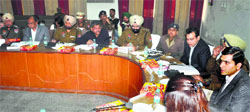 If any person is found carrying more than Rs 10 lakh, the police officer concerned must report to the Income Tax Department. However, any amount more than Rs 50,000 should only be seized if criminality is established and all the details about the cash are gathered.
DC Rajat Aggarwal addresses a joint meeting of police and civil officers. Photo: Inderjeet Verma
30,000 new voters fill in Form VI
Ludhiana, March 10
Deputy Commissioner Rajat Aggarwal, who is also the District Electoral Officer, said that as many as 30,217 persons have filled in the Form VI to get registered as voters during the special camps held at all the booths yesterday.
Labourers demand minimum wages
Ludhiana, March 10
The Indian National Trade Union Congress (INTUC) today burnt the effigy of Punjab government during a protest at Aarti Steel in the Sherpur area. A large number of labourers, led by INTUC district president Swarn Singh, raised anti-government slogans. They demanded minimum wages of Rs 10,000 a month for the industrial labourers.
50 head of cattle die at Gaushala
Jagraon, March 10
More than 50 head of cattle, including a large number of cows, died under mysterious circumstances at Shri Krishna Gaushala, Disposal Road, here today. Hundreds other are sick. Poisonous fodder purchased by the gaushala is suspected to be the reason behind the cattle deaths.
12 challaned for smoking in public
Ludhiana, March 10
The Health Department today issued 12 challans for smoking in public place under the Tobacco Control Act.
Mobile, SIM card recovered from jail inmate
Ludhiana, March 10
A mobile phone, SIM card and two mobile batteries were recovered from a jail inmate during a routine checking at the entrance to the Central Jail here yesterday. The Division Number 7 police have registered a case against the jail inmate, identified as Satish Kumar.
Youngster done to death for Rs 120
Ludhiana, March 10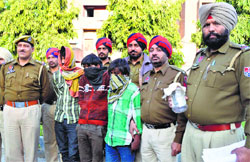 Police investigation has revealed that Harvinder Singh, alias Ghati (21), was murdered by three persons for only Rs 120. Harvinder was stabbed to death by three persons in the Khajur Chowk area of Salem Tabri here last night.



Accused in police custody at the Salem Tabri police station in Ludhiana on Monday. Photo: Inderjeet Verma
Notorious criminal again escapes from police custody
Ludhiana, March 10
Notorious criminal Rajiv Raja once again escaped from police custody. Raja, apart from being involved in the murder of Rajesh, owner of Raghav Jewellers, had led a gang that killed another jeweller Darshan Singh and his wife Paramjit Kaur in their house on July 4, 2006. He was also involved in the murder of Jaswant Rai in July 2005.
Bag containing Rs 12 lakh stolen from car
Ludhiana, March 10
A thief stole a bag containing about Rs 12 lakh and some important documents from a car parked near the Miller Ganj police post this morning. The car was parked outside the Punjab and Sind Bank branch.
2 held with smack, poppy husk
Samrala, March 10
The Samrala police claimed to have recovered 15 gm of smack from a woman and 8.5 kg of poppy husk from another woman in separate incidents and arrested them.
6 two-wheelers impounded
Ludhiana, March 10
The tehbazari wing of the MC impounded over half-a-dozen two-wheelers parked haphazardly outside Krishna Charitable Hospital, Model Town, here today.
Missing manís body found
Ludhiana, March 10
The body of an elderly person missing for the past 11 days was recovered from Budha Nullah in the Kundanpuri area today. The deceased, Gurdeep Singh (65), resided in the Peeru Banda area of Salem Tabri and ran a shop on a bridge over Buddha Nullah.
ASI accused of selling parts of confiscated vehicles
Jagraon, March 10
An Assistant Sub-Inspector (ASI) deployed with the Sidhwan Bet police has been accused of removing and selling the tyres, rims and some other parts of two tractor-trailers confiscated by the police from two brothers under the Mining Act.


HC slaps Rs 10,000 fine on MC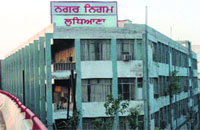 Ludhiana, March 10
For its failure to produce the pending challan assessment schedule from 2008-09 to 2011-12 before court in a proper manner, the Punjab and Haryana High Court today slapped a fine of Rs 10,000 on the Municipal Corporation.
While the civic bodies of Amritsar and Jalandhar submitted their challan schedule in a proper manner, the Ludhiana MC failed to do so during the hearing on Monday. A file photo