Why Crimea is vital to Russia
The situation in Crimea indicates how the western powers continue to provoke Russia. They are seeking to expand NATO to Russia's doorstep
Ramesh Thakur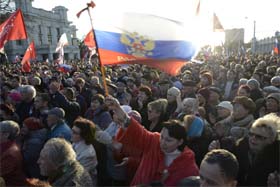 Pro-Russian demonstrators take part in a rally in the Crimean town of Yevpatoria. The West is looking at Russia's move in Crimea as a global military challenge
Let us conduct two thought experiments. First, hard as it is, let's imagine Vladimir Putin is a committed democrat and Russia is a fully consolidated democracy. Given its history and geopolitics, the place of Kiev in Russia's cultural and national identity, and the strategic importance of Crimea for Russia's security, would a democratic Putin and Russia have reacted differently to the challenge to core interests posed by recent Ukrainian developments?
Not a chance. Now imagine — this is less hard — that instead of the wimp Barack Obama as caricatured by the testosterone-fuelled right-wing American hawks, the US President was their hero Ronald Reagan or even Richard Nixon. Could/would they have confronted a heavily nuclear-armed Russia's move to retake Crimea ("gifted" to Ukraine voluntarily by Soviet leader Nikita Khrushchev in 1954) any differently?
Nyet, nada, not a chance. We need not even guess on this one — NATO was equally impotent in Hungary 1956, and then again in Czechoslovakia in 1968. As Mahatma Gandhi warned, an eye for an eye will leave the whole world blind. However it turns out, this is not the West's fight to lose.
Which suggests we should take a deep breath and calm down. The crisis is a perfect illustration of the ancient dictum by Thucydides in the fifth century BC: The strong do what they can, the weak suffer what they must. It does not portend a new Cold War. Such talk is beyond foolish. There is zero prospect of Russia re-emerging as a global military challenger to the US anytime soon; posing an ideological challenge to democracy; or resurrecting the command model of socialist economics to counter today's dominant market principles.
Russian reaction
In terms of classical realism and balance-of-power politics, Ukraine's actions were dangerously provocative to its great power neighbour; Russia's reactions were entirely predictable in its core sphere of influence; and America's impotence neither reflects its true power nor is an authentic test of credibility or will to act when its vital interests are under threat. Australia's Tom Switzer makes the case in such classical realist terms ("Putin's side of history," The American Conservative, March 5), as well as the old war horse Henry Kissinger ("How the Ukraine crisis ends," The Washington Post, March 6). Harvard University's Stephen Walt writes: "tough-minded realism is a better guide to foreign policy than liberal idealism or neoconservative bluster" ("No contest," Foreign Policy, March 3).
As Kissinger remarked when the Argentine junta foolishly invaded the Falkland Islands in 1982, a great power does not retreat forever. Russia is a traditional European great power that was comprehensively defeated in the Cold War. The West has treated it as if it had been militarily defeated and conquered. Instead it reacts like a wounded great power when NATO expands its borders to the limits of Russia's territory, betraying Moscow's understandings on the terms of its acquiescence to Cold War defeat. Putin has described the dissolution of the Soviet Union as the last century's greatest geopolitical disaster. We rubbed its nose repeatedly in the dirt of its historic Cold War defeat, blind to — nay, disdainful of — its interests and complaints. Now we act surprised that it carries a grievance and resentment, and reacts like any great power would when we engineer a coup in its front garden to oust a democratically elected leader because he is pro-Russian?
Of course, great powers can no longer ride roughshod over other countries' sovereign rights and a robust norm has developed against wars of aggression. But the West's position is even weaker normatively in confronting Putin over his move into Crimea. UN Secretary-General Kofi Annan warned Washington that the 2003 illegal Iraq invasion risked opening the Pandora's box of unilateral aggressions. Some of us warned — in the pages of The International Herald Tribune, no less ("Let's decide what kind of world we want," April 17, 2003) — that the Iraq war risked moving the world from the rule of law to the law of the jungle. I then asked: "Saddam Hussein is insignificant. The real issue is: What sort of world do we wish to live in, who do we wish to be ruled by, and do we want to live by rules and laws or by the force of arms?"
John Kerrey declares in the 21st century, you cannot just invade countries on a "completely trumped-up pretext." This from the Secretary of State of a country that did exactly that without the excuse of vital security interests being under threat to a country on the other side of the world; and from a man who voted for that war (having voted against the fully justified Gulf War I and who more recently described the military coup in Egypt as a restoration of democracy). So much for satire. It's tempting to say of him that he is preparing to mount the charge of the lightweight brigade.
How the West sees it
When Washington and London warn that acts of aggression have costs and consequences, they should first hold a mirror to the recent history of their own countries: self-parody trumps self-righteousness. The US and NATO examples of unilateral use of force, generally at a considerable distance from home shores, are at least as many and often much more clearly aggressive rather than defensive, as the history of Russian acts of aggression against other countries.
In terms of provocations, justifications, the killings unleashed, etc., US condemnations of Russia betray rank hypocrisy and double standards. Ukraine's previous president was legitimately elected; the notorious "f… the EU" taped comment from Assistant Secretary of State Victoria Nuland proved US interference in Ukraine's internal politics to replace the elected president through street protests; the new government did pass measures stripping Ukrainian ethnic Russians of key minority rights; Crimea was part of Russia in the not too distant past; it is a strategic lifeline for a major power; etc. By contrast, no conceivable way was Iraq in 2003 a threat to vital US (or UK and Australian) interests and people.
Worse, when Yugoslavia began to disintegrate after the Cold War, Europe insisted on the right of its provinces to self-determination and quickly recognised their independence. When Kosovo, part of Serbia since the Middle Ages, wanted to secede, NATO bombed Belgrade into submission. Crimea was part of Russia since the reign of Catherine the Great. By the logic of the Balkans in the 1990s, if Ukraine resists Crimea's wish to reunite with Russia, NATO should be bombing Kiev into submission? Or perhaps Putin should go one better than an op-ed in The New York Times and quote Shakespeare's Shylock to Obama: "The villainy you teach me, I will execute; and it shall go hard but I will better the instruction."
India's position
Threats of sanctions are also curious. Economic exchanges with Russia are not acts of charity but reflect market efficiency. Sanctions will introduce distortions and thereby impose costs on us also. Indians have a tendency to threaten self-harm (e.g. fast to death) if their demands de jour are not conceded; I did not realise the tactic was spreading to the West. Similarly, how exactly does it profit us if we suspend collaboration with Russia in jointly guarding the vessel that destroys Syria's deadly chemical arsenal? "There is a pleasure sure in being mad, which none but madmen know."
If the test of policy is not how it starts but how it all ends, as Kissinger reminds us, the most critical factor for the Asia-Pacific is what lessons China reads into all this. It has already given hints that going by US precedents, a first-rate power uses international law to enforce compliance on others but dismisses legal restrictions on its own behaviour as of no consequence. The West has lost the capacity to lay down the law to all others, flout global rules whenever it suits its interests or whim, and dare everyone else to notice. The sooner we return to the belief that the world is better if all countries, even great powers, must be subject to the rule of law, the better.
Meanwhile, in Ukraine, all parties should heed Kissinger's sage advice. Neither side domestically or externally should seek to dominate the other faction, but act on historical perspective and strategic logic to compromise, share power, and let Ukraine be a bridge between two worlds.
Westerners are always eager to offer themselves as mediators in conflicts around the world that they often aggravated as colonial rulers, from South Asia to the Middle East and across Africa. India rejects militarisation of disputes and conflicts, promotes political resolutions through diplomatic talks, works to soften the West's interventionist impulse in the internal affairs of independent states, and is strongly opposed to infringements of territorial integrity and sovereignty (including NATO's war in Kosovo in 1999 and Iraq in 2003). It also has a better record than any country, bar none, when it comes to functioning institutions of power sharing and accommodation and respect for electoral outcomes, so that all key groups in the country share a stake in the political order. For all these reasons, India is well placed to offer its good offices to help defuse East-West tensions in the Crimea. What it has traditionally lacked is the institutional capacity to connect national aspirations of great power status to global leadership in solving conflicts and other problems, including foreign ministers with the requisite vision and skills.
— The writer is professor in the Crawford School of Public Policy, Australian National University.
Fact file
The peninsula of Crimea in southern Ukraine is at the centre of what is being seen as the biggest crisis between Russia and the West since the Cold War.
The crisis in Crimea began when nearly 11,000 soldiers loyal to Russia took control of the peninsula and obstructed Ukrainian bases.