OPED —

Women
Women claim rights in khap land
The changed political economy of Haryana, resulting in enormous increase of the land prices, has brought a rethink about property rights among women. They are claiming share in the inheritance of their natal family
Prem Chowdhry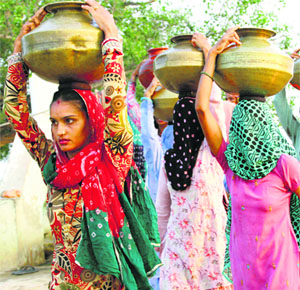 Moving ahead:

Leaving behind the veil and restraint to claim their rights
Unacknowledged and unnoticed, a heartening change is surfacing among rural women of Haryana. They are now quietly claiming their inheritance and share in the property for which the government had given them equal legal rights — at par with the males. The projected image of veiled women, walking three steps behind their men is on its way to get transformed. In this connection my recent field work threw up surprising results.
The male oriented customary practices sanctified in law by the colonial government safeguarded the land and property in the patrilineal line of descent. After independence there was a total reversal to this practice. The Hindu Succession Act of 1956 legally established equality between males and females in inheritance and property. It evoked sharp resistance among men whose interests were affected. Women too appeared to resist the implementation of the enabling law, as the reigning ideology, culturally and morally had kept them excluded from inheriting property for a long period. With the passage of time there emerged an increasing visibility of cases wherein women demanded their share and in many instances also succeeded in getting it. Significantly these changes have occurred not only among women, the opinion among men has also been fractured on the issue, paving way for change in the cultural patterns, though not without public censure and protest and even violence in some cases.


Lifting of the veil

The percolation of economic freedom is also witnessed in other fields. Many women members of the panchayats have given up the ghunghat( veil).


The reaction to all these changes has been extreme insecurity felt by the male populace, who have become more anxious to control women.


The consolidation of regressive traditional forces in the form of khap panchayats and their renewed efforts to do away with the laws that have given property rights to women are crucially related to such changes.
What triggers this change?
This change is located in the changed political economy of today, the enormous increase of the land prices in Haryana has brought a rethink among women about claiming their share. The mammoth growth in the number of towns and a three folds increase in urban population since the creation of the state in 1966, accompanied with inclusion of 7 districts out of 19, containing 41.21 per cent of the total population of Haryana in the National Capital Region (NCR), is the basic factor triggering this change. These areas have seen massive escalation in land prices. Land around major NCR towns in Haryana, like Panipat, Sonipat, Rohtak, Bahadurgarh, Rewari, Gurgaon, and Faridabad, has enormous price tags due to demands of urban residential, commercial and industrial expansion. Also in NCR villages one acre of cultivable land in 2013-14, is estimated to approximate to a crore of rupees, if not more; the cost of this land was less than a thousand rupees in 1966. This land and income hunger is reinforced by the rising social expenditure, along with the growing demands of a new generation with a taste of urban life and consumerism.
If not land, share money
My recent field work showed how some women may still write off or feel compelled to write off their land rights but they are now demanding a share in the sale of the land which has brought huge economic returns in the NCR region. In village Baniara of Rohtak district, for example, which falls under the 'acquisition of land' plans of the Haryana government there has been an unprecedented rise in the price of land. These highly attractive commercial prices have reportedly elicited a response from females resulting in about 10 to 15 married women in this single village to stake their claim for their share in the money which their brothers/fathers have received from the sale of the land. Many women are known to have already received this money. However, there is a shroud of silence regarding this exchange as there continues to be social censure of all such demands. The concerned parties are wary of admitting that they have had to accommodate the demands of the female members of the family.
There are other female claimants who are not willing to accept expensive gifts, jewellery etc, in lieu of their share, as being offered by their natal males. In fact, if refused, they are quite willing to move the court to claim their share. Apparently, there is resentment among girls born out of the growing awareness, education and enlightened self-interest for being deprived of their legal rights. One girl pertinently inquired: "Why should my father discriminate between me and my two brothers?" She complained that both her brothers were unemployed. Yet, they were still "enjoying themselves on this money."
There are yet other women who ask for their share of land and wish to exercise their option of selling or retaining the land. A steadily growing class of women is claiming their share after several years of not claiming it and despite there being a male heir. In fact, in one case such a demand was made nearly forty years after the marriage and in another after twenty years. In many cases the women concerned initiate their rights only when they find it difficult to make two ends meet. But the brothers show their resentment by cutting off all relations with them. In some cases one sister claims her share, but the other one does not, showing a split of opinion among the females of the same family.
Progressive moves
In some instances the father divides the property equally between his son/s and daughter/s. Such cases are vehemently denounced by the male siblings, but they have had to accept this arrangement. In other cases the mothers have sided with their daughters and have even opted to stay with them. Such a move, even though against traditional norms, has had a very positive fallout effect on the status and value of females; from being considered a total burden they are now, in many cases, being looked upon more benevolently. Such a change has proved to be good for both the mother as well as the daughter. It leads to the mother being made comfortable and the daughter gaining access to the mother's share and her pension and other benefits. Such moves have of course further alienated the male siblings.
In other cases, the divorced daughters are also no longer left on their own as earlier, but accommodated back by the parents into the fold of the natal family and become part takers in the family income. The rural society is also on its way to accept a significant breach in the time-honoured tradition of patrilocality by relocating the husband in the natal village of the wife, allowing and accepting the daughter and her husband to take over the ancestral property.
Matriarch in patriarchy
Property acquisition by women in some of these cases has meant a de-facto female-headed household. In a complete role reversal the entire agricultural work from sowing and harvesting onwards to the selection of crops and marketing, including that of household and animal husbandry, are being performed by them. This is especially visible in the growing nuclear families, or in cases where the husband may have migrated or is working out side the village or is stricken with some illness. This can only be termed as a major change -and a pro-woman one.
These examples underline the changes regarding property rights surfacing not only among women but also among certain men, facilitating females claiming their rights. This attitude and action of the patriarch in sharing the property equally between his sons and daughter as well as the support and encouragement offered by the conjugal family to the daughter-in-law to claim her share indicates a split in the male opinion as well as in patriarchy itself-a factor that is likely to prove to be of tremendous asset to women in the years to come. This 'male support' against 'male opposition' has certainly strengthened women's hands, position and determination. There are of course also women who are moving on their own, without any support from the male members, showing more agency and independence. Such women are setting healthy precedents for others to follow.
Disturbing sibling equation
Importantly, the general information available in the villages suggests that in case of the death of the patriarch, the Patwari automatically registers the ancestral land in the name of the survivors, be it a girl or a boy. It is only after this first step that the girl legally writes off her property to her brother/s. In defiance to this traditional behaviour, the girls are now 'extremely reluctant' to transfer this land. The exact words used are: "latkaye rakhti hain" (they keep on dithering). Women are fully aware that such actions are 'driving a wedge between them and their brothers'. It is ironical that a sister to keep 'good relations' with her brother must relinquish her share of property or the famed brother-sister love is all but extinguished.
The money available to a woman through direct inheritance or by the sale of land inherited by her is thoughtfully spent, underlining her economic acumen and initiative. It is invested well like in building a pucca house in place of a kachcha one, setting up a small business venture, often it goes towards the purchase of milch cattle for the sale of milk. The income generated is used for the entire family. The decision to spend this money lies in woman's hand, though she may have to somewhat struggle to hide or preserve this money, from a possible unemployed and alcoholic husband, for implementing her decisions.
The claiming of her share changes the quality of her life and that of her family members for the better. It also leads to a woman assuming a position in which she is not a mere drag on house-hold resources, as generally considered, but an active contributor, having become an earner from a non-earner. As a contributor she exercises her freedom to take both individual and joint decisions. Recent research has also shown the lessening of domestic violence in such cases, as she comes into her own she can be seen as openly defying marital violence refusing to take it in her stride as she had done earlier.
A well-known scholar of gender studies, the writer has authored several books including The Veiled Women: Shifting Gender Equations In Rural Haryana and Gender Discrimination in Land Ownership.