RSS people killed Gandhi: Rahul
Bhiwandi, March 6
Congress vice-president Rahul Gandhi today took on RSS, blaming the outfit for assassination of Mahatma Gandhi. He also ridiculed senior BJP leaders for claiming credit for introducing computers in India. "RSS people killed Gandhiji and today their people (BJP) talk of him...They opposed Sardar Patel and Gandhiji," Rahul said at a rally here in Thane district. The Congress leader attributed technological advancement in the country to late PM Rajiv Gandhi and technocrat Sam Pitroda. — PTI
Notice to Jaypee Co. over sale of Kinnaur hydel projects
Shimla, March 6
The Himachal Pradesh Government has served a notice to the Jaypee group, seeking an explanation for not taking it into confidence before entering into a sell-off deal with an Abu Dhabi-based company on its two hydro-power projects in Kinnaur.
HC lifts stay, 'Gulaab Gang' to hit theatres today
New Delhi, March 6
The Delhi High Court on Thursday cleared the release of Hindi movie 'Gulaab Gang', reportedly based on the life of activist Sampat Pal, who formed the Gulabi Gang, a group of pink sari-clad women vigilantes in Uttar Pradesh.
Sub mishap: MoD must spend wisely, says PC
New Delhi, March 6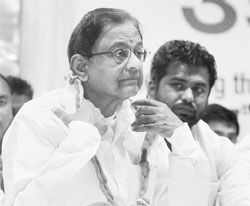 Against the backdrop of the recent submarine mishap, Finance Minister P Chidambaram today suggested that the Defence Ministry was not spending funds "wisely" enough and contended the maintenance of the military assets was being neglected. He insisted that the Finance Ministry provides "a lot of money" to the Defence Ministry and "I sincerely hope that the defence forces will learn a lesson and make sure that the money allotted to them is spent more wisely and more efficiently on essential matters."
Union minister P Chidambaram at the NSUI National Convention in New Delhi on Thursday. PTI


Kejriwal violated poll code: Dist collector
Ahmedabad, March 6
Aam Aadmi Party covener Arvind Kejriwal today "apologised" for the alleged violent behaviour of his party workers in Delhi and some other places. The Gujarat chief electoral officer Anita Karwal visited Patan to ascertain the circumstances leading to Kejriwal's "detention" that triggered clashes.
China on mind, India discusses maritime ties with Lanka, Maldives
New Delhi, March 6
India today hosted the 3rd National Security Adviser (NSA)-level dialogue on maritime security cooperation with Sri Lanka and Maldives, a forum set up by New Delhi to counter China's bid to spread its strategic footprint in the Indian Ocean region.
Dehradun prof enters Guinness Book
Dehradun, March 6
A professor of a city-based university set a world record on Thursday by delivering a marathon non-stop lecture that lasted over 130 hours. Arvind Mishra, assistant professor at Graphic Era University here, entered the Guinness Book in the 'longest non-stop lecture' category by beating the previous record held by Errol Tapiwa Muzawazi. The Polish law student had lectured for 121 hours at a stretch at the Jagiellonian University of Poland in 2009.
Hospitals overcharge ECHS Rs 20 crore in three years
Chandigarh, March 6
The audit of financial records by the Defence Accounts Department (DAD) has revealed that irregularities in payments to private hospitals under the Ex-servicemen Contributory Health Scheme (ECHS) of over Rs 20 crore over the past three years.
Spying case: SC upholds dismissal of Army officers
New Delhi, March 6
The Supreme Court today upheld the dismissal of 13 Army officers in 1980 for acting as Pakistani spies in the 1970s, observing that the termination orders were not without any material against them.
US pushes for better India-Pak trade ties
New Delhi, March 6
Days ahead of the Indo-US energy dialogue, Washington today asked New Delhi to normalise trade with Pakistan to promote greater connectivity and in the larger interest of peace in the region.
'Delhi most unsafe for women travellers'
New Delhi, March 6
Delhi has been pegged as the most unsafe city in the country, for the second time in a row, by women travellers, a recent survey has found. Delhi retained its notorious reputation as the most unsafe city amongst the top 10 Indian cities polled with 95 per cent respondents expressing the opinion as opposed to 84 per cent in 2013, according to a survey by travel portal TripAdvisor. Kolkata and Jaipur were ranked second and third most unsafe cities respectively with 64 per cent and 53 per cent votes each. — PTI
Noted lawyer KTS Tulsi sworn in as Rajya Sabha member
New Delhi, March 6
Noted lawyer KTS Tulsi was today sworn in as a member of Rajya Sabha by Vice-President Hamid Ansari. He was nominated to RS with effect from February 25. — TNS

Limca book awards 25 women
New Delhi, March 6
Twenty-five women including boxer Mary Kom, veteran actress Waheeda Rehman and social activist Aruna Roy were today awarded by the Limca Book of records on its silver jubilee. — PTI