Code violation: FIR registered
Chandigarh, March 11
The Chandigarh police today registered an FIR against unknown persons on the directions of the District Magistrate-cum-Returning Officer for the Chandigarh parliamentary constituency, Mohhamed Shayin.

AAP offers ticket to Gul Panag
Chandigarh, March 11
After Savita Bhatti, wife of the late Jaspal Bhatti, refused to contest the coming Lok Sabha elections on the Aam Aadmi Party (AAP) ticket from the Chandigarh seat, the party has reportedly offered the ticket to Bollywood actress Gul Panag.
Gul Panag
Only three top IAS officers, Mayor, IGP can use red beacon
Chandigarh, March 11
Now only three IAS officers, the Mayor and the IGP are authorised to use the red beacon atop their official vehicles. According to a new notification issued by the UT Administration, the UT Adviser, Home Secretary, Finance Secretary, Mayor and the IGP are authorised to use the red beacon.


Chandigarh votes 2014
Cong to name candidate today
Chandigarh, March 11
Two main political parties - the Congress and the BJP - will announce the names of their candidates for the Lok Sabha elections on March 12 and 13, respectively.
BJP connects with youth on 'WhatsApp'
Chandigarh, March 11
To connect with the youth and first-time voters, the BJP has now expanded its digital campaigning. Besides, using social media like Facebook and Twitter, the party is now also using 'WhatsApp'. The BJP city unit president, Sanjay Tandon on Tuesday had an interactive session with city youngsters on WhatsApp where he was asked various relevant questions.
Department takes to catchy slogans to encourage young voters
Chandigarh, March 11
"Youth Chala Booth" and "We are committed to each other for voting too" a slogan for young couples committed to each other are some of the catchy slogans the UT Election Department has come up with to encourage youngsters and professionals to exercise their right to vote. As many as 55.99 voters come under these categories in the city.
Traders oppose project
Mohali, March 11
The introduction of paid parking facility by the Municipal Corporation here ran into rough weather on the very first day with shopkeepers resisting the execution of the project by the contractors' employees.



Shopkeepers gather to oppose paid parking at the Phase V market in Mohali on Tuesday; and (below) barricades that were removed by shopkeepers at the Phase X market. Tribune photographs
MC impounds abandoned vehicles
Chandigarh, March 11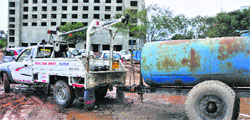 The enforcement wing of the Municipal Corporation (MC) today cleared the parking area in Industrial Area Phase II by impounding the abandoned vehicles there.

An abandoned water tanker being taken away by the enforcement wing of the Municipal Corporation, Chandigarh, from the Industrial Area, Phase II, on Tuesday. Tribune photo: S Chandan
Don't ignore high BP, your kidney may be at risk: Experts
Chandigarh, March 11


Identifiable and direct symptoms of chronic kidney disease (kidney failure) appear only when 70 per cent of the organ has already been damaged.

Kidney donors during a press conference in Chandigarh on Tuesday. Tribune photo: Manoj Mahajan
Need to fix minimum wages for employees, says minister
Chandigarh, March 11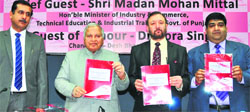 In order to increase the number of employable professionals according to industry needs, admissions to higher secondary education and above levels should be offered on the basis of aptitude test scores.
Madan Mohan Mittal (second from left) Minister for Industry & Commerce, Technical Education & Industrial Training, Punjab, releases the skill gap study report during a seminar at the CII, Sector 31, in Chandigarh on Tuesday. Tribune Photo: S Chandan
Political notes
Cong's padyatra
Students found using fake ID cards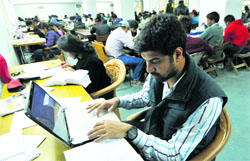 Chandigarh, March 11
With the beginning of examinations at Panjab University, the cases of students from outside using fake ID cards to enter AC Joshi Library are increasing.




Students of Panjab University study at AC Joshi Library on Tuesday; and (right) fake ID cards. Tribune Photos: Pradeep Tewari
Students given warm send-off
Chandigarh, March 11
The Department of Computer Applications of the Post Graduate Government College for Girls, Sector 11, organised a farewell party, "Alvida Angels", for the outgoing students of Postgraduate Diploma in Computer Applications and Bachelor of Computer Application (BCA)-III today.
Management institute holds admission test
Chandigarh, March 11
International Management Institute (IMI), New Delhi, conducted an admission round here. The test was conducted for admission to the Chandigarh centre.
Desh Bhagat Group chairman interacts with foreign dignitaries
Chandigarh, March 11
Dr Zora Singh, chairman, Desh Bhagat Group, and Chancellor, Desh Bhagat University, attended the Partnership Summit-2014 in Bengaluru. It was organised by the Confederation of Indian Industry (CII) in collaboration with the Department of Industrial Policy and Promotion of the Ministry of Commerce and Industry of India, the Government of Karnataka. Over 1,000 delegates from 45 countries converged in Bengaluru for the CII's Partnership Summit.
Expert dwells on legal education
Chandigarh, March 11
Many senior professors, lawyers and judges have not opted for the legal profession by choice, but by chance. But the present generation is opting for this profession by choice; therefore, there are more expectations from law teachers. This was stated by Professor Ranbir Singh, Vice-Chancellor, National Law University, Delhi, today.