Unkept election promises have Bajwa on back foot
Gurdaspur, March 13
The disinclination of sitting MP and PPCC president Partap Singh Bajwa to recontest the Gurdaspur seat has its genesis in the fact that "little or no developmental works" were initiated in the constituency during his tenure.
Fearing dissent within, Akali Dal defers induction of 3 Cong MLAs
Chandigarh, March 13
The three Punjab Congress MLAs, who were supposed to switch over to the ruling Shiromani Akali Dal (SAD), have been shown the red light, at least for now.
'Gunda tax' is royalty, say crusher owners
Ropar, March 13
The crusher owners of the district have said 'gunda tax' was in fact royalty being paid to the contractors, who had bid to mine at the quarries of the district. They further said the contractors' only offence was that they collected royalty on the roads instead of at the mines that are the designated areas for collecting royalty on raw material.
Hundreds of wheat bags rot in rain at Moga's Kot-ise-Khan
Moga, March 13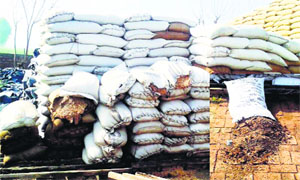 Hundreds of wheat bags stored in the open at a storehouse of the Punjab Agro Foodgrains Corporation (PAFC) at Kot-ise-Khan town in Moga district had got damaged in the unprecedented rains that lashed the region a couple of days back.

Wheat damaged in the recent rain at a storehouse in Kot-ise-Khan in Moga district. Tribune photo

We won't be bribed this time: Brick kiln workers
Sangrur, March 13
Former legislator Tarsem Jodhan today launched a campaign to urge brick kiln workers not to accept liquor, poppy husk and drugs distributed by politicians in the run-up to the Lok Sabha elections.
CEO forces Cong to cancel Hola Mohalla conference
Ropar, March 13
Following the directions of the state Chief Electoral Officer (CEO), the Congress has decided not to hold a political conference at Anandpur Sahib during Hola Mohalla on March 16. The Shiromani Akali Dal (SAD), however, said it would go ahead with its plan to hold the conference as per schedule on the SGPC grounds near Takht Keshgarh Sahib.
EC mulls free transport on polling day
Chandigarh, March 13
The Chief Electoral Officer (CEO) has written to the state Transport Department suggesting it to offer concessional fare for bus travel on the day of polling.
Mum's the word in Badal village
Badal (Muktsar): While the electoral contest between Harsimrat Kaur Badal (SAD) and her brother-in-law Manpreet Badal (PPP-Congress) has become a hot topic for discussion in Malwa, nobody is ready to speak on the issue in the duo's native Badal village. Fearing the wrath of either of the families, the voters are silence on who would they be supporting in the elections to the Bathinda parliamentary constituency. Harsimrat is the sitting MP.
Six burnt to death in R'sthan vehicle crash
Abohar, March 13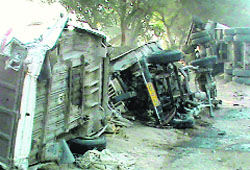 Six occupants of a Bolero jeep were burnt alive after their vehicle caught fire in a mishap involving three vehicles near Rojari village, 20 km from Gharsana, in Sriganganagar district of Rajasthan today. The driver of a pickup van was also killed, while both of its passengers were critically injured. The driver and cleaner of the third vehicle, a trailer laden with bricks, sustained minor injuries.
Mangled remains of vehicles involved in an accident in Sriganganagar district on Thursday. A Tribune photograph

Copying not allowed, student's relatives thrash woman teacher
Faridkot, March 13
A woman teacher was allegedly thrashed by the relatives of a Class IX student after she objected to his copying in the annual examination at Government High School in Sukhanwala village of the district today.
Trouble for Singla as ex-MLA plans to contest as Independent
Sangrur, March 13
The Congress today suffered a setback when Surjit Singh Dhiman, a two-time former legislator from Dirba, today announced to contest as an Independent candidate. However, he has made this announcement without resigning from the party.
UK body comes to aid of illegal migrants
Jalandhar March 13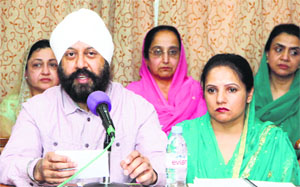 The Sikh Council, UK, has started a "voluntary return scheme" to rescue illegal Punjabi immigrants in the UK. It has already rescued 30 such persons since November last year. Under the scheme, the council arranges air tickets, coordinates with the British Government and gets the identification of immigrants done from the Punjab Government.
Representatives of the Sikh Council, UK, at a press conference in Jalandhar on Thursday. Photo: Sarabjit Singh

Rajasthan Sikhs accuse Jathedar of 'violating' edict
Amritsar, March 13
A group of Sikhs from Rajasthan under the banner of Bhai Bulaka Singh Sangarsh Morcha, Budha Jauhad, today accused Akal Takht Jathedar Giani Gurbachan Singh of accepting a "siropa" from a person who was declared "tankhaiya" (guilty of religious misconduct) by the Jathedar.
Forest Dept to crack down on timber mafia
Chandigarh, March 13
To tighten noose around the timber mafia active on the border of Punjab and Himachal Pradesh, especially in the kandi belt, officials of the Forest Departments of both states have chalked out a plan. The officials have decided to exchange of information regarding the route taken by smugglers using the Global Positioning System (GPS) and vehicles involved in the smuggling every fortnight.
Parents protest SAD leader's bid to take school's possession
Ferozepur, March 13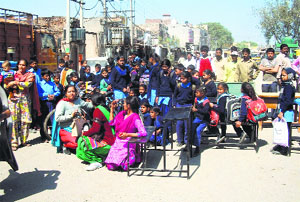 Armed with court orders, senior SAD leader Harbans Singh Pallah, along with his supporters, today tried to take possession of Jubilee Primary School situated near the Zira Gate here. The children were forced out of the school and the furniture was dumped into a truck. However, before Pallah and his men could take the possession of the building, agitated parents and some local residents arrived and protested
Students and parents protest the vacation of a school in Ferozepur on Thursday. Tribune photo

HIV-infected mothers to get lifelong treatment from April
Ludhiana, March 13
The Department of AIDS Control will start lifelong treatment of HIV positive mothers under the Prevention of Parent to Child Transmission (PPTCT) of HIV/AIDS programme from April. The programme aims at preventing the transmission of the virus from an infected mother to her newborn.
Toll on Fazilka highway under HC scanner
Chandigarh, March 13
The alleged charging of double than the prescribed toll tax at Ferozepur-Fazilka road has come under the Punjab and Haryana High Court scanner.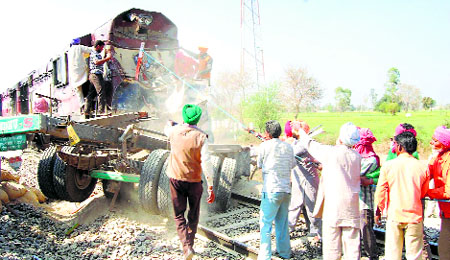 Deadly blow:

A truck driver suffered serious injuries when a goods train rammed into his vehicle at an unmanned crossing on the Bathinda-Jakhal link near Khokhar Kalan village in Mansa on Thursday. Tribune photo: Pawan Sharma
Man cleared of kirpan attack charges in UK
London, March 13
A British court has cleared a 60-year-old Sikh man of charges of allegedly attacking a drinker with a kirpan or ceremonial sword. Snaresbrook Crown Court Tuesday found Bagicha Singh not guilty of assaulting Pritpal Singh, 30, with the kirpan, the Ilford Recorder reported Thursday. Both the defendant and the victim are from Ilford in the Greater London region.
Man in NZ held guilty of rape
Wellington, March 13
A Sikh man in New Zealand has been found guilty of domestic violence and rape by a court. The man, from Hastings in the Hawke's Bay region of New Zealand's North Island, was held guilty by a jury at the Napier district court Wednesday on multiple counts of rape, assault and threatening to kill his wife in 2012, the Hawke's Bay Today reported Thursday. He cannot be named in order to protect the identity of the victim.
Serial killer gets life term for murder, sodomy
Hoshiarpur, March 13
The court of Additional Sessions Judge has sentenced a man to life term for killing a boy after sodomising him. Deciding the case in only 27 days, the court ordered that the convict, Pardeep Kumar alias Monu, will be imprisoned till death. The court termed him "serial killer".
Woman patwari caught taking bribe
Abohar, March 13
A Rajasthan Anti-Corruption Bureau (ACB) team today arrested a woman revenue patwari, Rajpal Kaur, for taking bribe at her official residence. ASP Prithvi Singh said Mohinder Bishnoi of Chak village had complained that Rajpal had demanded Rs 25,000 from him to transfer mutation in favour of kin after his father Jagdish Bishnoi's death.
Youth murders woman, attempts to end life
Abohar, March 13
A youth from Hanumangarh village in Rajasthan shot a girl dead and then attempted suicide by shooting himself.