Sukhbir flays EC move to limit atta-dal supply
Chandigarh, March 27
Deputy Chief Minister Sukhbir Singh Badal today accused the Punjab Congress of playing petty politics by "denying" the poor access to supplies under the atta-dal scheme. He said it was "unfortunate" that the Election Commission took heed of a "false" complaint.
No 'proof' of liquor at rally, clean chit likely
Chandigarh, March 27
Witnesses in a case of alleged liquor distribution at Deputy CM Sukhbir Badal's rally at Ghanaur on March 20 failed to turn up to depose before the probe officer. Sources said no witness would only mean a clean chit to the SAD.
Medical graduates cry foul
Chandigarh, March 27
There is resentment among MBBS doctors who have just passed out from various medical colleges of Punjab. They allege the state government has failed to ensure a quota for them in post-graduate (PG) streams.
Embassy moves Riyad court for youths' release
Hoshiarpur, March 27
The Indian Embassy at Riyad in Saudi Arabia has come forward to help the 38 Punjabi boys allegedly forced into bonded labour in the gulf nation.
Manpreet begins campaign in Lambi
Lambi, March 27
Congress-PPP candidate Manpreet Singh Badal today started his election campaign in the Lambi assembly segment, holding public meetings in villages. But his 'estranged' uncle, Maheshinder Singh Badal, skipped all the events of the day.
Won't allow Cong to open account: Badal
Tarn Taran, March 27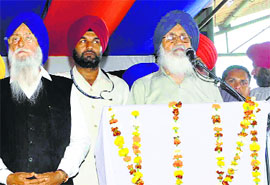 Chief Minister Parkash Singh Badal here today claimed the SAD-BJP alliance would "kill two birds with one stone" during the Lok Sabha elections by "defeating" all the 13 Congress candidates, including several senior leaders. Addressing a rally in support of SAD-BJP candidate from Khadur Sahib Ranjit Singh Brahampura, Badal said it was "childishness" on the part of the Congress to field all its senior leaders in a single election.

CM Parkash Singh Badal addresses a rally at Patti in Khadoor Sahib Lok Sabha seat on Thursday. Tribune photo

Cong's Dharamsot starts campaign
Fatehgarh Sahib, March 27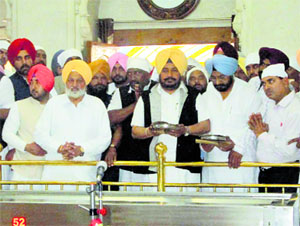 The Congress tried to put up a united show as its Fatehgarh Sahib candidate Sadhu Singh Dharamsot accompanied by four legislators from the reserved parliamentary constituency launched his election campaign by paying obeisance to historic gurdwara Sri Fatehgarh Sahib here today. Legislators Kuljeet Singh Nagra (Fatehgarh Sahib), Kaka Randeep Singh (Amloh), Gurkirat Singh Kotli (Khanna), Amrik Singh Dhillon (Samrala) and senior Congress leader Advocate Harnek Singh Diwana were among those present at the programme.
Congress candidate Sadhu Singh Dharamsot paying obeisance at Sri Fatehgarh Sahib before launching his election campaign on Thursday. Tribune photo

Bhattal for setting up campaign panel
Chandigarh, March 27
Opposing Capt Amarinder Singh's proposal on having a PPCC working president, former CM Rajinder Kaur Bhattal today said that a campaign and coordination committee should instead be set up.
Sidhu campaigns for Gadkari in Nagpur
Amritsar, March 27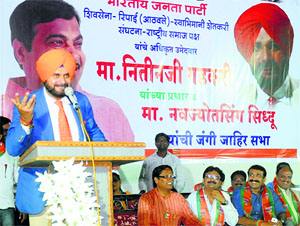 Amritsar Sitting MP Navjot Singh Sidhu visited Nagpur on Wednesday to campaign for former BJP president Nitin Gadkari even as the cricketer-turned-politician is yet to visit Amritsar after being denied the party ticket from the constituency. Sources said Sidhu had a day off in the ongoing T-20 World Cup in Bangladesh and so, he flew to Nagpur to seek votes for Gadkari. His move has now fuelled speculations as to whether he would come to Amritsar to campaign for Arun Jaitley, who has replaced him as the BJP nominee here.

Sitting Amritsar MP Navjot Singh Sidhu addresses a rally in Nagpur constituency on Wednesday. Tribune photo

Bhattal opposes Capt's acting chief proposal
Chandigarh, March 27
Opposing Capt Amarinder Singh's proposal on having a PPCC acting president, former Chief Minister Rajinder Kaur Bhattal today said a campaign and coordination committee should instead be set up.
Phillaur's son again fails to turn up before ED
Chandigarh, March 27
Damanvir Singh, son of Punjab Jails Minister Sarwan Singh Phillaur, failed to appear before the Enforcement Directorate (ED) for the second time today. He had been summoned for questioning in the Rs 6,000 crore synthetic drug racket.
SGPC passes Rs 905-cr budget for 2014-15
Amritsar, March 27
With focus on propagation of religion and promoting education, the SGPC today passed its annual budget of Rs 905 crore for the 2014-15 fiscal year, which is Rs 99 crore more then the last year's budget of the premiere Sikh organisation.
Police unearth Pakistan spy's modus operandi
Amritsar, March 27
The State Special Operations Cell (SSOC) today carried out raids at a Delhi-based company (Fax My Way) following the arrest of Lovedeep Singh, a clerk in the Army at Faridkot, on charges of spying.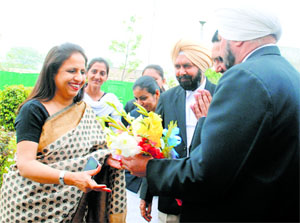 Justice Anita Chaudhary of the Punjab and Haryana High Court being welcomed in Muktsar on Thursday. She had come here to inspect the local courts and the district sub-jail. A Tribune photograph
Youth's arrest has Mann village in panic
Mann (Lambi), March 27
There is panic among families supporting Congress in Mann village as the police have again allegedly started nabbing some youths for last year's poll violence in the village.
Ladhar told to pay another Rs 6 lakh
Chandigarh, March 27 The Punjab Government has directed IAS officer SR Ladhar to pay another Rs 6 lakh so that the arbitration fee charged by him from farmers could be refunded.
Soni visits deras
Ropar, March 27
Congress candidate from Anandpur Sahib constituency Ambika Soni visited the deras here today. Accompanied by former minister Ramesh Dutt Sharma and former Ananpur Sahib MLA Rana KP Singh, Soni sought blessings of "sants" and their support in the elections.
State to be power-surplus this year: PSPCL
Patiala, March 27
Punjab State Power Corporation Limited (PSPCL) Chairman and Managing Director KD Chaudhri has said that declared that the state is going to be power-surplus this year with fiscal benefits reaching the domestic and industrial units.
spurious milk racket
Moga cops accused of shielding main accused
Moga, March 27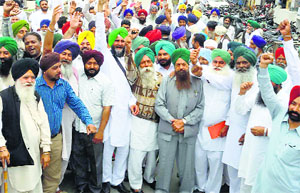 Members of the Bhartiya Kisan Union (Lakhowal) and workers of the ruling SAD today jointly protested against the Moga police and blocked the Moga-Amritsar national highway for more than an hour. They alleged that the local officials of the police were trying to protect the "main culprits" involved in spurious milk racket.
BKU and Akali workers block the Moga-Amritsar national highway to protest against the police at Kot-ise-Khan town in Moga on Thursday. A Tribune photograph

Police beef up security of VIPs
Ferozepur, March 27
The police have beefed up security of VIPs placed under the Z plus or Z categories after getting certain Intelligence inputs.
Arrested DSP has cops in tizzy
Ludhiana, March 27
The arrest of GS Bains, Mohali (City 1) DSP who also served as the Ludhiana CIA in charge, in a corruption case has sent the police department in a tizzy. Sources said Bains' grilling may lead to the arrest of several big guns in the department. A shrewd investigator, Bain had always remained a favourite among his seniors.
AAP man alleges frame-up in drug case
Gurdaspur, March 27
The Qadian police claimed to have busted a drug racket involving Balwinder Singh Mintu Bajwa, media in charge of Aam Aadmi Party candidate Sucha Singh Chhotepur. Bajwa alleged he was being framed at the behest of Akali leader Sewa Singh Sekhwan.
Tainted officer gets posting
Chandigarh, March 27
The state government today appointed tainted PCS officer TK Goyal as Assistant Commissioner (General) and Assistant Commissioner (Grievances), Gurdaspur. The officer, who was chargesheeted by the government for misconduct during discharge of his duty, had not been given any posting for the past few months.
Madrasa teacher held for rape
Sangrur, March 27
The police today arrested a teacher of a madrasa on the charge of 13-year-old student and molesting four other girl students on the madrasa premises in Malerkotla.
ITI official held in graft case
Abohar, March 27
A team of the Sriganganagar Anti-Corruption Bureau led by Assistant Superintendent of Police Prithvi Singh today nabbed Government ITI College Superintendent Prem Chand Yadav for taking a bribe. Yadav had demanded the bribe to recommend affiliation of a private ITI college located on the Sriganganagar-Srikaranpur road in Rajasthan.
Bodies of missing lovers found in canal
Abohar, March 27
The police have fished out bodies of two "lovers" from Lakhuwali headworks near Hanumangarh. They were missing since March 21. As the bodies were tied and there were no visible injury marks, the police prima facie believed that the deceased, Hoshiyar Singh and Anju Meghwal, had jumped into the canal near Maseetwala headworks and their bodies floated all the way.