Candidates exchange salvos
Chandigarh, March 27
As election mood simmers in the city, the candidates of the main parties in fray have started targeting each other in their speeches.



(1) BJP candidate Kirron Kher surrounded by women workers in Sector 28, Chandigarh, on Thursday(2) AAP candidate Gul Panag distributes langar during her election campaign outside the PGI in Chandigarh on Thursday; and Congress candidate Pawan Kumar Bansal canvasses in the Sector 28 motor market. Tribune photographs
Election manifestos useless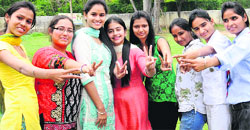 Chandigarh, March 27
Girl students of Sri Guru Gobind Singh College, Sector 26, are at a loss when they are asked about their expectations from manifestos of political parties. Tired of lengthy manifestos, the students believe there is no point in drafting a manifesto when the party doesn't fulfill the promises made therein.
(From left) First-time voters Ekta, Priya Gulati, Harpreet Saini, Harinder Kaur, Komal Garg, Ritu Kalyan, Supriya and Aarti at Sri Guru Gobind Singh College for Women on Thursday. Tribune photo: Manoj Mahajan




Medical examination finds Haryana Guv out of danger
Chandigarh, March 27
Haryana Governor Jagannath Pahadia and his wife Shanti Pahadia were rushed to the new OPD at the PGI at around 1 pm and underwent a thorough check-up after their aircraft crashlanded soon after take-off at the Chandigarh airport.



The Haryana Government's aircraft that crash-landed on a grassy patch near the runway of the Chandigarh airport on Thursday. Haryana Governor Jagannath Pahadia (inset)leaves the OPD at the PGI after a medical examination. Tribune photo: Pradeep Tewari
Flights delayed, cancelled due to crash-landing of plane
Chandigarh, March 27
It was a virtual shutdown at the airport, just few minutes after the crash landing of the plane, carrying Haryana's Governor, took place near the Chandigarh Airport here.
Avoid Sector 34 for 5 hours tomorrow
Chandigarh, March 27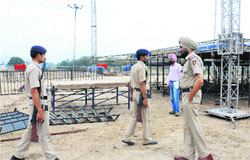 As the BJP leader Narendra Modi is set to address a rally of over 30,000 people in Sector 34 this Saturday evening, avoid all routes leading to the Sector from 3 pm to 8 pm.




Preparations underway for the Modi's rally at the Sector 34 ground in Chandigarh. A Tribune photograph
BJP making hi-tech preparations for Modi's rally
Chandigarh, March 27
City unit of the BJP is using Hi-tech methods to spread word about BJP's prime ministerial candidate Narendra Modi's 'Bharat Vijay Rally' to be held on March 29 at the Exhibition Ground, Sector 34.
69 polling centres hypersensitive, 24 sensitive
Panchkula, March 27
District Election Officer (DEO) Dr SS Phulia has declared 69 polling centres hypersensitive and 24 sensitive of the total 375 in the Panchkula and Kalka segments of the Ambala Lok Sabha seat.
'Made in Pak' show opens
Chandigarh, March 27
The sixth edition of 5-day 'Made in Pakistan' show, organised by Confederation of Indian Industry (CII), opened today, at Himachal Bhawan, Sector 28. CII has organised the show in association with Rawalpindi Chamber of Commerce.
Rare surgery performed at hospital
Chandigarh, March 27
A rare skull base tumour was recently operated at Ivy hospital by senior neurosurgeon Dr Vineet Saggar. Complete tumour removal was achieved and patient was discharged within few days. He was supported by plastic surgery team headed by Dr Rahul Goyal, which played a role in minimizing scars on face as approach to tumor of skull base required a facial incision.


PU delays decision on nod to semester system
Chandigarh, March 27
Due to the lackadaisical attitude of the Panjab University (PU) authorities in giving approval to the semester system for the undergraduate courses, the Academic Calendar Committee had to approve the old annual system for the next session today.
Meritorious students felicitated
Chandigarh, March 27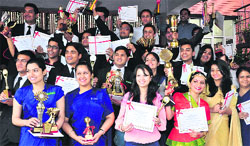 Dr Ambedkar Institute of Hotel Management, Catering and Nutrition celebrated its 24th annual day today.



Students in a cheerful mood after receiving prizes during the annual day function at
Dr Ambedkar Institute of Hotel Management, Catering and Nutrition, Sector 42, Chandigarh, on Thursday. Tribune photo: Parvesh Chauhan
24 mn students underachievers in India: Former CBSE chairman
Mohali, March 27
About 24 million students are underachievers in India. They comprise 20 to 25 per cent of the total school students in the country.
Teachers hail UT Admn's decision
Chandigarh, March 27
The State Executive Committee of the Government Teachers' Union welcomed the decision of the Chandigarh Administration to reschedule the school timings from the coming academic session during its meeting today. The committee members said the time schedule from 8 am to 1 pm instead of 8 am to 2 pm in the summer season and 8:40 am to 1:40 pm in the winter season would be more suitable for children and their parents.
Chandigarh University students shine at national symposium
Mohali, March 27
A project, "Stair Climbing Mechanism", based on Robot-Controlled Automatic Vehicle (RCAV), developed by electronics and communication engineering students of Chandigarh University (CU), Gharuan, won the first prize in the mechatronics project category at a national-level science and technology symposium, "INNO-TECH 2014", organised by Pushpa Gujral Science City.