Complainants against Joshi allege bid on life
Amritsar, March 18
Sandeep Gorsi and Vineet Mahajan, complainants in the dual vote case against Punjab Local Bodies Minister Anil Joshi, were allegedly shot at by two motorcycle-borne persons at their office located in Ashirwad Hotel last night.
SAD candidate Tinu is 'communal': Hans
Jalandhar, March 18
Hans Raj Hans, former vice-president of the SAD, who unsuccessfully contested the last Lok Sabha elections from the Jalandhar (SC) parliamentary constituency, today criticised the Akali leadership for fielding Pawan Kumar Tinu, whom he described as "highly communal". He alleged that Tinu was involved in the Talhan riots. Accusing Tinu of working against him during the 2009 elections, Hans said he was shocked to have been "dumped" by the Akalis.
Cong decides to field Bajwa from Gurdaspur seat
New Delhi, March 18


Punjab Congress President Partap Singh Bajwa will contest the Lok Sabha elections from his parliamentary constituency of Gurdaspur. The names of the rest of the candidates from the state will be announced by March 20 as Punjab goes to the polls on April 30.

Partap Singh Bajwa & Manish Tewari
AAP workers gear up for Kejri's Patiala visit
Patiala, March 18
The Aam Aadmi Party (AAP) workers are busy preparing for party supremo Arvind Kejriwal's visit to Patiala in the third week of April. The party is looking to reach out to the masses this time as it could not hold a rally at Takht Keshgarh Sahib in Anandpur Sahib due to the Election Commission's ban.
Ex-MP Tur joins AAP
Tarn Taran, March 18
Three-time former SAD MP Tarlochan Singh Tur today joined Aam Aadmi Party.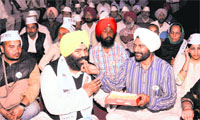 AAP fields Shergill from Anandpur Sahib
Mohali, March 18
Supreme Court and Punjab and Haryana High Court advocate Himmat Singh Shergill is Aam Aadmi Party's (AAP) candidate from Anandpur Sahib constituency. The party high command made this announcement in New Delhi today afternoon.


Himmat Singh Shergill in Mohali on Tuesday
Badal strikes emotional chord to woo people
Ferozepur, March 18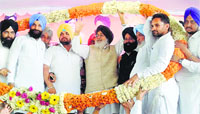 To woo the electorate ahead of the Lok Sabha elections, Punjab Chief Minister Parkash Singh Badal today struck an emotional chord with the people, citing his affiliation with this border town.



Chief Minister Parkash Singh Badal with SAD candidate Sher Singh Ghubaya at a rally in Ferozepur on Tuesday. Tribune photo
In Moga, new voters 'harassed'
Moga, March 18
After three holidays, hundreds of people gathered outside the office of the Assistant Returning Officer-cum-Sub-Divisional Magistrate here today to register as voters.
Youth body threatens to corner Akali leaders
Muktsar, March 18
Activists of the Naujawan Bharat Sabha have put up a banner at Kotli Sanghar village, threatening to corner SAD's Muktsar constituency in-charge Kanwarjit Singh 'Rozy Barkandi', accused of shielding criminals, and his supporters if they entered the village.


State targets Rs 570 crore increase in excise revenue
Chandigarh, March 18
With the new excise policy coming into force next month, Punjab is targeting an increase of Rs 570 crore in its revenue through excise collections in 2014-15.
Status symbol: DCs, SSPs now allowed blue beacons
Chandigarh, March 18
There is good news for the 44 deputy commissioners and senior superintendents of police, posted in 22 districts of the state. Having been stripped of their symbol of power - the red beacon atop their official vehicles - these officers can now wield power using a blue colour beacon.
6-day Hola Mohalla concludes
Anandpur Sahib, March 18
Lakhs of devotees paid obeisance at Takth Sri Kesgarh Sabib on the concluding day of the six-day Hola Mohalla here yesterday. Display of horse riding skills and martial arts by Nihangs remained some of the highlights.
Takht Jathedar advocates 4 kids per Sikh couple
Anandpur Sahib, March 18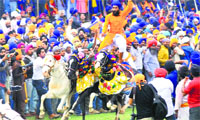 Lakhs of devotees paid obeisance at Takht Sri Kesgarh Sahib on the concluding day of the six-day Hola Mohalla here yesterday.

A Nihang displays his horse-riding skills during the concluding day of Hola Mohalla in Anandpur Sahib on Monday. Tribune photo: Pradeep Tiwari
Rain flattens wheat crop in Ludhiana, Fatehgarh Sahib
Ludhiana, March 18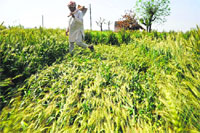 Unseasonal rain accompanied by high-velocity winds last night has led to widespread damage of standing wheat crop in the district. Weather experts at Punjab Agricultural University (PAU) say the rain took place due to western disturbances.


A farmer inspects his wheat crop flattened due to rain in Ludhiana on Tuesday. Tribune photo: Himanshu Mahajan
Probe ordered into child labour at Sangha Farms
Jalandhar, March 18
Taking cognisance of the news report published in 'The Tribune' on Monday regarding child labour being employed by SAD leader Gurdev Kaur Sangha at her farm, the State Department of Labour has ordered a probe into the matter.
Bains alleges bias, EC orders probe
Chandigarh, March 18
The Election Commission has asked the Principal Secretary, Home, to conduct an inquiry into allegations of bias by the Ludhiana police in registering a case against a relative of Independent candidate Simarjit Singh Bains.
Liquor prices on downward spiral ahead of LS elections
Moga, March 18
With two weeks to go for the new excise policy to come into force and a few days left for the auction of new liquor vends in Punjab, the excise authorities have reportedly asked the liquor contractors to reduce liquor prices, probably in view of the Lok Sabha elections.


Need more proof, HC to Ashotush's ex-driver
Chandigarh, March 18
The Punjab and Haryana High Court today virtually made it clear to Ashutosh Maharaj's former driver Puran Singh that he needs to gather substantial evidence to prove his allegations and credentials while seeking a CBI probe into the spiritual guru's death. It adjourned the case to March 25.
Abohar murder case: High Court summons DGP, CBI officer
Abohar, March 18
The Punjab and Haryana High Court has summoned CBI officials, Punjab DGP and other officials in a murder case today.


Dy Mayor booked for honour killing
Ludhiana, March 18
BJP leader and Deputy Mayor RD Sharma has been booked for his alleged involvement in an honour killing of a 23-year-old youth whose body was found near the railway track in Salem Tabri area last night.
BKI men arrested, terror plot 'foiled' in Punjab
Banur (Patiala), March 18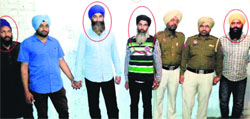 The Banur team of the Patiala Police on Tuesday claimed to have arrested six terrorists, four of them members of Babbar Khalsa International (BKI), and foiled a terror plot ahead of the Lok Sabha election.


Four BKI terrorists (encircled) at a court in Rajpura on Tuesday. Tribune photo: JS Virdi