Unrepresented half in Indian politics
Reservations are made for women at the grassroots level but their representation is abysmally low when it comes to making policies. Relegated to the "women's wing" of the political parties, they are meant to look after only women's issues like dowry and rape
Ranjana Kumari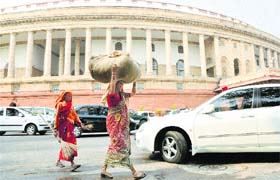 Men's club: Women occupy only 10 per cent seats in Parliament, putting India among the democracies least represented by women. File photo
While India prepares for yet another election, one question continues to remain unanswered; the role of women in Indian politics. Typically, the answer is suffused with contradictions. On the one hand, India falls in the lowest quartile with respect to the number of women in parliament (9.1 per cent, 14th Lok Sabha) much lesser than countries like Rwanda (56.7 per cent), South Africa (44.5 per cent), Mozambique (34.8 per cent) and many others, according to the UN's 2008 survey of women in politics. On the other hand, representation of women leaders in the Panchayati Raj and other grassroots level institutions is nearly 50 per cent, with some states like Karnataka inducting women into rural politics even before it was mandated by the constitution. Several states, including Madhya Pradesh, Himachal Pradesh, Bihar and Uttarakhand have increased the number of reserved panchayati seats to 50 per cent.
The 15th Lok Sabha elections had delivered a record 59 women as members of Parliament, the highest since Independence, raising their parliamentary participation to 10.7 per cent with seventeen of these women being under 40 years of age. However, the problem of Indian politics is that reservations are made for women but women are not included in the policy making process es that affect their lives. Women are not given the opportunity to work on major political issues. Rather most often they are relegated to the "women's wing" of the party, and made to concentrate on what are seen as specifically "women's issues" such as dowry and rape cases. Occasionally, they work on more general concerns like price rise, which is seen to especially affect the "housewives".
That brings us to the larger question — the future of women politicians in India. Is it too much of a coincidence that the women who really do well in politics are only those who head certain political parties? Else, they are related to the men in powerful political positions. More and more entities are recognising the power of micro-loans and how they can elevate an entire segment of society. And the route to the underserved is often through women, thanks to models based on Grameen Bank and others. But it fails to translate into a point of political advantage for women.
Statistics reveal that India lags behind many countries, including its neighbours Pakistan and Nepal, when it comes to women's participation in politics. With only 10.8 per cent of women representation in the Lok Sabha and 10.3 per cent in the Rajya Sabha, India ranks 98 in the world, according to the data released by the Inter-Parliamentary Union (IPU), an international group that works for promoting democracy, peace and co-operation in the world.
Not even one- third
India, the world's largest democracy, has now only 59 women representatives out of 545 members in the Lok Sabha, while there are 25 female MPs in the 242-member Rajya Sabha. While India shares its position with Jordan, it is ranked 47 places below Pakistan and 80 places behind Nepal. Women, who comprise nearly 50 per cent of India's population, continue to be under-represented in all aspects of politics including as elected representatives in the Parliament and Legislative Councils. The marginalisation of women from politics is clear as today women hold only 10.9 percent of the parliamentary seats and make up less than 1 percent of ministers and 4 percent of the negotiators in major development processes.
There is growing momentum among governments and civil society to foster and ensure women's participation and leadership in the political arena, specifically within local governance structures. Establishing quotas for women's representation at different levels of government has been a strategic tactic in achieving this goal in many countries. In India, the Constitution (73rd Amendment Act), enacted in 1993, mandated the reservation of a minimum of one-third of seats for women (both as members and as chairpersons) within all of India's locally elected governance bodies commonly referred to as Panchayati Raj Institutions (PRIs). The amendment also entrusted panchayats with the responsibility of furthering the agenda of economic development and social justice.
On development agenda
Affirmative action to ensure women's political representation is needed to democratise local governance. However, it does not guarantee effective participation or ensure that issues of concern to the community and to women will automatically be addressed by the local governance structures. Such issues reflect women's practical gender needs as well as their strategic gender interests. Practical gender needs are immediate needs such as water and healthcare, and the importance of these issues cannot be undermined. There is a need then to better understand how politics can become more engaged and proactive around strategic gender issues and provide spaces to promote gender equity within an overall framework of gender responsive governance.
Women's leadership and effective participation is increasingly on the development agenda of governments, bilateral and multilateral agencies, and non-governmental organisations, including women's rights groups. Evidence from programmes and research demonstrates the important role women play as key actors and decision-makers in the development process across a wide range of sectors.
This poor picture of women's participation in politics in the country has led women activists to demand greater political representation and call for the passage of the bill that promises a 33 per cent reservation to women in Parliament. The Women's Reservation Bill demands the political inclusion of women through a 33 per cent reservation of seats mandate through Parliamentary elections. This has been a long-standing demand of over 17 years which has routinely been treated with little seriousness from the political leaders. When the Parliament can pass the Telangana Bill despite stiff opposition, why can't they do the same for the Women's Reservation Bill? Why is the system so hostile towards empowerment of women?
Just a vote bank
The male dominated political parties are interested only in the female vote bank and are not interested to promote female membership in the party beyond a certain limit. In all the major national parties there are separate sub-sections for women --Mahila Congress of the Indian National Congress, Mahila Morcha of the Bharatiya Janata Party, National Federation of Indian Women of the Communist Party of India etc. These wings are agitating against price rise, atrocities against women or such other issues, which any government should take up and address. But in practice, governments leave such issues unresolved and women keep making a little noise now and then and are silenced thereafter.
Women too have to change their mode of approach to political participation, to aspire for substantial representation in the legislative bodies. Women from all strata of society should join political parties of their choice and correct the disparity in male-female ratio in the parties at the grassroots level, as well as in executive bodies. More women should take primary membership of the parties and be actively involved in local activities. Without improving the primary membership and grassroots level activities, not many women could rise to the senior positions of a party. In general women may have to face a lot of obstacles — gender discriminations, petty jealousies, scandals, economic constraints, discord in the family and so on.
Without proper representation of women in the legislative bodies and political participation of women at all levels, issues concerning women will remain neglected. And women's role in shaping mainstream policies will remain negligible. According to the Constitution of India, women being the weaker section of society having suffered centuries of oppression, they are eligible for reservation wherever necessary. So far, women's representation in the legislative bodies is literally being obstructed by male domination and it's high time that constitutional and political action plays its part in resolving this problem.
The writer, a well known activist on women's issues, is Director, Centre for Social Research, New Delhi.
Can't do with them, can't do without them
Women's Reservation Bill passed by the Rajya Sabha in 2010 still awaits clearance of the Lok Sabha. The much promised and much hyped 33 per cent reservation for women in Parliament, the decision making body, has been denied by all political parties.
Data collected by Inter- Parliamentary Union on January 2014 in the descending order of their representation in lower or single house shows India at 111th place out of 189 countries.
An analysis by the Election Commission showed that in 16 of the 20 states that went to polls after 2010, women voting percentage was higher than men. In fact, women are no more hesitant to show their electoral preferences.
Women of two states -- Uttar Pradesh and Bihar -- could decide the fate of the next party in power at the Centre. The states have recorded much higher women participation than men. The two states have 120 Lok Sabha constituencies in the 543-member lower house.
About 60.5 per cent of women came out to vote in the 2012 assembly elections in UP, which has 80 Lok Sabha seats, as compared to 58 per cent men. In Bihar, which has 40 Lok Sabha constituencies, 54.5 per cent women voted as compared to 51 per cent men in the 2010 assembly polls.
Less is not equal
Women make up less than 1 per cent of ministers and 4 per cent of the negotiators in major development processes.
With only 10.8 per cent of women representation in the Lok Sabha and 10.3 per cent in the Rajya Sabha, India ranks 98th in the world.
Inclusion of women candidates is a prerequisite for a truly inclusive, gender-sensitive political system, which should not depend on reservations.